By Ann Jamieson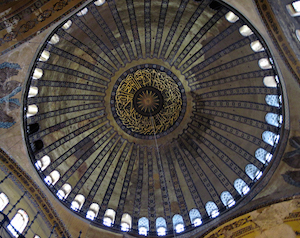 An icon of Istanbul, the Hagia Sophia (Holy Wisdom) combines famed architecture and art with an atmosphere of intense spirituality. Built by Emperor Justinian as a cathedral, the Hagia Sophia was converted into an imperial mosque by the Ottoman Empire in 1453, and in 1935 under Mustafa Attaturk's orders became a museum. The UNESCO World Heritage site is one of the most frequently visited monuments in the world.
Its 'floating' dome is a surviving architectural wonder, a miracle of construction, a testament to the knowledge and imagination of 6th century builders. Resting on triangular pendentives above four arches, and circled completely by windows, it appears as if suspended from heaven.
Justinian spared no expense or resource, scouring the empire for the best talent and using the finest materials including columns from the temple of Artemis at Ephesus, green marble from Thessaly, and acres of gold mosaics on the ceiling. Justinian's goal to design a church that would surpass all others, a church as "glorious as the Temple of Solomon," was certainly realized. At the completion of the church Justinian proclaimed, "Solomon, I have outdone thee."
Yet it is not the incredible architecture, the rich artwork, the marble and stunning mosaics and gold from all corners of the kingdom that astonish the visitor. Though these hold their sway, it is the profound spirituality that overtakes the traveler drawn inside. While most churches of the time were built as rectangles, the square/circular construction of the Hagia Sophia represents infinity/eternity. Light floods through the windows anchoring the dome, representing the light of God. As archaeologist and professor John Hale of the University of Louisville said on his first visit, "I experienced a thrill, an exaltation, that I have never felt before, never felt since, in any building."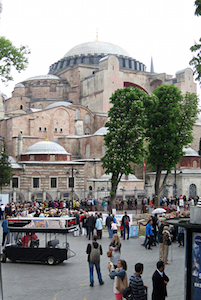 The Hagia Sophia is best seen with a tour operator, as those who buy their own tickets will spend much of the day in an endless line that snakes back and forth across the outlying plaza. Tour operators save you from that line, whisking you and your group into the building while providing you with expert and entertaining commentary. Tour operators in Istanbul go through extensive training, and besides having to learn many languages, are versed in everything from mythology to history to architecture and more. Just ask them a question. You'll be amazed at what they know!
If you go in the warmer seasons, be sure to take advantage of the numerous fruit and juice vendors surrounding the building. Juices are fresh squeezed and fruit seems entirely unrelated to the pallid fare we often find in American supermarkets. My particular favorite was a watermelon boat (watermelon stands in Istanbul are as ubiquitous as pretzels and hot dogs in New York City), an intoxicatingly sweet, juicy handful of large slices of watermelon served in its own little boat-like container, perfect for munching while exploring.
You might want to plan your visit soon. The conservative Turkish government is currently pursuing plans to convert the Hagia Sophia back into a mosque, which may limit access for visitors.
The Hagia Sophia is available every day for visiting except for Mondays. From April 15 through October 1, the hours are 9 a.m. through 7 p.m., and from October 1 through April 15 it is open from 9 a.m. through 5 p.m.
If you would like to purchase this article for your publication, please click here to contact the author directly.
Are foreign drugstores clinically appropriate for Americans. Part 2