By Janice Sakata-Schultze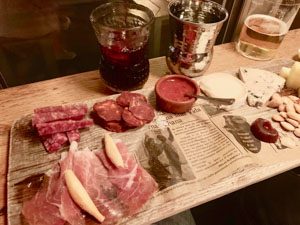 Sparkling light from a rose-tinged sunset dance off the waters near the Bay Bridge. The iconic city lights of San Francisco slowly appear. It's the perfect place to enjoy savory tapas and a strong beverage. Yet when Michael Chiarello, longtime maestro of Wine Country cuisine, is at the helm, expect a decidedly California twist on this Spanish standby. Vibrantly fresh food and innovative drinks are what you'll get when you come to Coqueta on the Embarcadero. Take a seat at the glass-encased bar and enjoy the dramatic views.
If you want a light meal, order the Gran Plat Cap along with some red Sangria and Estrella Inedit, a wheat beer from Barcelona. The plate features Spanish chorizo, Jamon Serrano and fuet (Catalan salami), Iberian cheeses such as manchego, valdeon, and Cana de Cabra. Several extras like membrillo (a solid quince paste), olive oil torta, blanched Marcona almonds, the baguette-like pan de Cristal, and tomato jam round out the plate. The combination of sweet, savory, and piquant truly represents the cuisine of Madrid.
Hungry for something familiar? Try the Patatas Bravas. Served with house made salsa, they are the best kind of fried food – crackling and crispy on the outside, buttery and tender on the inside.
This discovery of California tapas will make you believe that Chiarello must have some Spanish ancestry in his family tree. Coqueta, Pier 5, The Embarcadero, San Francisco, California. Phone 415-704-8866. www.coquetasf.com
If you would like to purchase this article for your publication, please click here to contact the author directly.