By Susan Nickerson
ITWPA Member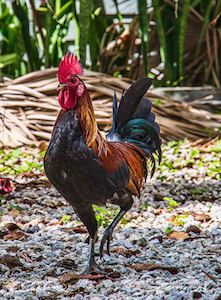 In Florida's Key West, they dream of a world in which chickens can cross the road without having their motives questioned. At least that's what the T-shirts proclaim in shop windows dotting Key West's Duval Street, infamous for its nightlife and good-natured debauchery.
Known as "gypsy" chickens, thousands of these feral fowl roam freely throughout Key West and are protected by city ordinance. While chickens have always been a colorful part of Key West history, their numbers increased during the 1950s. That's when thousands of Cubans fled a politically oppressive regime to come work in Key West's booming cigar industry — and brought their own chickens with them.
However, as poultry and eggs became inexpensive to buy in the market, and cockfighting became illegal during the 1970s, many birds gained freedom and began to run wild and procreate liberally on the island.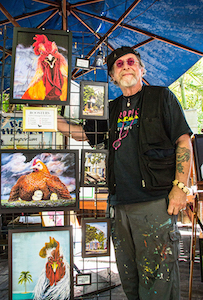 They have reproduced to the point where 40-year Key West resident and chicken artist J. W. Sherrington calls them "super chickens." According to Sherrington, over generations, these bold birds developed the ability to fly higher and faster than the average chicken. And unlike most chickens, they roost unusually high in trees to avoid predators.
Today, you are apt to see flamboyant roosters strut their stuff through cafes, shops, and restaurants, unruffled by tourists pursuing their own dining, drinking, and shopping activities. Clucking mother hens stop traffic to cross busy city streets with lines of chicks following along behind. Occasionally, a Good Samaritan bystander steps in to help a straggler chick catch up with its family.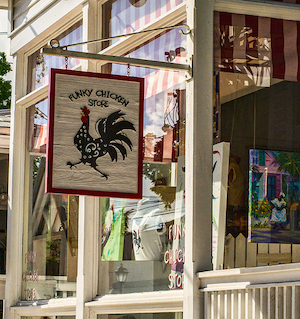 Larry Winter, owner of the Funky Chicken Store on Duval Street, says tourists almost universally love the Key West chickens. So much so, he created an entire business devoted to chicken love, with his store carrying everything from chicken art to chicken T-shirts to chicken-themed cooking paraphernalia.
Winter reports that locals split about 50-50 between what he terms chicken huggers and chicken haters. Apparently, bad habits such as loud crowing at all hours, digging in gardens, and leaving droppings where they please put some folks in a fowl mood. Some say the chickens destroy native plants, insects, and lizards. On the other hand, chickens help provide bug control for cockroaches and other pests.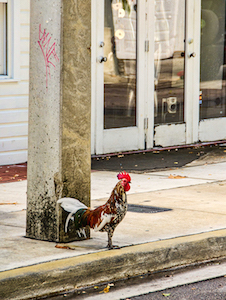 To prevent the chicken population from getting out of hand, and to respond to citizen complaints about unruly birds, the Key West Wildlife Center contracts with the city to re-home chickens as needed on farms and ranches up on the Florida mainland. The Wildlife Center also provides medical care and rescue services for sick, injured, or orphaned fowl.
Key West remains famous for its live and let live attitude. As unofficial mascots for the city, the gypsy chickens mimic some of Key West's best qualities: colorful, wild, noisy, and endlessly amusing.
If you go:
Funky Chicken Store
814 Duval Street, Key West
funkychickenstore.com
J. W. Sherrington Rooster Gallery at Blue Heaven Restaurant
729 Thomas Street, Key West
blueheavenkw.com
If you would like to purchase this article for your publication, please click here to contact the author directly.