By Kathryne Grisim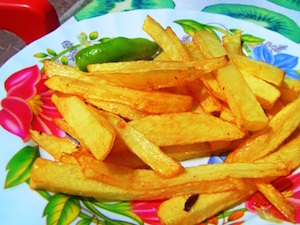 Papas fritas, made by taking a potato, peeling it, slicing it, and frying it in oil until tender crisp. No fancy ingredients to interfere with the simple taste except a glistening of salt and a squeeze from a fresh lime. Perfect when accompanied by an ice cold cerveza, enhanced perhaps with another wedge of lime. The freshest ingredients, simply prepared.
La Lomita was the very first restaurant visited on my first trip to Isla Mujeres in February 2005. Landing at noon, we made the decision to grab lunch and pick up some groceries before hailing a cab for Villas Punta Sur at the south end of the island. A map was consulted to get our bearings. Looking up Avenida Juarez, there was La Lomita, just a half a block away. Thus began a multi-year love affair with Isla Mujeres and its food.
As is the case with many of the best restaurants on the little island, La Lomita appears as if it were once a private home. This is where Ophelia Barros continues the family tradition begun by her parents twenty years prior.
The papas fritas were ordered as the table next to us was salivating over an unfamiliar dish dubbed Chiles Rellenos. We were encouraged to try them. After many attempts — the dish is often sold out — success came the evening of our last meal of that first vacation. Ophelia's Chiles Rellenos were definitely worth waiting for! A poblano pepper was stuffed with a gooey white Mexican cheese, breaded, deep fried, and then surrounded by a sparkling homemade tomato sauce, topped with luscious cream and a crumbling of feta-style cheese.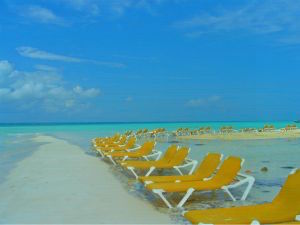 When my husband and I traveled to Isla together for the first time, he was anxious to try the chiles as well. But he loved the bean soup even more. (Thankfully, he saved me from future dismay by preventing me from consuming the entire bowl.) The intent that evening was to go out for coconut ice cream, but even though a single meal had been shared, we were too full! Supper that evening was $14 for two of us, including beer.
We were excited to introduce our kids to the restaurant when they traveled with us to Isla Mujeres. We were a large group all ordering cervezas as we sat down at our table hastily assembled on the road. Each time the table next to us finished a glass of beer, the goblet was cleared, washed, and then delivered to us filled with more beer. When in Mexico, you just have to relax and do things the Mexican way.
Many meals of garlic shrimp, enchiladas, bean soup, papas fritas, and Chiles Rellenos have been consumed since that very first serendipitous visit. The humble potato was catalyst for a long, long love affair with the "island of women," its people, its food, and… its beaches.
If you would like to purchase this article for your publication, please click here to contact the author directly.
Are foreign drugstores clinically appropriate for Americans. Part 2