By Patty Walker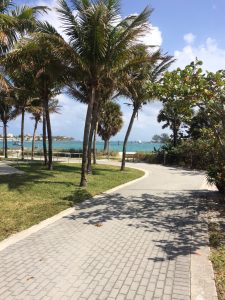 Do you ever dream of being in a tropical paradise but worry it's too expensive and you don't have enough vacation time to go? There is a hidden oasis within reach that will give you that paradise-feeling without costing a bunch. Your dreams will come true when you visit Peanut Island, situated about 125 miles east of Arcadia, Florida. It's one of those hidden gems you absolutely need to go see to believe!
Let me share with you what's in store for your adventure. Peanut Island is situated along the Intracoastal Waterway near the City of Riviera Beach Florida, in Palm Beach County, along the Atlantic coastline. It was named Peanut Island because of plans to use it as a terminal for shipping peanut oil, but those plans didn't come to completion.
The 80-acre tropical island is famous for its beautiful crystal clear blue waters surrounding the island. It's perfect for swimming and fishing, but its most amazing feature is the best easy-access snorkeling in South Florida. The vibrant colored tropical fish are viewable in waist-deep water making it particularly popular with families. The best time for snorkeling is around high tide when the Gulf-Stream-fed ocean water enters through the inlet. The blue waters here are a comfortable 80 degrees well into September. The ocean life here is amazing—vibrant tropical fish swim around the man-made eco-system reef.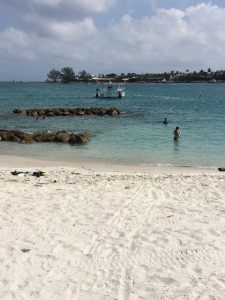 Another option is to check out the lagoon—with two walking bridges that connect and a floating dock—which is protected from waves and current. If you don't wish to get your feet wet, enjoy viewing the wading birds among the mangroves, manatees grazing on abundant seagrasses, sea turtles, stingrays, and other marine life.
Coconut palms surround the picnic pavilions, and lifeguards are on duty while you enjoy the sun and fun among the white sand beaches. The island is a popular destination for boaters with boat slips available for day use without charge on a first-come-first-served basis.
If you enjoy camping and are looking for an overnight experience, extend your stay and continue your adventure after sunset. A twenty-site campground is available for tent campers by reservation only by contacting the park office.  Day or night, you can take a casual stroll on the 1.25-mile pathway that winds around the perimeter of the island.  Create your own adventure by discovering little trails that lead you to scenic overlooks and surprises like the Kennedy Bunker.
You get to Peanut Island by paying a $12 fee to take the ferry boat, or you might choose to kayak from the marina, which my husband and I will be doing on our next adventure to the island. You pick the time to start your adventure, but I would suggest early morning. You'll have plenty of time to enjoy this amazing nature retreat.
You'll find Peanut Island is a unique place and has something to offer everyone!
If you would like to purchase this article for your publication, please click here to contact the author directly.