By Bob Vernon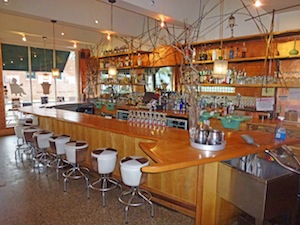 Visitors to Memphis typically come for the music and the world-renowned barbecue. But once you've had your fill of the blues and pork ribs (wet and/or dry), you might want to consider a funky little eatery and watering hole called The Beauty Shop Restaurant and Lounge.
Located in the Cooper-Young area of town, this quirky establishment achieves what so many other restaurants aspire to — sophisticated eclecticism. More importantly, it doesn't try too hard to be hip.
For instance, the temptation would be to go over the top with food items tortuously twisted from salon lingo. You know, Curler Fries, Guacamole Dippity Do, or — God help us — a Gel-O dessert mold. Blessedly, the closest the restaurant comes to overreaching is the Thai Cobb Salad, which offers a much more pleasing character than its nearly-namesake baseball legend.
The restaurant is the creation of Karen Blockman Carrier, a native Memphian who left the mid-South to make her fame and fortune as an artist in New York City in the early '80s. Instead of succeeding at painting with oils, Carrier made ends meet by cooking with oils. After attending the Culinary Institute of America in Hyde Park, NY, she opened up a catering business.
She returned to Memphis to create Another Roadside Attraction and eventually teamed up with fellow Big Apple escapee Dana Baldwin to develop the business into an award-winning catering service that also serves as the parent company to a growing menu of restaurants including the Beauty Shop.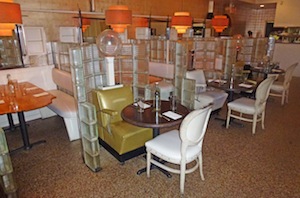 Legend has it that Priscilla Presley used to get her "do" done here. Truth or fiction, it doesn't really matter, but the restaurant does feature plenty of the original equipment. The bar is built around the original hair-washing sinks and, in the back end of the eatery, there are little curved alcoves of glass bricks that embrace those fabulous bubble hairdryers. Meals there are served on the 1950s manicure tables.
Also fun is the mirrored wall, which is truly a reflection of the whimsical nature of the eatery. It's where you can check not only your coiffure, but also the daily specials and dessert items that are written on the glass.
If you don't dine in the booths, you can settle in at the long, family-style table located at the front of the restaurant beneath fantastic Anthony Corradetti handblown glass lights.
The menu is, well, let's just say it's Carrier's own creation of Mid-South Takes Manhattan with an international flair. Here you can find a delicious salmon gravlax salad and fried green tomatoes. There's even a must-see-to-believe watermelon 'n' wings entree that pretty much defies description.
Try the frittes delight with cayenne sugar or truffle oil with black pepper and Parmesan. Or go for onion curls with sriracha aioli dip.
But be sure to save room for dessert. Carrier, who served as the personal chef for superstars Tom Cruise and Susan Sarandon during their film forays into the Memphis area, has created the opportunity for tasty experimentation.
How about a pistachio almond milkshake? Or perhaps a chile pepper cinnamon chocolate milkshake?
What? Yeah, I know it sounds strange, but it tastes divine.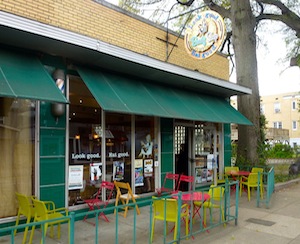 So, when visiting Memphis, listen to the blues and enjoy the ribs, but save room for something truly special with a trip to the Beauty Shop.
If you would like to purchase this article for your publication, please click here to contact the author directly.