By Carrie Dempsey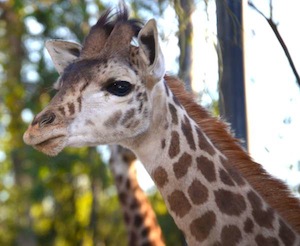 On a warm spring day in southern California, my friends and I find ourselves standing at a crossroads. Panda and polar bears, go left; monkeys, go right. An indecisive lot, we stand awkwardly, no one wanting to miss any of the exhibits during our day in San Diego. Finally, bears are determined the winners for today. And they do not disappoint.
Located in sunny San Diego, the birthplace of California, the San Diego Zoo is a world-renowned and progressive zoo. Spacious exhibits sprawl out over 100 acres, housing more than 4,000 of nature's finest creatures. It is home to 800 species of animals, including giraffes, elephants, zebras, polar bears, lions, and monkeys, and is one of the only zoos in the world to house the giant panda.
The animals are at home here, roaming about comfortably in San Diego's mild climate. In fact, this zoo is one of the few that contains nearly all outdoor exhibits. Polar bears swim happily in their own private pools, then sun themselves while being hand-fed by one of the zoo's staff. Here, visitors get an up close and personal view of the cuddly-looking animal.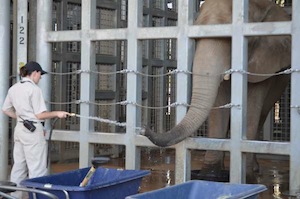 An aerial tram called the Skyfari zips us across the vast property, while providing an impressive view of the zoo's natural beauty. The ground is dotted with exotic plants, some rare and endangered, which form the zoo's colorful backdrop. Visitors may examine the plants more closely in the Orchid House, which is open on the third Friday of every month and select Sundays.
A leisurely trip up a moving walkway is a welcome respite from our long journey around the park. Elephants drink water from a garden hose. The water gurgles loudly as it rushes down their long trunks and into their mouths. Rounding the bend, Panda Canyon comes into view — easily the most popular exhibit. Long lines are expected, but within a few minutes, a cameraman is telling us to cradle an imaginary panda cub in our arms for a souvenir photo. The line moves quickly, winding left and right, then through an opening in the foliage. And there he is, Gao Gao, the giant panda, more cuddly teddy bear than wild animal. A collective "aw … " echos through the crowd as he sits happily munching away on his ample supply of bamboo. Gao Gao seems to smile as he eats, as if posing for the countless cameras focused on his every move.
All too soon, it is time to move on; there are many more visitors like me who can't wait to see the panda.
The San Diego Zoo is a perfect way to spend a day in San Diego. There is so much to see and do that you'll wish you had more time in the city. The zoo itself deserves at least a full day, and even then you'll find that there is more to discover. Daily admission is $42 for ages 12 and up and $32 for ages 3 to 11, and it includes unlimited use of the Guided Bus Tour, Express Bus, and Skyfari Aerial Tram. There are also multi-day and multi-park tickets, which include the San Diego Zoo, Africa Tram Safari, and SeaWorld San Diego. Visit http://www.sandiegozoo.org/tickets/zootickets.html or call (619) 231-1515 for ticket information. The San Diego Zoo is located at 2920 Zoo Drive in Balboa Park, just north of downtown San Diego. It is open 365 days a year, but the hours vary depending on the season, so go to http://www.sandiegozoo.org/zoo/plan_your_trip/hours_directions for the current schedule.
There are still many discoveries waiting to be made at the San Diego Zoo, so until then, my photo with Gao Gao beckons me to return and explore.
If you'd like to purchase this article for your publication, click here to contact the author directly.