By Jerry L. Nelson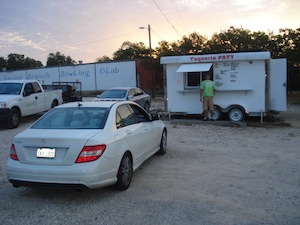 A food revolution is sweeping the nation … in the form of a new version of meals on wheels. Don't confuse this with the charitable offering, good as that is. This one is being fostered by the food industry in the broadcasting world. Lots of "done over" Airstreams outfitted with restaurant quality kitchens instead of the sleeping and living areas and then gathered into one locale and serving up, to the often giddy public, a variety of ethnic choices … My, what a wonderfully "new" idea.
Hold on there, partner.
We've had this idea around for years here in south central Texas … and I do mean years.
The "taco wagon" has been a roadside fixture for longer than a hungry person could imagine. Travel the outlying roadways around any city of size and it's hard NOT to see some enterprising soul trying to make a dollar on the side of the road selling all manner of Tex-Mex delights from some form of kitchen on wheels. New idea? I think not.
Having grown up in the shadow of San Antonio and, as a teenager, having made the requisite pilgrimage to the border to sample street food at three in the morning when all I could think about was solid food in my belly, nothing compares in taste, quality, and plain ol' goodness to finding your own personal roadside taqueria. Seek one out and make it your favorite.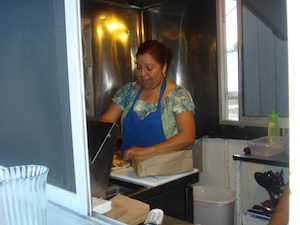 I have serendipitously stumbled across one I feel is unmatched in the area of Canyon Lake (and there are several to choose from): Taqueria Paty, with one "t." Her real name is Patricia Soto, but when asked why the one "t" Paty responded she "just liked the look of it." So … Taqueria Paty was born, just 1.6 miles south of FM 306 on US 281 in the parking lot of the Spring Branch Bowling Club. Breakfast fare is the big rush but at any time during open hours you will see a parking lot filled with a variety of vehicles from pickups filled with construction workers to Mercedeses with housewives and kids.
Paty and her head cook, sister-in-law Lupe Soto (it's a family affair as even daughter Diana and co-owner daughter-in-law Miranda pull their shifts), crank out some of the greasiest, drippiest, tastiest tacos you could ever wrap your mouth around. The menu isn't just limited to the ubiquitous breakfast taco, either. You'll find a selection that will rival many seated service restaurants, from crispy tacos to mini-tacos to tortas to combination dishes. Paty offers eight different kinds of meat tacos with Picadillo being a favorite along with Carne Guisada, plus Chicharron's, Migas, Papas Rancheras, Machacado, and more. Saturday sees Barbacoa by the pound and when there's been an overabundance of cerveza on Friday night, Paty and Lupe offer up some of the best menudo in the area to ease your aching head.
Next time you find yourself tooling down 281 south of FM 306 and you have a hankerin' for the original "meals on wheels," pull over into the Spring Branch Bowling Club parking lot between 6:30 in the morning and 1:30 in the afternoon seven days a week and check out Taqueria Paty. As Paty says, "If you want an order to go, have a compliment or even a complaint," give her a call at 830-885-2034. Try her offerings and you won't really care what they're doing in the big city with their fancy Airstreams. Paty's been doing it for years, simply and fantastically.
If you would like to purchase this article for your publication, please click here to contact the author directly.