By Mary M (Marcie) Woodward
ITWPA Member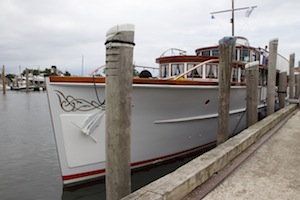 The queue snakes along a dock in Hyannis harbor northward toward the Cape Cod Maritime Museum. Retirees with grandkids in tow, international tourists, workers on a lunch break, and curious history lovers of all ages chat together while waiting. All have gathered to take advantage of a unique opportunity: for five hours only, the presidential motor yacht Honey Fitz is open for public viewing. Cape Codders of a certain age may have seen this yacht in local waters during JFK's presidency in the '60s, when he used to have it brought from Washington, D.C., to Hyannis summers for his personal use. The Kennedy family and their guests enjoyed frequent excursions aboard, and, in the annals of history, the yacht became part of the Kennedy mystique. A half-century later, this sell-out crowd would have the chance to tread those very decks! Dispatched from its home port in Palm Beach, Florida, for a goodwill tour up the East Coast, the Honey Fitz was hosting private charity fundraisers in 13 cities en route.
This 92-foot classic wooden-hulled beauty has had a long and varied history. She was built in 1931 for Sewell Avery, a Montgomery Ward Board Chair, who named her Lenore after his daughter; they cruised on Lake Michigan. During WWII President Roosevelt expropriated the boat for Coast Guard duty, but by war's end, it was transferred to the Navy. President Truman was the first of five presidents to enjoy using the Lenore for official receptions as well as personal outings in Washington. A framed photo of Truman with Winston Churchill decorates its walls today, along with another of President Eisenhower and Mamie, who often vacationed aboard in Newport.
President Kennedy took boundless pleasure in using the presidential yacht, which he renamed Honey Fitz after his maternal grandfather. He and his family cruised year-round on the Potomac and in Palm Beach as well as along the Massachusetts shore. Onboard, photo displays show the casually-attired president reading on deck. Certainly the most heart-tugging photos are closeups of JFK with daughter Caroline and Jackie dated "August, 1963." The Honey Fitz next passed to Lyndon Johnson, and after, to Richard Nixon, who fancied a larger vessel and sold the yacht in 1970. Since then, it has been privately owned. The current proprietor undertook an extensive renovation to strengthen and beautifully restore the yacht to echo its Kennedy heyday.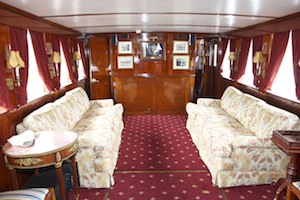 Honey Fitz serves as both a floating history lesson and a national treasure. It is licensed for rental by private parties and accommodates up to 70 guests.
In contrast to today's fiberglass mega yachts, the Honey Fitz reflects a restrained, classic day-tripper of dark polished woods and modest proportions. The all-white galley is forward from an intimate dining room. Below deck lies the ship's only stateroom, its bed dressed in golden fabrics, its decorative pillows embroidered with "Honey Fitz." Aft, past the helm station, the largest entertaining space beckons, a salon with continuous windows, a lacquered mahogany bar, and two sofas upholstered in a foliage design originally selected by Jackie Kennedy. Astern is an open deck with plenty of seating, dominated by an oval table and six sturdy chairs. It's easy to imagine a scenario: a sun-filled cruise on the Potomac with historic figures gathered to discuss subjects of great import… or perhaps another of Caroline and John-John entertaining Kennedy cousins, picnicking around that same table. What a delight it is, if only for "one brief shining moment," to partake in the history of America's Camelot years.
(For restoration details, see www.powerandmotoryacht.com, "Preserving JFK's yacht 'Honey Fitz'.")
If you would like to purchase this article for your publication, please click here to contact the author directly.