By Joanne Spero
ITWPA Member
We woke up early Saturday morning excited that we were about to embark on our first adventure to the Prince Edward County wine region in Ontario, Canada. It's a short hour and a half drive from our home, and a two hour drive east of Toronto.
Having had lunch along the way (a must before any wine tasting) we arrived at The Inn at Huff Estates, our hideaway for the next 24 hours. The Inn is nestled in the sprawling estate vineyard of the same name. Its tranquil setting was ideal for our weekend getaway. We booked a fireplace suite complete with king-sized bed, crisp linens, and a walk-in shower.
It was a sunny, fresh Saturday afternoon in February … yes, February. We are lovers of "off peak" travel. The sun glistened across the snow on the vineyards where the vines, in the coming months, will stand proud, heavy with grapes.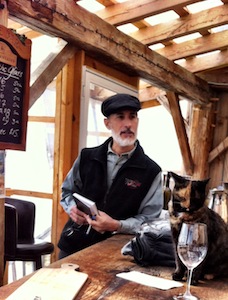 We were met at The Inn by Gilles, from PEC Wine Tours, our wine guide extraordinaire for the next four hours. As we drove along the country roads from vineyard to vineyard, we heard about how the growers bury the vines every fall to avoid the harsh winter temperatures, then uncover them in the spring. Our eyes were opened to the huge artisanal culture that is thriving in the county. Gilles, being an artist himself, gave us a view of the county we would not have experienced on our own.
Our first stop was Sugarbush Vineyards, a Garagiste Winery. They specialize in small lot, artisanal wines made entirely from their estate-grown grapes, Cabernet Franc, Gamay, Pinot Noir, Chardonnay, Riesling, and Gewürztraminer. We purchased their 2009 Cab Franc which we plan on laying down for two years.
Next … Karlo Estates. They craft rare wines using Old World techniques. Our tastings revealed bold wines with refined complexity. You will find their wines on discriminating wine lists throughout Toronto, Ottawa, and Montreal. If you visit this vineyard make sure you say hi to their resident kitty.
Rosehall Run Vineyards is just down the road. They are known for their award-winning Pinot Noir and Chardonnay. By chance, the day of our tasting, the cellar was open for tasting and purchasing their 2006 to 2010 Pinot Noir. This was a great opportunity for a vertical flight tasting. The 2007 was outstanding and it is perfect for drinking now.
Norman Hardie, a small boutique winery, was our next stop. Their 2009 unfiltered Pinot Noir is spectacular! It has an exceptional nose and its earth and mineral tones linger on your palate.

Right about then we were thinking that this tour was the best tour EVER!

Then off we went to Sandbanks Estate Winery. Their Baco Noir is a full-bodied red wine with intense plum and wild cherry flavors with notes of toasted oak providing a lingering finish.

Hinterland Wine Company was our last stop of the day — and what a stop. They specialize in the exclusive production of sparkling wines and they do a fabulous job. If you're looking for exceptional sparkling wine, you must try Hinterland.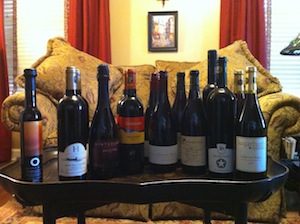 Sunday morning, after a full breakfast at The Inn, we toured the Huff Estates Winery. This is a state-of-the-art vineyard producing numerous award-winning VQA wines. Being one of the first vineyards in the area, they are the true pioneers of grape growing and wine production in PEC.
It was now noon and time for our adventure to come to an end. We love Prince Edward County and can't wait for our next 24-hour adventure.
If you would like to purchase this article for your publication, please click here to contact the author directly.