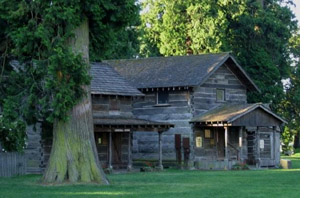 By Dawn-Marie Hanrahan
Under a canopy of aged cedar trees, Pioneer Park in Ferndale, Washington, is home to one of the most distinctive collections of authentic log cabins in the United States. Built by early settlers in the 1800's, these buildings were transported from various locations throughout Whatcom County to be preserved here in a village-like setting along the Nooksack River.
A short walk from Ferndale, the cabins reflect a long-ago life quite different from what we know today.
The cabin logs, enormous western red cedars, were horse-drawn from forest to mill, hand-hewn and constructed into cabins by the true grit of determined pioneers. The park offers visitors the opportunity to step back into the 1800's … through the private homes, church, general store, post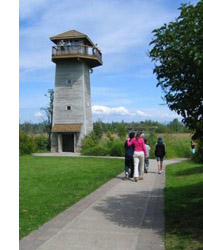 office, and one-room schoolhouse. Original furnishings and artifacts are on display throughout the cabins. Gifts and souvenirs are available for purchase at the general store.
Group and school tours can be arranged by contacting the Ferndale Heritage Society. Individuals may follow a self-guided tour or request the services of on-site staff during open hours. Tillicum House offers a large reception room with full kitchen which can be reserved for special events or meetings. Restrooms are available on site.
The best times to come are May through September, when historic interpreters dressed in period attire give public tours, and the first weekend of December, when visitors are welcomed to an authentically decorated "Old-Fashioned Christmas in the Park."
Jenni House (1873): With a dancehall upstairs, this home also served as a stagecoach inn.
Barrett House (1874): Displays antiques, memorabilia and postal artifacts.
The Church (1876): The first church in Whatcom County.
Rogers House (1877): Serves as the Veterans' Museum.
Lopas House (1879): Displays antiques and printing equipment.
City Jail (c1880)
Barr Barn (c1880): Displays antique farm equipment.
Shields House (1885): Completely furnished and an example of quality craftsmanship.
The Granary (1887): Displays original harvesting and milling tools.
Holeman House (1890): Replicates a traditional one-room schoolhouse.
Van Buren Post Office (1891): Converted to a 19th century bank.
Foster House (1895): Family home showcasing historic photographs and artifacts.
Tillicum House (1925): Available for public rental for meetings and events.
With only seven traffic lights throughout Ferndale, this small-town attraction deserves to be a star on the map.
From Bellingham International Airport, take I-5 North to Exit 262 – Ferndale. Turn right onto Main Street, left at first traffic light past railroad underpass. The end of the street enters Pioneer Park.
Where to eat:
Chihuahua Mexican Family Restaurant
5694 3rd Ave., Ferndale, WA 98248. Tel: 360-384-5820
Authentic atmosphere, huge portions, reasonable price list and margaritas (designated driver recommended!). Dinner specials around $14.00.
Activities:
Hovander Farm Park and Tennant Lake Interpretive Center with Fragrance Garden
Take Ferndale Exit 262 off I-5. Go RIGHT onto Main Street one half mile, turn left onto Hovander Road at railroad underpass, then right on Nielsen Ave. Follow signs to Hovander Park and Tennant Lake Interpretive Center.
Expansive park along the Nooksack River with farm animals and lookout tower. Tennant Lake includes a boardwalk over the marshlands, with or without guide. Free.
Shopping:
The Glass Slipper
5778 2nd Avenue, Ferndale, WA 98248. Tel: 360-312-1967
Lori Leighton is owner of this artistically decorated gift shop featuring antiques, art, jewelry, collectibles and more. A gem of a find promoting local artists.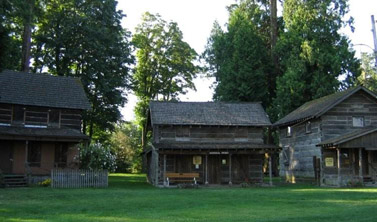 Contacts:
Ferndale Heritage Society
2004 Cherry St., Ferndale
Tour hours: 11:00 a.m. – 5:00 p.m.
Cost: $3 adult, $2 child
Phone: 360-384-6461
Hovander Park
Dennis Conner, Lead Park Manager
360-384-3444
dconner@co.whatcom.wa.us
Tennant Lake Interpretive Center and Fragrance Garden
Jim Edwards, Site Naturalist
360-384-3064
edwarjme@dfw.wa.gov
If you wish to purchase this article for your publication, click here to contact the author directly.