By Manning Lee
Nestled next to the alley behind Easton, Maryland's South Washington and South Harrison Streets in what amounts to a city parking lot are Columbia Restaurant Group's Lazy Lunch and L.L. Bakery. Normally, one would think that a restaurant in an alley/city parking lot would be lacking character, style, and panache. And when looking for a place in Easton to dine, most wouldn't even know this little spot exists. But Easton insiders know all about it and enjoy its proximity to their offices for a delicious, self-indulgent pick-me-up.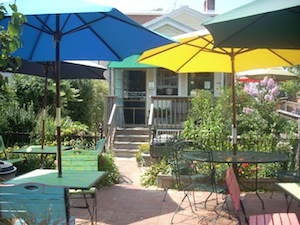 Lazy Lunch is a tiny little venue and most patrons just get their food to go, since the tables on the outdoor garden patio are usually full. Why wouldn't they be — the seating area is surrounded by the most amazing little wrought-iron gate enclosed garden. Not one detail in this garden has been left to chance including the pergola bench encased in English Ivy and the occasional flutter of a butterfly.
Inside, the menu has wonderfully delicious sandwiches, hot and cold. It also has salads and daily specials which, at the time of my visit, were as follows:
Monday: Fried shrimp po'boy
Tuesday: Sliced steak on baguette
Wednesday: Lamb shish kebab
Thursday: Seared Ahi tuna
Friday: Crabcake sandwich
The pricing is reasonable for the quality of the food one receives, anywhere in the range of $6.50-$8.75. The restaurant boasts that all of the breads and pastries from the bakery counter are made fresh daily. They even (sometimes) give away the day-old muffins for tasting. The food was delicious; the fresh-baked baguette made the meal.
The service is amazing. The lady behind the counter proudly took time to describe the food in the bakery counter, all of which looked enticing. A regular customer walked in and ordered a baguette, among other things. As she was waiting for her order, she shared her baguette and bragged not only about it, but about how delicious the Danishes and croissants were as well.
Lazy Lunch is clearly an Easton "must-eat," but to be fair, there are some things to heed ahead of time. First of all, many lunchers habitually pay with credit cards, but Lazy Lunch takes cash and checks only. Secondly, this is a spot that is focused on quality of food and taste experience. Please don't come to grab food quickly… the lines can get long. But the food is well worth the wait.
If you'd like to purchase this article for your publication, click here to contact the author directly.