By Connie Werner Reichert
ITWPA Member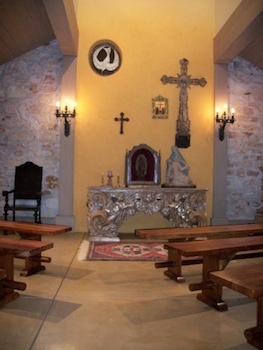 Nestled across 400 rolling acres of ranch land in the Carmel Valley is what is known as the valley's best kept secret: Holman Ranch. It's steeped in history, but with today's modern amenities. Full of atmosphere and romance, it features a hacienda made of stone with furnishings imported directly from Mexico. Inside the hacienda are several lovely rooms, including its very own chapel, great room, and courtyard filled with roses. Every angle is easy on the eyes, with spectacular vistas and panoramic views. The historic estate offers serenity and privacy along with beautiful vineyards and olive groves.
Holman Ranch was built with an artist's eye, back when California was still a part of Mexico. In the Spanish era, the ranch was originally part of the Mission San Carlos Borromeo del Rio Carmelo. It was part of the land that belonged to one of the valley's first ranchers, Don Jose Manuel Boronda, who was granted the Los Laureles Rancho. Holman Ranch passed through several generations, and in 1928 it was a modern Spanish-style hacienda built with impressive Carmel stone walls and accented with handmade Mexican terracotta roofing and hand-carved oak-beamed ceilings that still stand today. Its nickname was Casa Escondida or Hidden House. Mature oaks surround the property. Many celebrities flocked here to relax and unwind, including Charlie Chaplin, Clark Gable, Joan Crawford, Marlon Brando, and Vincent Price. It was like their own personal hideaway from their daily pressures.
In the 1940's, Clarence Holman of the Holman's Department Store bought the guest ranch and remodeled and expanded the structures to feature guest rooms and one of Carmel Valley's first swimming pools.
The ranch was reborn when it was purchased by Dorothy McEwen in 1989. Her role was not only to preserve the ranch, but to reinvent it as an event facility as well as a private estate.
In 2006, the Lowder family took it off her hands and began to restore its original mystique.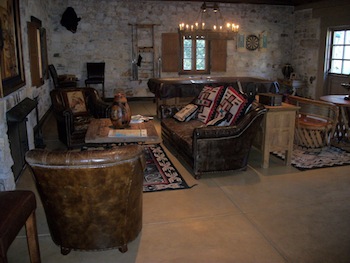 Estate grown wines — across 19 rolling acres — and olive oil are now produced at Holman Ranch. Whether it's group meetings, intimate gatherings, or weddings, the ranch proves itself to be a truly unique experience for those who partake in its beauty. Hosting one event at a time, the private estate opens its doors to the public sector and offers comfortable bungalow-style guest rooms as well. The rooms are cozy with all the modern conveniences you can imagine.
As the Peninsula's best-kept secret, it is only seconds away from wine-tasting facilities in the Carmel Valley Village and just 20 minutes away from Carmel-by-the-Sea. Holman Ranch spotlights a variety of Pinot Noirs, as the grape-growing region is perfect for them. They also make a palatable Rose of Pinot Noir, a Pinot Gris, and a Sauvignon Blanc. Their tasting room is spacious and the tastings are generous.
The romantic setting, breathtaking grounds, colorful gardens, and 400 acres of property make Holman Ranch a truly magical venue. You are welcome to join in the glamour and peace of Holman Ranch. As a guest, you could be invited to any special event you can imagine. Come discover the secret for yourself at a place where the past meets the present and anything and everything is possible.
If you would like to purchase this article for your publication, please click here to contact the author directly.
Are foreign drugstores clinically appropriate for Americans. Part 2