By Keith Langston


ITWPA Member
"Please — no photos in this area!" The announcement is firm as our guide leads the way along the glassed corridor. On either side are large rooms containing stainless steel machinery and white-coated workers who ignore you. The corridor ends abruptly. Though fascinated with activities in the sterile rooms, you are not here primarily to observe. A sweet velvety fragrance has engulfed you. It brings a sense of pleasure and salivating anticipation, and perhaps a hope for over-indulgence.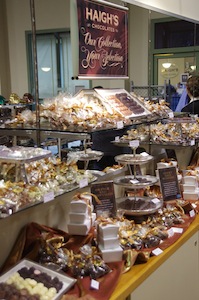 You are touring the Haigh's Chocolates factory, established in 1915 and just five minutes from Adelaide city center in South Australia. The tempo increases with the fragrance as you enter the free tasting area. Chocolate frogs, fruit centers, truffles, fudges and bars! Sparkling glass counters contain trays of mouth-watering, exquisitely-decorated delights. While savoring a rich, polished liqueur center, you are already eye-balling a powdered chocolate truffle. Tucking a large pack of chocolate truffle seconds (cheapskate?) into your pocket, you depart for the city coach tour.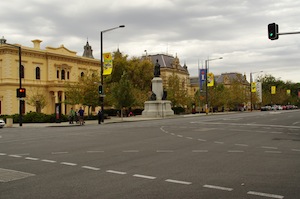 A planned "square mile" grid is the layout for Adelaide, which was founded for free settlers in 1836. Broad parklands on all sides are a defensive measure around a low-rise city. Wide boulevards and squares offset gracious Victorian sandstone buildings. The Torrens River meanders by. Wonderfully diverse food markets lead off Victoria Square and it's the perfect spot to pick up a cheap lunch of fruits, cheeses, bread, nuts and cold meats.
Persecuted religious minorities fled here in the mid 1800's, shaping Adelaide and bestowing the moniker "City of Churches." Festivals, long beachfronts, chocolates and a proud wine and food culture are Adelaide's heritage today.
Your hand slinks into your pocket — time for a truffle.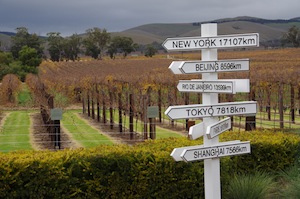 Next day you're on a coach to the Adelaide Hills and the wine-producing Barossa Valley. Jacob's Creek Winery boasts an expansive tasting room and restaurant with high glass walls. At the time of our visit, mellow views stretched over the colorful autumnal vineyards on the rolling hills. The winery is a major exporter of reds and whites, but the sampling glasses are far too small!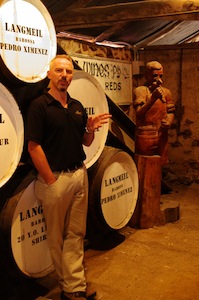 At boutique Langmeil Winery the vineyards richly displayed autumn's salute to summer. There is a cold wind as we dive into an historic stone cellar featuring old wine barrels. We learn that phylloxera destroyed European vineyards in the 1800's, and Cellar Door Manager Jonathan Bitter informs us that this is therefore probably the world's oldest vineyard.
Quality wine from the world's oldest vineyard? That deserves a truffle!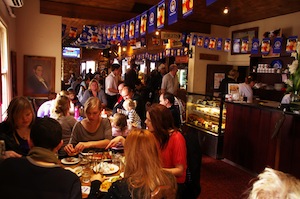 In the rolling green Adelaide Hills you discover a lovely small town built of colored stone. In 1839 German settlers founded Hahndorf. The architecture is Germanic, the climate Mediterranean. And meals are heavenly at the Hahndorf Inn.
Inside, the inn's warm and old-fashioned timber beams and stained-glass windows add to the charm. About 80 diners are tucking into German dishes accompanied by a small band dressed in lederhosen and playing … yes, German music. Platters delivered to nearby tables torture you. The cold weather has sharpened your appetite and local wines and beer further enhance the pangs.
The coach back to Adelaide is buffeted by cold rain squalls and the country outside is a blur, but you already know that the locals are proud of their heritage.
Now is a good time to settle back for that last truffle.
Coach tours by Sealink Travel Group: http://sealinktravelgroup.com.au/transport/
If you go:
Grand Chifley Hotel is close to the tram running between city and beach: http://www.grandchifleyhotels.com.au/adelaide/grand-chifley-hotel-adelaide/
Ask about cheaper accommodation next door at "The Chifley."
Sugar Cane Restaurant near the Chifley hotels has the best Vietnamese cuisine at 408 King William Street. Phone: 8212 9638
In Glenelg (take a tram to the beach), try The Strand Restaurant at 108 Jetty Road — it's popular and bound to please. Phone: 8376 9222
If you'd like to purchase this article for your publication, click here to contact the author directly.