By Jessica Irwin
ITWPA Member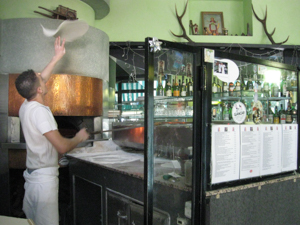 Steam from a pizza radiates like sunbeams across the blue sky of a faded tablecloth. The pizza's wide girth spills over its plate like the doughy middle of a belly dancer. You succumb to its sweet seductions, a glass of wine and the cool glow of the pizzeria's spearmint-colored walls soothing its digestion.
You are in Italy, but this is no red-checkered-tablecloth kind of restaurant with a jar of breadsticks and a candle illuminating the mustachioed accordion player in the shadows. This is San Mina, a neighborhood pizzeria tucked into a residential side street of Milan, an Italian metropolis so far north you can practically see into Switzerland. And yet, this is Italy in its truest form, on a street tourists rarely discover, and for a deal the bargain traveler can't beat.
The moment you walk into San Mina the fumes of the city vanish. Diesel turns to dough baking in the open wood oven. The whiff of railroads, streetcars, and newspapers melts under the perfume of herbs, onions, and tomatoes. A skinny boy in a white apron tosses dough so high into the air it almost sticks to the ceiling. Papa John never tossed a pizza like that.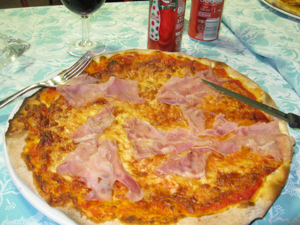 From the oven to your table, the pizza arrives in uncut, unadulterated layers of cheese, vegetables, meats, even fried eggs. It is your duty — nay, your pleasure — to slice into it yourself, fold the thin pieces over like a sandwich, and slip them into your mouth before all the toppings slide out. For the traveler and Milanese alike, stomachs stretch like reptilian jaws after a day of city walking, so there's no need to feel guilty at eating a whole pizza yourself. Your neighboring diners surely will.
It might even take longer to select your pizza than to eat it. San Mina's menu runs for pages, the cost and extravagance of each dish steadily rising yet never threatening to empty your wallet or overstimulate your taste buds. Try the margherita, a blend of mozzarella, tomato, and basil so perfect it could be the gatekeeper to pizza heaven itself. A mere five euros (about five dollars) covers the bill for this dish, making it easy to spend a little extra on a glass of house red or even top off your meal with a shot of limoncello.
In the home of Leonardo da Vinci's The Last Supper, it would be a shame to miss out on a sumptuous supper of your own. An easy 15- to 20-minute walk from the central train station or the nearest metro stop at Sondrio will land you at San Mina. It's a popular name for pizzerias so if you prefer a taxi, make sure to give the address for the one at Via Edolo 7, Milano. It's a small street, making the restaurant hard to miss. If you don't spot the green awning and sidewalk tables first, your nose will lead you to San Mina and a traveler's repast you won't soon forget.
If you would like to purchase this article for your publication, please click here to contact the author directly.