By John and Sandra Nowlan
Contrary to popular belief, you don't have to snap on skis to get the adrenaline flowing in Switzerland.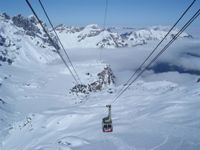 Even non-skiers like us will discover a country of high adventure, world-class music and cuisine that ranks among the best on the planet.
Skiers and snowboarders were certainly in abundance as we left Lucerne by train for the mountain village of Engleberg. But skiers were outnumbered by tourists seeking the adventure of climbing 10,000 feet above sea level and viewing the magnificent snow-capped Alps of central Switzerland piercing low-lying clouds as far as the eye could see. At the top, five restaurants (including one with outstanding pizza) as well as a glacier cave (a 500-foot tunnel scooped through ice 60 feet below the surface) welcomed us.
Another Alpine adventure involved amazing Swiss engineering. The 100-year-old Jungfrau cog railway was carved nearly five miles through a mountain to the summit of Jungfraujock, a UNESCO World Heritage site.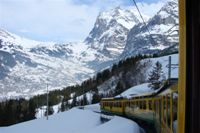 At 11,500 feet, the interior of the mountain boasts the highest railway station in Europe, as well as observation halls, a research station, food and gift shops and a series of imaginative ice carvings. Although our starting point in the delightful village of Interlaken was clear and calm, when we arrived at the mountaintop, a raging blizzard was swirling outside. A few hardy tourists ventured through the door for whiteout (and white knuckle) photo-ops. On clear days (so we were told) the view extends well into Germany and France.
Adventure aside, we made it our prime goal to experience some of the culture and cuisine for which Switzerland is becoming renowned, and Lucerne was an ideal place to start.
A charming medieval city of 60,000 people, Lucerne is best known for its stone water tower and wooden chapel bridge, both built in the 1300's. However, since 1938, when Arturo Toscanini conducted a gala concert in front of Richard Wagner's former mansion, Lucerne has become famous for its summer and Easter music festivals.
We enjoyed two outstanding concerts. First, inside the baroque, twin-spired Jesuit Church, the State Choir of Latvia and the Kamer Youth Choir flanked all four sides of the sanctuary and sang a haunting, modern piece by Russian composer Alexander Knaifel.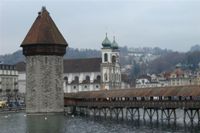 Accompanied by solo cello, the work featured flawless control and diction by the 100+ choir members.
Then, in a vast, modern concert hall adjacent to Lake Lucerne, we sat in awe as Bernard Haitink, principal conductor of the Chicago Symphony, led the Chamber Orchestra of Europe in a celebration of Beethoven. A full and enthusiastic house enjoyed the "Leonore" Overture Number 1, the Second Symphony and the Third Piano Concerto (with renowned Portuguese pianist Marie Joao Pires). We found it remarkable and inspiring that a city with a relatively small population could support a concert hall of this size and quality.
Later we found ourselves in Zurich, Switzerland's largest city, attending a Sunday matinee performance by members of the Tonhalle Orchestra, the oldest symphony in Switzerland. In a concert hall dating to 1895, we enjoyed Haydn, Mendelssohn and Bruch as performed by both a string quartet and a string octet.
Our hunger for good music was matched by our desire to experience some of the cuisine for which Switzerland has become famous.
We didn't know, but soon found out, that Lucerne recently earned its first-ever Michelin star at the restaurant in the century-old Palace Luzern Hotel.
Named Jasper, the restaurant in this five-star hotel is run by German chef Ulf Braunert. Trained at top restaurants in Europe and the U.S., Chef Braunert defines his Mediterranean cuisine as creative, but uncomplicated. Among his daily offerings are wild garlic soup, river trout with Tatar of king crab and roulade of rabbit loin with garlic gnocchi and artichokes. We enjoyed an appetizer of lasagna with fresh local asparagus and parmesan cream, a robust and flavourful black angus entrecote and Jasper's signature dish, a Limousin veal rib chop. The tender veal was locally raised and expertly carved at our table before being served on a bed of roasted onions.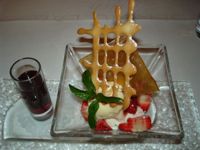 As expected in Switzerland, the cheese tray offered for dessert (along with volcano chocolate cake and strawberry pana cotta) was exceptional and a perfect ending to a Michelin-starred meal.
It's also worthwhile to seek out the less formal restaurants plagued by the locals in search of hearty Swiss food. In Zurich, which claims to have 1,700 restaurants and bars, we followed the crowds to Restaurant Zeughauskeller. Located in a historic building along the city's main shopping street, the large room reminded us of a boisterous German beer hall, but with better food. Diners can enjoy a half dozen varieties of tasty sausage, smoked pig hocks, or even meat that has been skewered and cooked on a 3-foot-long sword. Almost everyone washes down these Swiss-German treats with the excellent local beer.
As Switzerland is understandably worried about the world economy and its effect on tourism, now is one of the best times to visit. Bookings are down and high-end establishments are trying to cut costs without cutting quality.
Switzerland will always attract avid skiers to its slopes, but for many others who just want to enjoy unparalleled mountain vistas along with efficient rail service, a wonderful culture mixing German, French and Italian, world-class music and outstanding cuisine, Switzerland offers good value. As our guide in Zurich told us when we completed a walking tour of the old city, "North Americans should come here… they will never forget it."
If you wish to purchase this article for your publication, click here to contact the authors directly.