By Barbara Hales
ITWPA Member
With cheaper airline fares rivaling those of 2009, more people are flying this summer. It is projected that there will be over 700 million passengers departing from U.S. airports by the end of the year. (And it may seem that they are all at the terminal the same day as you!)
Of course, more people means crowds of travelers clogging the airport security lines and snaking through the mazes, ensuring that you have a long and tedious delay getting through.
But wait… that doesn't apply to you because you know the buzzwords! Imagine walking right past all those lines and walking through like you own the place.
Buzz: It's TSA PreCheck.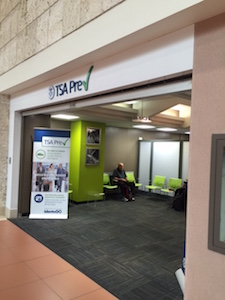 This is a program (for those departing from American airports) permitting qualified passengers a stroll through expedited security screenings, which makes the experience more enjoyable.  Lines are shorter and move more rapidly since the screening process is less tedious.
The benefits are… It's convenient. You don't have to remove your shoes, belts, or 3-1-1 liquids. You can keep your light jacket or sweater on. Laptops may remain in your carry-on. It's available at more than 160 airports. Sixteen airlines participate.
To receive approval, go to TSA.gov and complete an application. If you are approved for the program, you will be directed to a center for fingerprinting and given a known traveler number ("KTN"). Use this whenever you book your reservations.
Children under 12 years of age may go with parents possessing a TSA PreCheck indicator on their boarding passes. Older children must apply for their own KTN or pass through standard security lanes.
The key is to plan ahead to avoid the stress. Enjoy your trip!
If you would like to purchase this article for your publication, please click here to contact the author directly.