By Shelley Hilburn
Lake Istokpoga is one of the best bass fishing lakes in Florida, and anglers come from all over the state and the country to fish it. Istokpoga is 28,000 acres large, yet very shallow, and the water gets extremely warm in summer. The summer heat tends to make residents and fish here very laid back!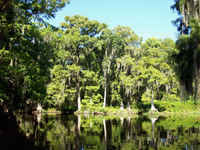 Head up the feeder stream Arbuckle Creek to find a natural wonderland of great beauty and diversity.
The creek hosts a wealth of plant and animal life to entertain a spectrum of visitors.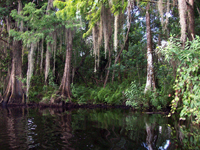 The mouth of the creek is alive with white and yellow water lilies, spatterdock, blue flag irises and cattails.
Moving into the creek proper, you'll be awed by the variety of trees — bald and bush cypresses, the great live sand oaks draped with moss, red cedars, bays, elms, southern magnolias and palms all connect and intermingle with beautiful leather, royal, swamp and cinnamon ferns.
Here, your senses are inundated with the vibrant and myriad shades of green with the scattered burst of color from purple pickerelweed, white swamp lilies and arrowhead lance leaf, scarlet rosemallow hibiscus and wild orange trees.
Southern creeks are teeming with life and sounds — some expected and some surprising — but all interesting. There are so many birds that it is like listening to a fowl symphony.
Florida is a bird-watchers paradise, owing to its large and distinctive bird population. On a single day you may see and hear ospreys, hawks, great blue herons, green herons, great egrets, cattle egrets, American white ibis, swallow-tailed kites, blue jays, coots, pileated woodpeckers, anhingas (snake bird), double-crested cormorants, kingfishers, and even owls hooting high in the cypress trees. At any moment it is possible to see one of these large, beautiful birds floating overhead or landing on a bank nearby.
Something that may be somewhat unique to Highlands County is the sound of cattle lowing as you cast your line. Cattle ranches are prevalent in the area landscape and the cows peer out at you with interest as they meander down to the creek for some sweet grass.
Boaters looking for some fishing action will definitely not be disappointed in Arbuckle, either, with bass and catfish interrupting your relaxation with insistent tugs on your line.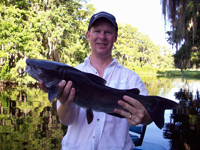 You will also catch some fine bluegills if you can keep the small alligators from considering your bobber its next colorful tidbit.
An outing up Arbuckle Creek is like visiting a secluded, enchanted realm — a relaxing place to let your cares drift downstream and let nature refresh your soul.

If you wish to purchase this article for your publication, click here to contact the author directly.
Are foreign drugstores clinically appropriate for Americans. Part 2