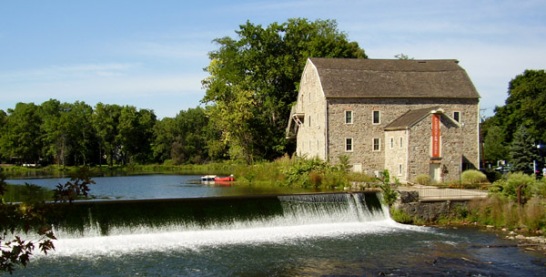 By Maureen Bruschi
On the west end of Clinton, New Jersey, a magnificent 200-foot-wide waterfall separates the historic Red Mill Museum Village and the Stone Mill, home to the Hunterdon Museum of Art. Cross over the old truss bridge (constructed around 1870) and you'll stroll onto Main Street, cherry tree-lined and filled with over 30 specialty shops and restaurants.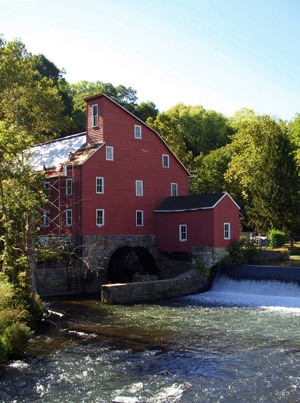 The Red Mill Museum Village (www.theredmill.org) has more than just period exhibits dating back to the 1860s. It was recently featured on SCI-FI Channel's "Ghost Hunters." The Atlantic Paranormal Society concluded that a number of its buildings have "paranormal activity," so during your visit, listen for phantom footsteps, typing where there are no typewriters, or the ringing of the emergency bell. (Not an easy bell to ring!) Glance out a back window and you might see an apparition of an old woman in the yard behind the mill.
While you're hunting for ghosts, don't forget to take in the Red Mill's Hunterdon Historical Museum, which records more than 180 years of Hunterdon County's history. The Red Mill Museum Village is also home to an 1860's one-room schoolhouse, a reproduction of an 18th century log cabin and the Mulligan Quarry, among other exhibit-filled buildings. The Village is closed from early October through March.
On the other side of the Raritan River, the Hunterdon Art Museum (www.hunterdonartmuseum.org) presents roughly 15 exhibitions annually of contemporary art, craft and design. You'll see prints, drawings and paintings from internationally-known as well as local artists.
Wander down Main Street and you'll find quality handcrafted leather goods at Bearpaw Leather, and jewelry, gold, and fine color gemstones at Made to Order. If you're searching for a one-of-a-kind gift for someone special, Secors offers pottery and unique homemade items from local residents. Whether you like to check out best-selling books or try your hand at bead stringing and weaving, or you're captivated by ceramics, comfy clothing or cottage furnishings, you're sure to enjoy downtown Clinton's unique selection of shops.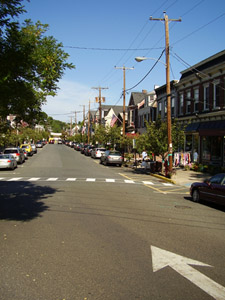 You'll also find eateries that offer gourmet delicacies, homemade specials, freshly baked bread, pizzas, pastas, and the finest seafood in the market today scattered along the main shopping district.

If you're up for dining outdoors, you can catch a view of the Red Mill at the Old River House Restaurant.
Looking for homemade soups and daily specials? Check out the Towne Restaurant, family owned and operated by the Rentoulis family for over 28 years.
Or experience elegant dining and 18th century charm at the Clinton House. (You won't be disappointed if you try their succulent Salmon Fettuccini.)
If you're in the mood for a gourmet Italian bistro (Dora Restaurant) or homemade ice cream cakes (J.J. Scoops) topped off by the best coffee in town (Just Johnny's Java & Juice), you'll find it all on Clinton's Main Street.
And at the end of the day, step back in time and experience all the furnishings of the Victorian era… cozy comforters, fragrant soaps, soft robes, Irish Soda Bread… at the Riverside Victorian Bed & Breakfast (www.riversidevictorian.com).
Clinton is located off I-78 at Exit 15. It is an hour west of New York City. For more information about the culture, beauty and mystery Clinton has to offer, visit: www.clintonguild.com.
If you wish to purchase this article for your publication, click here to contact the author directly.