by P. Taylor Huff
If you enjoy staying at historic inns and hotels, but also prefer modern lodging conveniences, the St. James Hotel in Red Wing, Minnesota, will meet your expectations and more.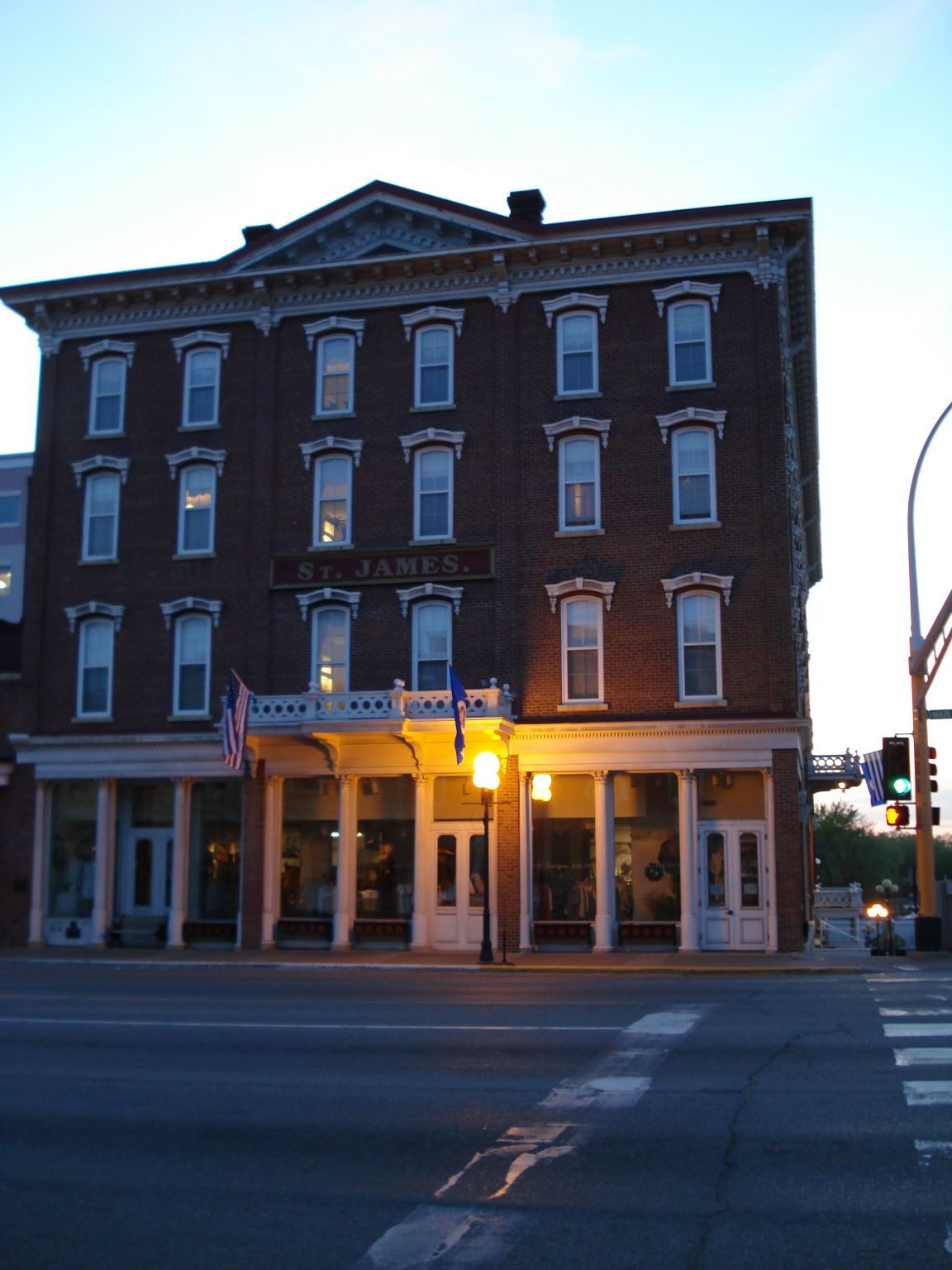 Built in 1875 when Red Wing was known as the "wheat market of the world," the hotel is a combination of 19th century Victorian décor and ambience with all of the 21st century amenities in each of its non-smoking, 61 guest rooms: king or queen size beds, cable television, phone with voicemail and data port, WIFI, alarm clock with CD player, iron and ironing board, and private bathroom complete with luxurious terrycloth bath robes. Each night the poster beds' quilts are turned down and complimentary chocolates are left on the pillows.
"Delta Queen," "Huck Finn," and "Viking Explorer" are just some of the original titles assigned to the rooms. They are named after riverboats that once carried passengers and wheat from the Red Wing granaries located on the nearby Mississippi River.
You can sit on the wide windowsills of the riverside bedrooms and watch the sun set over the river sprinkled with various watercraft as well as the Levee Park recreational area that runs along the Mississippi below.
Though you never get the feeling of the hustle of a large hotel, the St. James has facilities and catering that can handle up to 300 people for conferences, meetings and retreats.
Visitors can choose to dine at its two full-service restaurants, a pub, or coffee/gift shop; spend time in its six courtyard shops; or walk to several casual dining eateries located in town.
Only an hour's drive from the Twin Cities and Rochester, the town of Red Wing is located on bluffs overlooking the Mississippi River and is named for its legendary ancestor Chief Red Wing. There is not much traffic along its wide, clean streets and its primarily brick façade architecture reminds one of what many small U.S. towns must have looked like over a century ago.
Check out Red Wing's calendar of events and time your stay at the St. James to enjoy such celebrations as the Annual Spring Flood or Annual Fall Festival of the Arts. You can even enjoy world-class entertainment at the Sheldon Theatre. You can take a riverboat cruise, tour a winery or participate in the many outdoor activities and water sports, or take a leisurely stroll along the Levee Park river path, just behind the hotel and near the Red Wing Depot, site of the visitors' center and AMTRAK train stop.
For shoppers, the town is home to antique shops and the well-known Red Wing pottery, stoneware, and shoe companies, and gamblers can try their luck at the Treasure Island Resort and Casino 11 miles north of town.
One night's stay at this noted historic property and you will agree with others, and even President Rutherford B. Hayes who once stayed here, that the St. James Hotel is indeed one of the Midwest's best kept secrets for those who want the perfect mix of the old and the new.
If you go:
For reservations or inquiries: 1-800-252-1875; www.st-james-hotel.com/
Visit the Visitors & Convention Bureau for a current calendar of events: http://www.redwing.org.
—–
To use this article in your publication, click here.