by Bonnie Caton
With a whine and a lurch, the truck stopped on the edge of a market in Chiang Mai and we all jumped off into the muddy street. Morning sunlight was coaxing ribbons of steam out of the damp pavement where Thais shuffled about with bundles of fruit, fish still flopping, rice noodles, shrimp paste and the like, wrapped up in faded sheets or balanced on their heads in woven baskets. Palm trees and bird calls filled the air surrounding a dark cement building where we'd find the ingredients for our Thai Cooking class.
A short woman in her late twenties named Meow hopped out of the cab and led the six of us into the crowd. Odors of sweet jasmine and curry, ginger and fish paste crept through the air while we walked among the tables of lemongrass, strange wrinkly limes, and mushrooms that wiggled like Jell-O to the touch. Little Thai mama-sans cooed and called to us in broken English from the shade of their food stands, hoping we'd buy fruits that looked like spiky medieval weapons and tasted like fruit roll-ups.
Meow placed herself behind a table strewn with the ingredients we'd need and named them off, one by one. "This is Kaffir Lime. Like normal lime but bumpy. Smells nice! Cut in half and put in men's toilet or squeeze in shampoo for sexy hairdo. This is ginger. If you have a date, it makes big boom for men. Double the ginger for double boom-boom."
Back in her open-air kitchen, Meow instructed us to take off our shoes and sit at the long wooden table in the middle of the room. Wielding a large knife, she showed us how to mince onion and crush garlic. "Ok, ready? Now lay your knife flat on your garlic. Put your palm on your knife. Now think of your ex boyfriend or girlfriend and crush them!"
She had separated each ingredient out for us and explained every step of the process in her special way. After frying up and sampling some Pad Thai, we made a thick, creamy green curry, crunchy fried spring rolls, fiery masman curry, and a drool-inducing coconut lemongrass soup with meaty prawns. With each round came sweet, spicy aromas of coconut and chili paste mingling with sizzling chicken in the wok. Each time the dishes came out perfectly, too, and we couldn't believe we'd made them ourselves.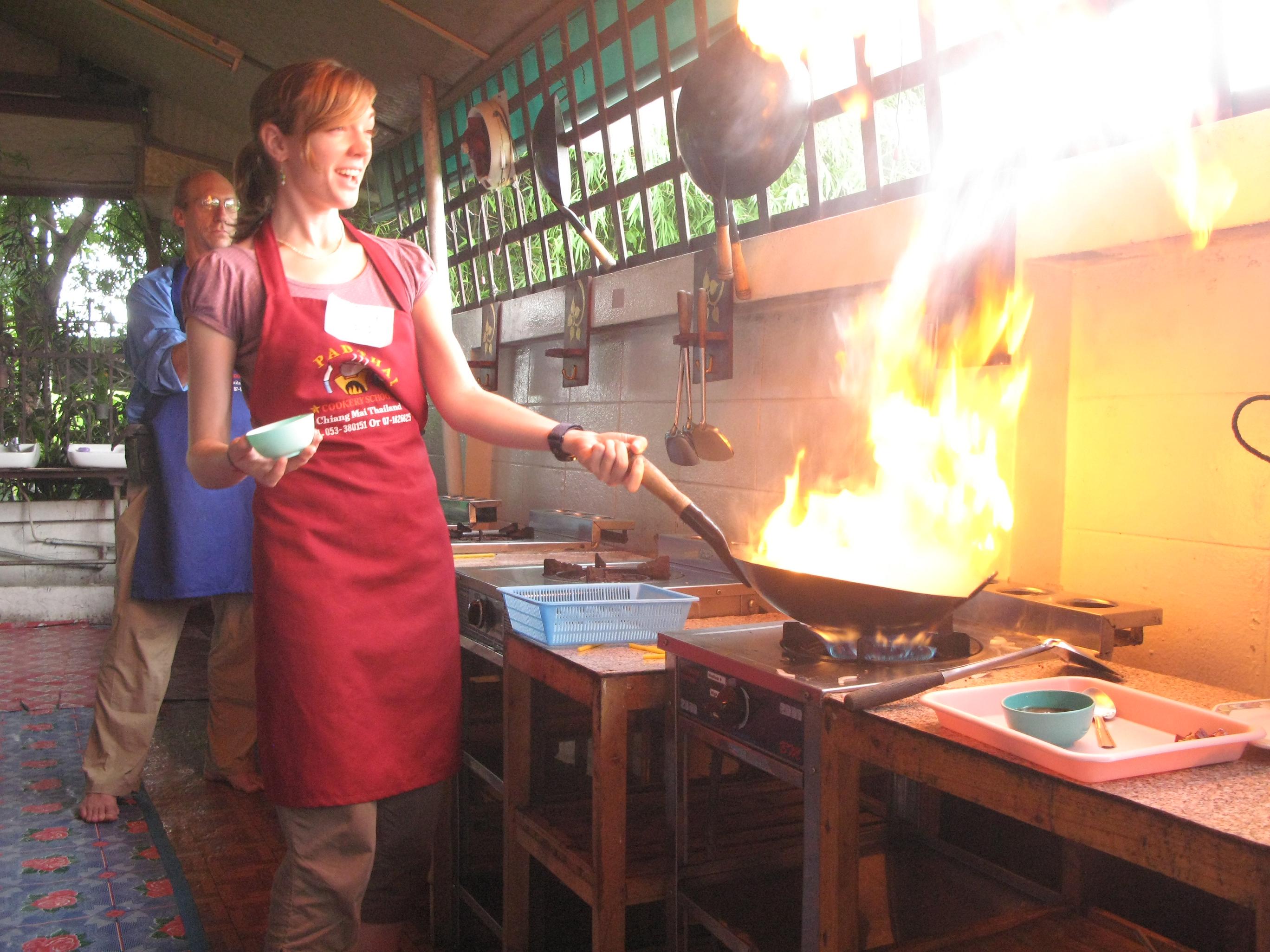 Then it was time to spice things up even more. Meow told the class how to make a Cashew Chicken dish and that in doing this, flames were going to shoot out of our woks while adding the onion sauce. She prepared the class by demonstrating proper flaming wok technique. Standing behind her wok, she told everyone to make room. "Stand back farther!" She yelled. "First hold the wok away from you body – or anyone else. Then tell someone to get camera out and get ready. Next, turn heat on high. When oil is coating the wok, it's ready. Now, stand back, hold onions over the wok, and throw them in. Don't forget to pull hands back!"
She flicked her hand over the wok, throwing the onions in and it exploded. The place glowed a crackling orange as a rolling fire ball rose to the ceiling and faded into smoke. Meow deftly pulled away just in time. Grinning for the cameras, she held her hand up in a peace sign and posed as she yelled "Sexy! Picture, picture! Sexy! Okay, now your turn." Each student tried their hand at the exploding wok, successfully dodging their own fire balls and finishing the dish with all limbs and eyebrows intact.
After dodging fire and feasting on round after round of delicious coconut-laced dishes, the class reclined on cushions around the table licking their chops like lions after the kill. But it wasn't over yet. Mango with sticky rice drowned in a slow stream of sugary coconut sauce was easy to devour, even on a full stomach, and bananas in coconut cream topped off the decadent day.
Meow handed out colorful cookbooks and told us to email her with any questions. She also signed a very official looking cooking class certificate for each student before we piled back into the old rusty pickup to whiz through the busy streets of Chiang Mai and flop lazily on our beds for a nap before hitting the pool.
For about 20 Dollars, Meow's cooking class was the best deal we'd found in Thailand. Other classes don't offer market tours and often only make two or three dishes. Not only was Meow loads of fun, but her class lasted all day. There are three day-long classes to choose from, depending on which dishes you'd like to make, and a half-day class as well. In Chiang Mai, you can book with your guesthouse by asking for the Pad Thai Cookery School or directly with Meow by phone: (053) 380151 or by email: ilovepadthai.yahoo.com.
—–
To use this article in your publication, click here.