by Debi Lander

Legend asserts that Friedrich, the last Knight of Hirschhorn, died from a curse.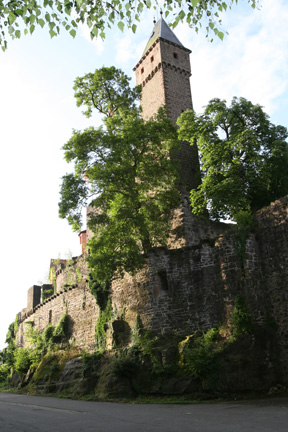 Whether folktale or truth, his order erected a mountaintop stronghold in 1203, adding living quarters, a moat, a church and a town wall over the centuries. As guardians, they protected the surrounding countryside through devastating wars. After the plague in 1635, few remained, but the stone buildings still stand today.

Now the knights' castle of Hirschhorn, Germany beckons from its forested peak, as a four-star hotel. It is set against the backdrop of the swift Neckar River. The churning waterway swerves through the glen in a storybook fashion, disappearing into the distant horizon.

Upstairs, in the main fortress, eight guestrooms blossom with red and blue chintz curtains and matching bedspreads. One suite offers an elevated seating area with bow windows overlooking nature's panorama. Modern bathrooms are surprisingly roomy and an elevator, just big enough for one person and their bags, makes luggage handling easier.

Hotel guests can sit at round tables—fit for knights—on the sun-drenched terrace, listening to the splashing sounds rising from the river. They can sip Rhine wine, nibble German pastries and watch the laden barges pass through busy locks.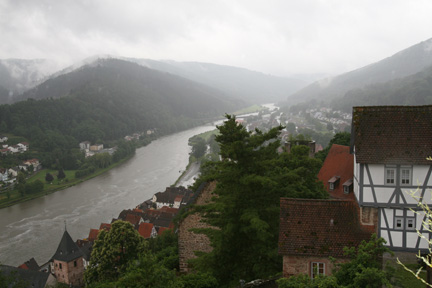 Further down on a musty English garden pathway, there are 17 additional bedchambers in the Marstall, a renovated old stable. Visitors can even explore a 1406 Gothic church and a cemetery with headstones belonging to the knights of yore.
After the walking adventure, enjoy Schloss Hirschhorn's restaurant. It serves unexpected and memorable delights fit for royalty. Game is the dining room specialty, when in season. And don't miss the local Riesling wine, a tasty bargain.

Legend has it that old Freidrich killed his cousin, Hans of Handschushsheim, in a duel. This provoked his aunt to cast the spell. They say when Friedrich died in 1632, so did the 400-year reign of the Hirschhorn Knights.

But their chivalrous presence still lingers in this old castle on the hill.

If you go:

Schloss Hirschhorn is above the town of Hirschhorn, in southwest Germany, just 12 miles from Heidelberg.

For more information: www.schlosshotel-hirschhorn.de
—–
To use this article in your publication, click here.