By Marie Kimber
ITWPA Member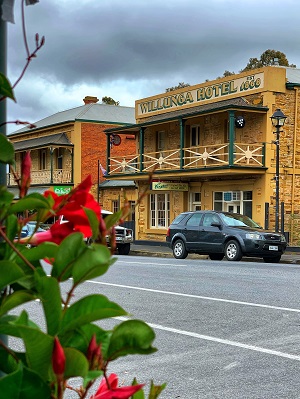 We have several unique animals here in Australia, none more widely known than our kangaroo. They are the world's biggest marsupials — their young complete their postnatal development within their mother's pouch before braving the world outside.
You could say we hold this creature in high esteem, making it a representative of our country. It appears on our Coat of Arms, on some coins, on the 'boxing kangaroo' flag and is the symbol of Qantas, our national airline.
A lesser-known fact about the kangaroo is that it is an excellent food choice. In addition to providing a valuable source of iron and zinc, the meat is low in saturated fat. It provides Omega-3 fats and all the essential amino acids necessary for wound repair and cellular growth.
Eating kangaroo meat is better for the environment and more sustainable. Kangaroos are indigenous to the Australian landscape and are designed to live in our harsh climate. As wild animals, they don't require farming in the traditional way of land clearing and habitat destruction. With the absence of hooves, their footprint has a smaller impact on the environment than other animals introduced for their meat.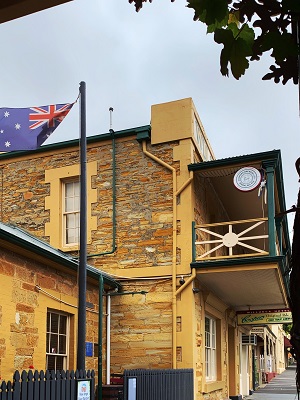 Willunga
On a cool October evening, I choose The Willunga Hotel in Willunga to celebrate a friend's birthday. Willunga is a small town 30-miles south of Adelaide, South Australia's capital city. Willunga nestles at the foothills between ocean and vineyards. With a population of fewer than 2500 people, there are several historic buildings, including four churches and three hotels.
The Willunga Hotel, or 'The Middle Pub' as the locals call it, was established in 1868. That date, in South Australian terms, is quite ancient as South Australia was proclaimed a State just five years earlier.
The Dining Room, exuding character with stone walls and heavy timber furniture, prompted thoughts of 'if only these walls could talk.' The waitress brought the menu to us, and I was thrilled to read Kangaroo Pie listed there, ordering it was a no-brainer.
Neither my friend nor I could resist the pie; it sounded heavenly. We weren't disappointed when it was placed in front of us. We had a bottle of local, full-bodied, peppery Tempranillo ready to pair with our meal.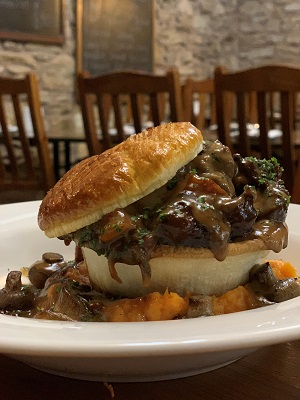 What's not to like?
Five inches of glazed, golden puff pastry sat askew the pie base which housed a mountain of pan-seared kangaroo fillet, caramelized onion with roast pumpkin, sautéed button mushrooms, homemade chutney, and a creamy pink peppercorn glaze. The excess oozed tantalizingly out onto mashed sweet potato, confined within the stark white plate, all garnished with grass green parsley.
The pastry was crunchy and flaky and cooked to perfection. The meat was rich and tender. Little peppercorns from the glaze gave an added bite to the sweet chutney and roasted pumpkin. The button mushrooms were swept up with the sweet potato mash and tasted divine.
Kangaroo meat has a stronger flavor than beef or lamb and is often described as tasting somewhere between buffalo and venison. All kangaroo meat sold in supermarkets in Australia is wild-caught, not farmed. It sells for around $5—6 per pound. Without fat running through the meat, the downside is it can become dry and tough if overcooked.
But if you're ever in Australia, find someone who can cook it well and give it a try. And if you're ever in South Australia, a visit to Willunga, the Willunga Hotel, and the nearby McLaren Vale wine region is a must. ~TPM
About Marie Kimber—New travel writer Marie Kimber's work is one of GoMONAD's Top Ten GoNOMAD Travel Stories of 2019. It was her first ever pitched story. Kimber recently completed the Great Escape Publishing 2019 Travel Writers Conference via Livestream. Marie lives on the beach adjacent to South Australia's premier wine region, McLaren Vale. Her passion is to inspire and enlighten others through her love of travel, writing, photography, and public speaking. Marie also hosts small-group, ladies only tours. See more of Marie's work HERE.