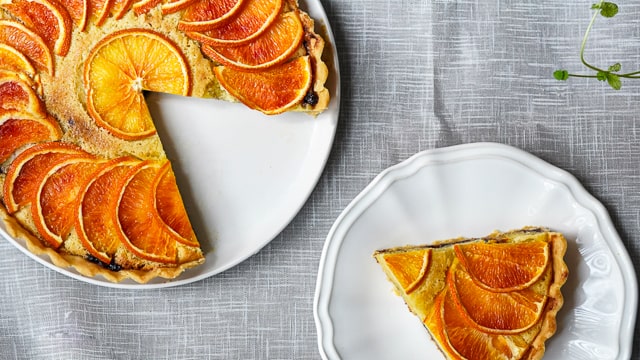 Shyndigz, a dessert café in Richmond Virginia, takes desserts to the next level.
Who doesn't love dessert? Dessert is, arguably, the best part of a meal. Shyndigz, a dessert café in Richmond, Virginia, embraced that thought and took it to the next level. Shyndigz originated as a dessert-only café and was only open evenings. Pre-pandemic, the quirky establishment had lines out the door late into the night. With the onset of COVID-19 and the restaurant's temporary closing, they pivoted to take-out and delivery from their store Shyndigz Market and 2go, just two doors down the block, serving their signature desserts.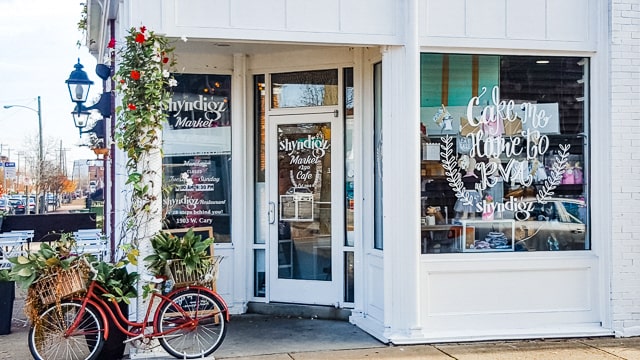 A dessert market in Richmond VA
Welcoming you to the market is the CAKE ME HOME TO RVA sign painted on the building's side window. A bicycle is poised at the front entrance, its baskets overflowing with magnolia leaves. Bubbles are floating out from one of the windows. A pick-up window is set on the side of the building for pre-ordered desserts and order pick-ups. It's reminiscent of an old movie when someone's Aunt leans out and offers pies out of her kitchen window.
Make an entrance
As you enter, a grand tree with a broad canopy and twinkling lights envelopes you in the middle of the seemingly small, cozy Richmond market. Surprisingly, there are no desserts in sight. Instead, you are surrounded by whimsical gifts of all kinds for everyone, from babies and pets to adults. There are colorful dog collars and locally made treats for your pets; adorable outfits, mobiles, teething rings, stuffed toys, and books for children; flowers, containers, and macramé hangers for the gardener; specialty cake mixes, cookbooks, kitchen towels stenciled with sage advice and more for the cook; and so much more for everyone else on your list. Shyndigz has packaged their own mixes to be made at home. Cake mixes for the Salted Chocolate Caramel Cake and a regular Chocolate cake are available. Frozen Take and bake cookies are also available.
Desserts – desserts – desserts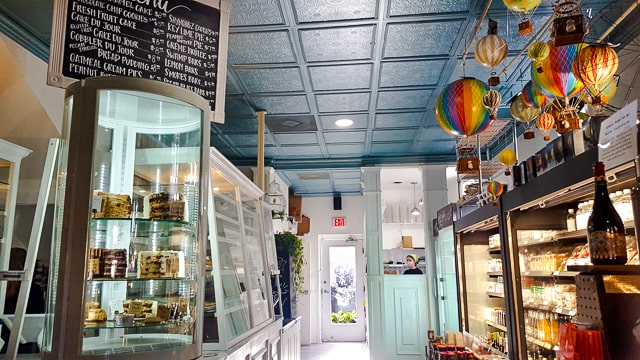 Moving further into the market and beyond the gifts are the desserts. There are dozens of cakes and desserts in an array of display cases.
There may be 25 desserts on the menu that includes cakes, pies, cobbler, bars, and cookies on any given day. Always included is a gluten-free option. Fresh Fruit Cake, Salted Chocolate Caramel Cake, plus a Cake du Jour and a Gluten-Free Cake du Jour can be enjoyed. The Fresh Fruit cake was the first cake introduced when Shyndigz was established in 2010. It is their signature cake with its light texture and fresh fruit sweetness, and cream cheese icing. The desserts are all freshly-made using fresh ingredients.
Bars – bars – bars
The selection of bars includes S'mores Bars, Pecan Bliss Bars, Rice Krispy Bars, Peanut Better Bars, Lemon Bars, and Swamp Bars. Swamp Bars have a little bit of everything. It's a chocolate brownie with peanuts, a peanut butter layer, marshmallows, all topped with a chocolate rice cereal treat.
Pie – pie – pie
Pies include Peanut Butter and Key Lime. Cookies include oatmeal cream pie cookies, chocolate chip, and one of their newest cookie offerings – Alfajores, dulce de leche sandwiched between two shortbread cookies.
Cake – cake – cake
One of the most popular cakes is the Salted Chocolate Caramel Cake and is always on the menu. The rich and deep chocolate cake is served with a side of caramel for drizzling. It is decidedly decadent and delicious. The multi-layered cake is large enough to share but delicious enough to keep it all to yourself. There is a sign displayed on the wall that states The Best Things in Life are Sweet. That seems appropriate.
Try-It Tuesdays
Tuesdays are Try-it Tuesdays. With a purchase of anything in the Market, samples are given out along with a survey. A completed survey can be redeemed for a full-sized dessert the following Tuesday – no charge. Try It Tuesdays are a fun way to taste samples of potential new desserts. A recent Try-it Tuesday's sample was a fruit loop inspired krispie treat. This is a popular program, and lines can get long, but the line moves quickly.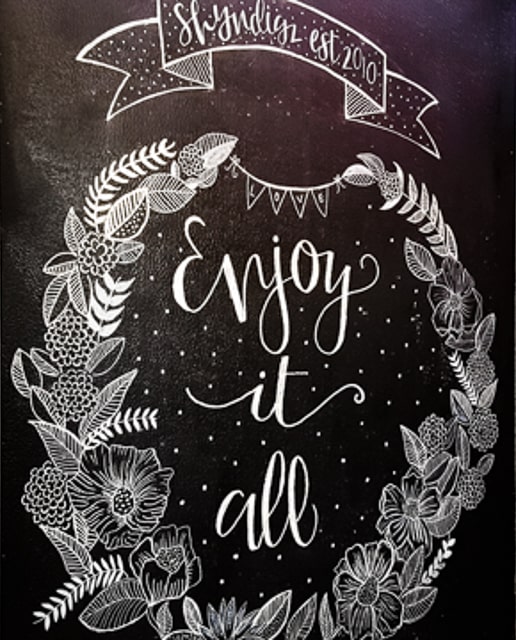 Richmond outdoor dining or take-home desserts
All dessert items are for take-out or delivery only. However, Shyndigz has a large outdoor tent, which holds plenty of tables with plenty of space between and a cocktail bar. There are also plenty of outside tables and chairs to enjoy desserts on-site or can be taken home
As you leave by the back door, a sign reminds you to ENJOY IT ALL, as if we needed a reminder.
For more information go to Shyndigz Market & 2go.
---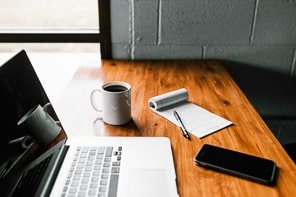 About Leslie Shields—Leslie is a freelance writer based in Richmond, Virginia. She has been in health care administration for the past 20-years and is ready to explore new places. Leslie loves the energy of big cities and the uniqueness small towns have to offer. Leslie is a member of ITWPA and The Travel Writers' Café. She can be found on Instagram, Facebook, and Twitter under @leslieshieldsva.