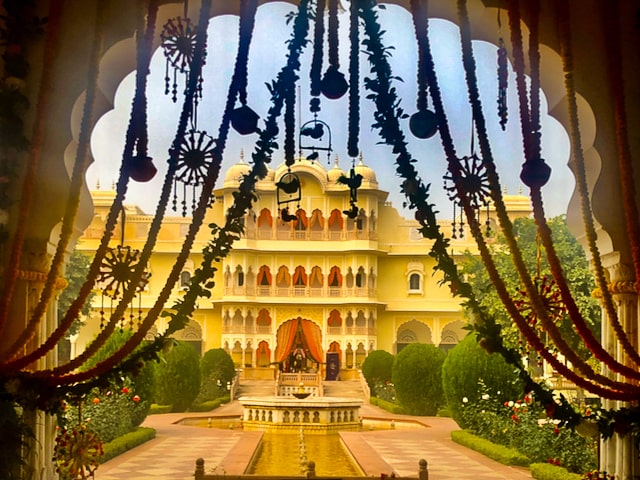 Rajasthan India—Five hours into a bumpy, dusty coach ride, on a pothole-filled road, in rural Rajasthan, I was hot and irritable. Travel in India is neither fast nor comfortable.
On the seventh day of our tour, Delhi's chaotic crowds' and sensory overload seemed a distant memory. At the same time, the pageantry of the Pink City of Jaipur, complete with colorfully dressed and bejeweled elephants, danced fresh in my mind.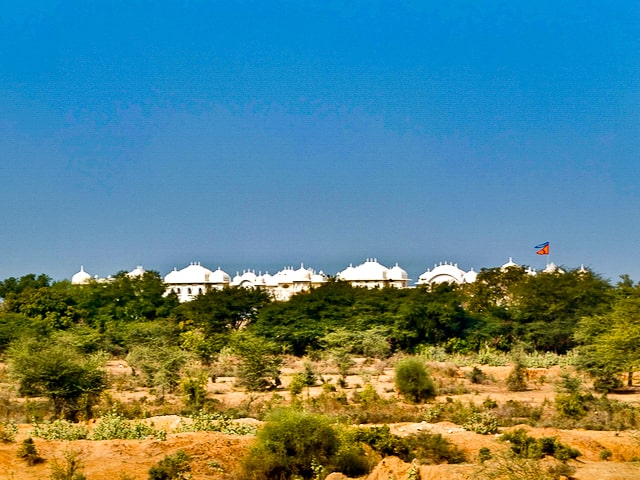 As we topped a hill in the lower Vindhya Mountains, I caught a glimpse of massive, white stone fortified walls with flags flying high from the corner towers, nestled in a vast forest of tree-covered rolling terrain.
We, road-weary travelers, perked up, and with a quick inhale, strained to take in the dramatic and imposing structure ahead of us. Not wanting to spoil the surprise, our guide had been uncharacteristically mum about our next accommodation. The Nahargarh Palace needed no build-up.
Nahargarh Palace Hotel —Living the Rajputana way
Surrounded by a 16th-century style fortress, the impressive hotel property resembled a cross between an ancient palace complex and a lavish Royal hunting lodge, fit for a Maharaja.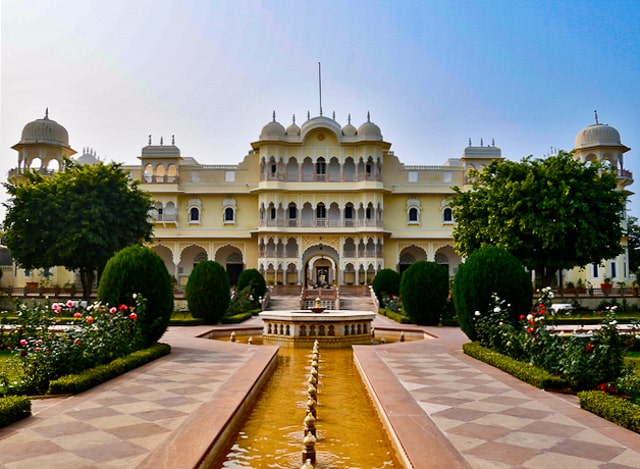 Strolling musicians in colorful turbans greeted us while whirling male dancers in embellished red coats performed. We gawked, mouths agape, at the splendors that surrounded us.
Rajasthan India tributes
Nahargarh pays tribute to its regal history in detail and decor throughout the grounds. The courtyard was overflowing with a riot of colorful flowers, towering arches, and sprawling formal Mughal gardens.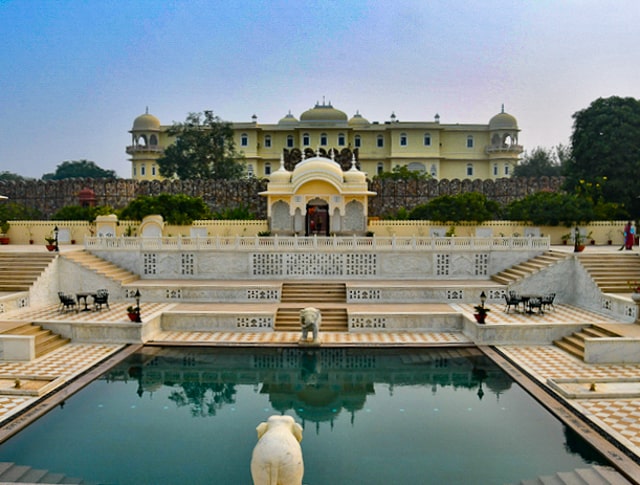 Adding to the grandeur, the luxurious outdoor pools with spraying fountains were a spectacular feature. A tucked-away, dark wood filled library bar off the vast common area looked ready to receive a visiting British Viscount. I can picture him, gin, and tonic in hand, waiting for dinner to be served in the lavish Rajput style dining room, complete with Murano glass chandeliers.
A teak 4-poster bed, marble bathroom, deep, clawfoot tub, stained glass windows, and a luxurious, cushioned lounging alcove were only a few of the details that gave my beautifully appointed guest room a regal feel. The hotel was a reminder of an extravagant era when Maharaja's reigned supreme.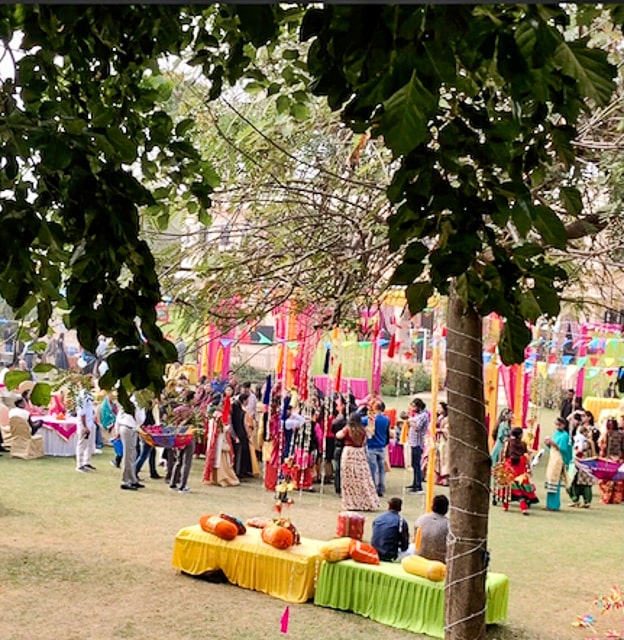 Rajasthan India wedding traditions
The Nahargarh Palace Hotel is a popular destination for opulent Indian wedding celebrations. We were delighted to watch preparations for a private wedding unfold, amazed and thrilled with our good luck that the beginnings of a multi-day affair were underway. Elaborate flower displays and luxurious jewel-toned fabrics draped and decorated every doorway throughout the property.
Indian weddings are all about beauty and lavishness, traditions, and rituals. Celebrating love and life, it's all about the enjoyment of families and friends coming together; the sheer magnitude and grandeur of an Indian wedding are enough to amaze anyone! The family generously invited us to participate in an evening of music and dancing, a joyful experience we'll never forget.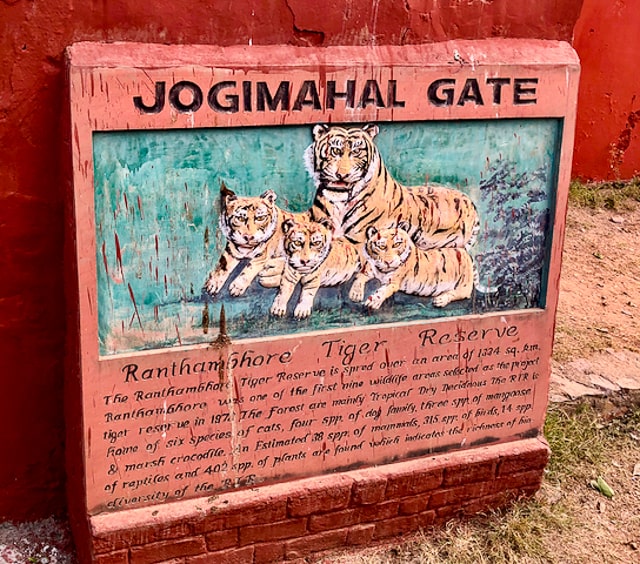 Ranthambhore Wildlife Park and Fort
The Ranthambhore Tiger Reserve, which until 1970 was the Maharajas' favorite hunting grounds, was next on the itinerary.
Once considered one of Jaipur's Maharaja's most famous hunting grounds, today, the Ranthambhore National Park is a wildlife preserve, a home to tigers, leopards, exotic birds, and other woodland creatures. Now a world-famous refuge, it's one of the best places to see the majestic Bengal Tiger in the wild.
At its center is the grand 10th-century Ranthambhore Fort, it's now a World UNESCO Heritage Site. Scattered around the fort are ancient temples, mosques, and hunting pavilions. The crocodile-filled lakes, vine-covered chhatris (burial tombs), and ancient ruins found all over the park add to its ambiance.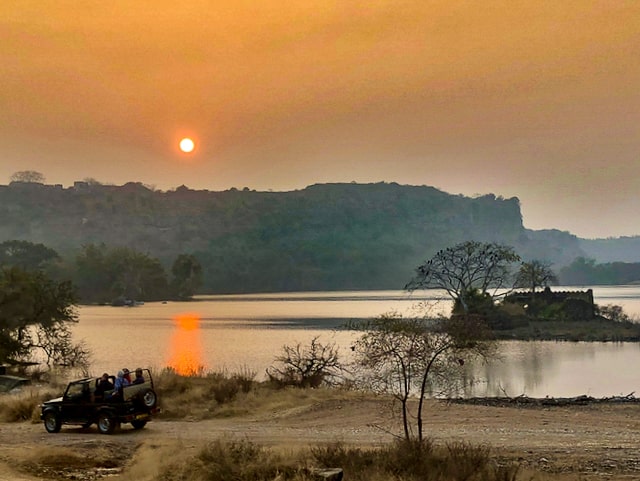 Morning and evening jeep safaris were highlights of our stay, hoping to glimpse the magnificent tigers. Only minutes into the park, we discovered fresh tiger tracks. Our guide could tell by the paw prints' size and pattern that they were a pair of young females. Alas, sightings in the park are often elusive. However, the breathtaking landscape dotted with old forts and abandoned mosques was more than reason enough to enjoy the park's outings.
We all vowed to return someday for another attempt to spot the Big Cats of Ranthambhore.
To plan your Rajasthan visit, explore luxury lodging at Nahargarh Ranthambhore.
---
About Sharon Kurtz ~ Sharon is a freelance writer and tour leader for a women's travel company. She began to travel writing as a second career less than two years ago, with more than 50 published articles to date. Sharon's passion is traveling the world and discovering unique people, places, and perspectives. Her home is Dallas, Texas, with her husband and three dogs, her carry-on bag is always ready to go. Kurtz's next adventure will be Istanbul, Turkey, the crossroads of East and West civilization, when travel resumes.