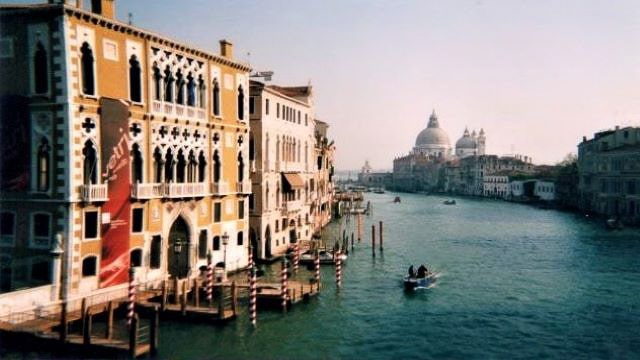 ….Italy's floating dreamscape
Story & photos by Michael Kompanik
"A visit to Venice is a perpetual love affair." It's not hard to see why after visiting this enchanting city of canals. Few places offer such a wealth of beauty, charm, and fascinating history.
Venice—a Walking Tour in the City of Magic
As one of Italy's largest cities with so much to explore, it can seem overwhelming to first-time visitors. Traveling to Venice with a group of 10 friends for a Mediterranean cruise a few years back, we realized some of our group had never been to Venice. To maximize our time and fully unlock the magic of Venice, we hired a private guide through Travel by Locals and took a walking tour of Venice.
A life-long Venetian resident and educated historian, Arianna Gambirasi, met our group at the Hotel Santa Chiara. Her warm and inviting demeanor set the tone for an incredible Venice walking tour we could have never achieved on our own.
Arianna led us down winding cobblestone streets, charming narrow alleyways, and stunning piazzas. Her familiarity with the environs was crucial as the maze of canals and passageways can make navigating here a bit of a challenge. Along the way, she pointed out various styles of architecture and shared tales of the many homes and the people who once lived there.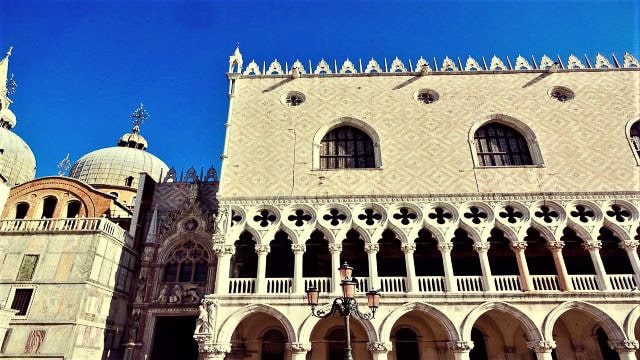 Piazza San Marco
Our first major stop of the day was iconic Piazza San Marco – St Mark's Square. We toured the magnificent Doges Palace and the Basilica di San Marco – St. Mark's Basilica.
Formerly the residence of the Doge, the elected ruler of Venice, the Doge's Palace served as the seat of the Venetian government. This masterpiece of Gothic architecture is one of the city's most stunning landmarks. Thanks to our guide, we were able to bypass long lines and head straight into the magnificent palace. Once inside, we were privy to the Doge's private rooms and administrative chambers filled with famous paintings and superb tapestries from some of the greatest Italian artists.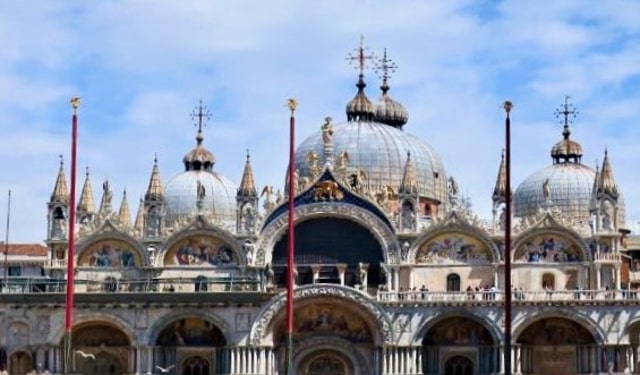 Located at the opposite end of the square, the Basilica was built as the final resting place of St Mark. Unlike most Italian Catholic cathedrals. St Mark's displays a distinctive Byzantine flare with mosque-like features reflecting Venice's role as Western Europe's gateway to the east. Dating back to the 11th-century, the Basilica is richly embellished with gold glass mosaic walls, marble mosaic floors, and stark images reminiscent of the Eastern Roman Empire. Its ornate altar contains more than 2,000 precious stones and is one of the Basilica's greatest treasures.
Bridge of Sighs
Countless tourists have traversed Venice's famous Bridge of Sighs, but few are aware of its storied past. Adrianna explained the medieval judicial system. She then led us from Venice's historic courtrooms and over the iconic bridge to the cold, austere dungeon cells whose walls were covered with prisoner graffiti. For these unfortunate souls, the Bridge of Sighs offered their last glimpse of freedom and loved ones from its tiny windows.
"La vita è bella – life is good. Especially when you've experienced the magic of Venice!"
~Michael Kompanik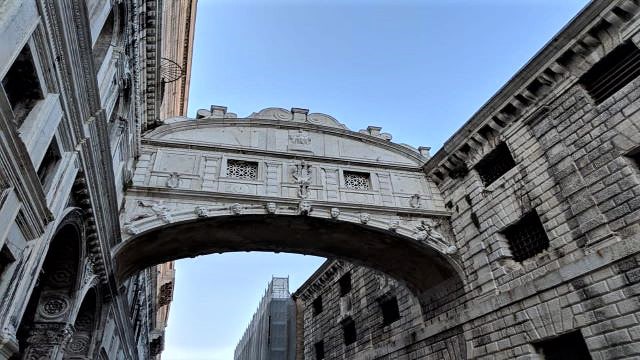 Rialto Market
No visit to Venice would be complete without an intriguing stroll through the colorful stalls of the Rialto Market. Here vendors in this lively canal-side marketplace hawk fresh seafood, fruits, vegetables, and local goods.
Seafood delectables here include some of the most unusual types of exotic fish we'd ever seen. The variety of fruits and vegetables is so amazing, no one leaves empty-handed. Another great insider tip from our guide was the daily (except for Sunday) market closing at noon. Usually by mid-morning, most of the vendors have sold out.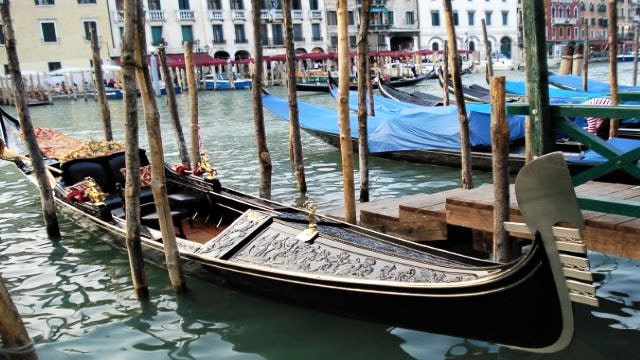 Gondolas & Canals
Our guide brokered a private gondola experience for our group. We floated through the myriad of winding Venetian canals, where we learned the fascinating history of the gondola–Venice's most famous mode of transportation.
The ornately-painted boats have been around for centuries as the principal means of navigating the water-filled city. It's like watching art in motion as the gondoliers with their classic black and white striped shirts, straw hats and red scarves expertly pole their way through the maze of busy canals.
Traversing the Grand Canal
We call it "seeing the city from the sea." Passenger power boats – Vaporetto – are Venice's "city buses," and the Grand Canal is their major highway as no traffic is allowed in Venice. The stops are many, and the scenery unsurpassed. The two-mile aquatic thoroughfare is a photographer's dream- lined with hundreds of prestigious Gothic and Byzantine houses and palaces and iconic bridges along the route.
Tasting the Town
Another tour guide benefit – They know the best local fare and where to find it. Along our day's journey, we sampled some the tastiest gelato, enjoyed Italian coffee and pastries, grabbed a zestfully-flavored panini, along with a glass or two of vino.
La vita è bella– life is good. Especially when you've experienced the magic of Venice!
About Michael Kompanik—Michael is a retired U.S. Navy Captain from San Diego, California. He has traveled extensively around the globe. Always a wander-luster, he loves experiencing new cultures and destinations. His interests include nature, history, outdoors, adventure travel, and photography. Favorite destinations include Europe, Mexico, and the Mediterranean. This is Michael's 2nd story with TPM. Read his first here – Lake Tahoe: A Nature Lover's Paradise ~TPM
See more Travel Post Monthly stories about Italy HERE.