…and the best street food in Italy
By Shraddha Majcher
A trip to Italy would not be complete without a pit stop for the best street foods in the country and pay homage to the birthplace of one of the world's favorite foods—pizza.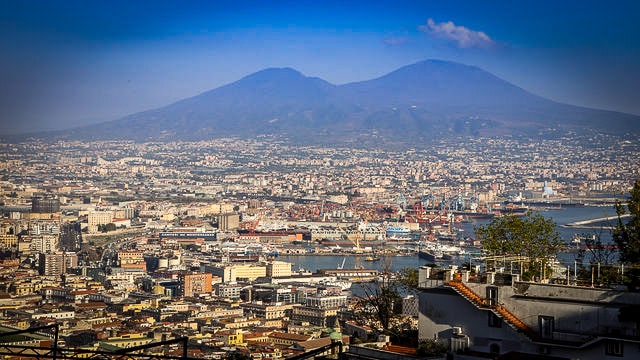 Imagine sinking your teeth into a slice of this multi-generationally celebrated comfort food. Its made of pillow-soft dough dripping with sizzling velvety cheese and tangy tomatoes served piping hot-out-of-the-oven.
Pre-book, a Naples street food walking tour with a local expert. Families with children of all ages, young honeymooners, seasoned retirees, or solo travelers will have no trouble navigating the bustling streets at a relaxed pace of 2.5 hours for just over 1-mile.
Your friendly guide will lead your small group on a culinary expedition on cobblestoned roads, narrow alleyways, and past ruins of Greek and Roman architecture while sampling the hidden eateries of this lively city.
Naples is an easy stop should your plans include a visit to Pompeii, Mt Vesuvius, or the beautiful towns of the Amalfi Coast. From Rome, it is a fast and comfortable journey on a high-speed train of an hour and 10 minutes to Naples.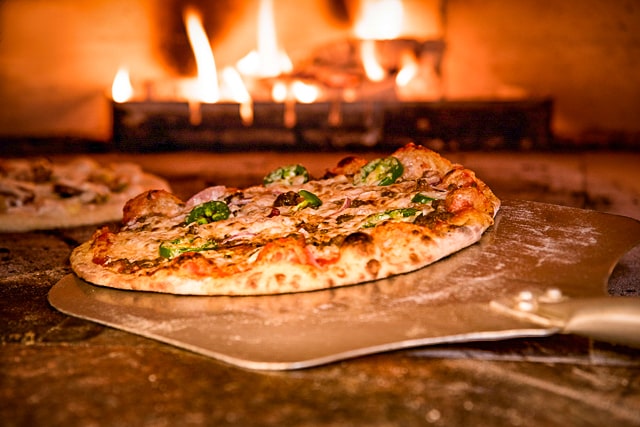 Who wants cheese?
You haven't truly tasted real mozzarella cheese until you try Neopolitan Mozzarella 'E Vufera. At the family-owned deli and spice shop, wooden charcuterie boards offer samples of their artistry. Made-that-morning, milky white slices of mozzarella are nestled in hand-pulled pieces of fluffy sourdough bread. It's surrounded by crimson sun-dried San Marzano tomatoes, braised green broccolini, and plump pickled Italian olives. The flavors will pleasantly flood your taste buds as you sample each marvelous combination of cheese, bread, and veggie.
Enjoy a crunchy snack of the pretzel-shaped, Taralli Napoletani. The recipe has been used for centuries when bakers would keep their extra scraps of dough, add pepper, almonds, and mold into bite-sized shapes made every day.
You'll weave safely through urban traffic. A mix of pedestrians and motorists, there are entire families (including the dog) on 2-wheeled scooters. Your guide will escort you to a piazza and gift your group with a box of Panzerotti Napoletana. Shared as an appetizer, these golden croquettes are filled with petite sweet peas, prosciutto ham, silky mashed potatoes, and creamy ricotta cheese.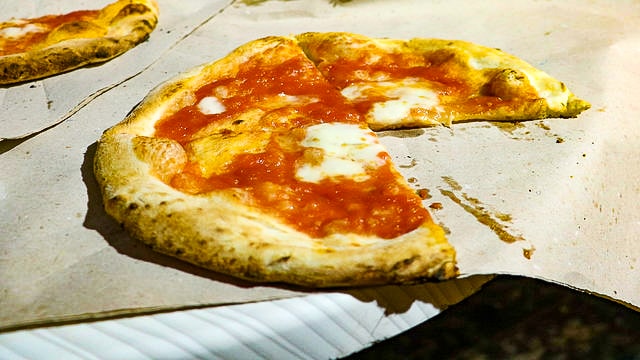 The legendary Margherita Pizza, named after Queen Margherita of Savoy, is known to originate in Naples. The ingredients and techniques of cooking this iconic favorite are regulated under statute law since 2004. Your guide may direct you in the right way to eat this triangle. You flip the bottom tip up, then fold it lengthwise while taking a subtle inhale of the aroma and get ready for pure joy. The robust flavors and simple ingredients of this comfort food validate why pizza was born here and is adored by everyone.
Another must-try version, Pizza Frita (fried pizza), is prepared from a disc of rolled dough filled with ricotta and prosciutto, folded in half, and deep-fried into a puff. The salt-cured Italian ham is the star ingredient.
Need a drink?
What goes with pizza? Beer, of course. As is tradition, Italians enjoy light beers such as the classic, Peroni, or Nastro Azzuro as well as the lagers Moretti or Ichnusa. Sidewalk cafe tables are filled with locals sipping glasses of Aperol Spritz, a sparkling citrine Aperitivo. You won't be disappointed with the quality of the house-wine, white or red, anywhere in Italy. Petite glass bottles of flavored fizzy Italian drinks such as Crodino, Chinotto, and Sanbitter are non-alcoholic favorites.
Your guide will escort your group to visit a local Limoncello distillery. You can sample the high-quality lemony sweet liquor of this much loved after-dinner drink. It's served as a digestivo to aid in the digestion of rich meals. A crème and melon version is also available.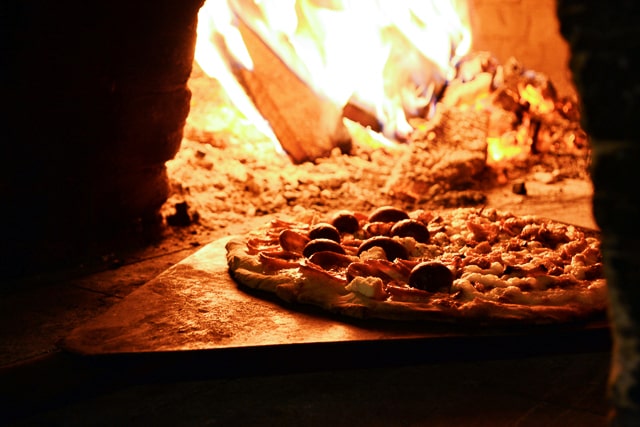 Sweets you'll remember
Travelers have found themselves later dreaming of the Baba, Sfogliatelle, and Gelato of the Campania region, and Naples is considered the mecca for these worshipped desserts. Babas are charming, sweet cakes filled with cream drenched in syrupy rum.
The Sfogliatelle is a flaky pastry known for its lobster tail shape with assorted fillings, including the staple ricotta cheese cream laced with candied lemon peels.
Here it is a sin to ask for less than 2-scoops of the region's fresh fruit or traditionally flavored gelatos. There is no better way to enjoy them than sitting with your companions at an outdoor table. People watch on Decumanus Maggiore, the main street descended from the ancient Greek road system. It is a UNESCO World Heritage Site.
This tour can be booked with Viator.com or directly with Food Tours of Naples for under $40 per person. Children are welcomed when accompanied by an adult.
About Shraddha Majcher ~ As a Chicago-born Indian woman recently entering the world of travel writing, Shraddha always has cherished reading about world traditions related to clothes, food, and celebrations. A chance to travel and capture these stories, then write about them, is both a wish and a goal for her next career. ~TPM