By Sean Hillen
ITWPA Member
Photos by Columbia Hillen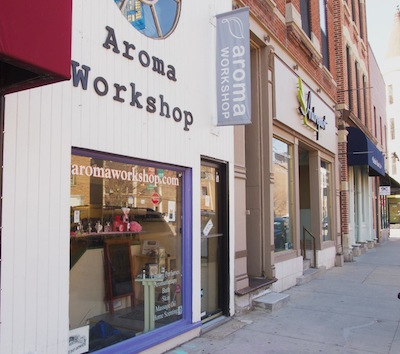 If you walk too fast, you might miss it, and that would be a shame.
For Aroma Workshop (www.aromaworkshop.com) operates out of a small, glass-fronted store off trendy Halsted Street in the Lincoln Park area of Chicago. The delicate smell of perfumes lingers in the air as you open the door and walk down a few steps to the 'testing' room.
Here, seated on high stools arranged along a counter with scores of miniature transparent bottles on black wooden trays, is where clients create their own perfumes under the keen eye (and nose) of owner and former New York dancer turned perfumer Tedd Neenan.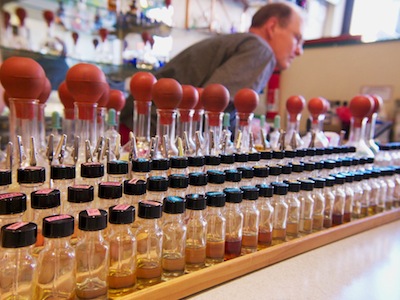 As Tedd, of Irish background and a native of Columbia, Missouri, is busy issuing guidance to clients, my companion and I spend several moments gazing around. I count over 60 miniature bottles on each of several wooden racks, each having a different oil inside, some with intriguing names: LSD, pink sugar, gardenia, honeysuckle, fig, cassis, sea mist, desert aloe, and big sun. There is also a jar of coffee beans to help clear nostrils. Behind us on a line of shelves standing against the wall are a wide selection of products made by Tedd and his staff — bath salts, eye creams, scrub masks, foot lotions, facial toners, and aromatherapy preparations made from essences ranging from elder flower to rose hip, eucalyptus, pomegranate, and aloe vera. Nearby are soaps of all varieties — glycerin, coconut milk, China musk, juicy peach, and white tea — as well as scent sticks.
It is a veritable Aladdin's Cave of fragrant products.
Several customers are already there, reflecting wide age differences. To one side of us a middle-aged woman and four children under the age of 10 voice their delight enthusiastically upon mixing oils and smelling the results. On the other side are two men, one with an intricate tattoo on his upper arm. They sit, eyes closed, in quiet contemplation, each holding a test strip close to his nose. They've obviously been here a while and seem to be nearing the final, crucial stages of their personal perfume creations.
Iris Lin, Tedd's assistant, is dealing with several clients who have come to collect refills of fragrances they had made on previous visits. Aroma Workshop has hundreds of what Tedd terms 'recipes' from clients who regularly return to stock up on scents they had made — for deodorants, perfumes, room sprays, etc.
Tedd says his interest in fragrances first began when he worked for several years in his brother's shop, The Potion Parlor, in Columbia. "I was always keen on fragrances but I had so much fun working there, mixing oils, that my interest was heightened immensely. I had been a dancer through the early '80s and fell in love with the creative process. Also, my wife, Liz Muckley, a Chicagoan, is an actress and Playback artist."
In those pioneering days only four main essential oils were used in Tedd's brother's store. Tedd now has around 240 oils at his disposal here.
To strengthen his knowledge, Tedd became a certified aromatherapist, attending classes at the Pacific Institute of Aromatherapy in San Rafael, California, before opening his business in Chicago in 1993. At that time the area was more run-down. "This place had been a lumberyard, then a shirt store, then a place that sold antiques," he recalled. "But I was confident I could get a strong clientele base. After all, hundreds of cars and buses go by here every day."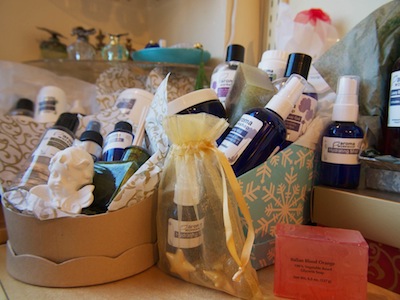 Tedd says his clientele is wide-ranging. "One day we might have the whole family here. The next, a husband and wife. Or a grandmother, mother, and granddaughter. Sometimes, retirees or young people on spring break. We regularly open in the evenings for special occasions, to cater for bridal showers or special birthdays where a group of close friends come in to create their own perfumes, drink champagne, and chat. There can be a lot of lively fun then. We can host up to 12 people for an event."
He added, "We get 30 to 40 customers every week, about 60 percent of whom want to make their own perfumes. Many come in from the suburbs. Some clients come in and make their own perfumes, which they then sell in their stores, and we get a commission on the sales."
If you don't see Tedd merrily 'slinging oils' (as he terms it) in Aroma Workshop, he says he is likely doing one of several things: hanging out with his partner in Bucktown, walking to Wicker Park, cooking, shopping at Stanley's, sitting in the first rows at a dance concert, attending an aromatherapy seminar (especially if Doctor Kurt Schnaubelt is leading it), pedaling to work, sweating at a step aerobics class, paddling a canoe in the Ozarks, or hiking in the Rockies.
If you would like to purchase this article for your publication, please click here to contact the author directly or click here to contact the photographer directly.