…in Fantastico Mexico
By Ellen Federico, ITWPA Member
Every September, millions of migrating Monarch Butterflies fly the sky road clocking over a hundred miles a day to a winter destination in Central Mexico. Here they will end their remarkable nine-month life cycle. Where do they go exactly? Why do they do it?
For centuries, fourth-generation Monarch Butterflies weighing less than a penny, fly 3000-miles from Canada. Passing through the States, over the Mexican border – without a map or GPS – they go to the same destination in the Michoacán Mountains, where they rest November through February.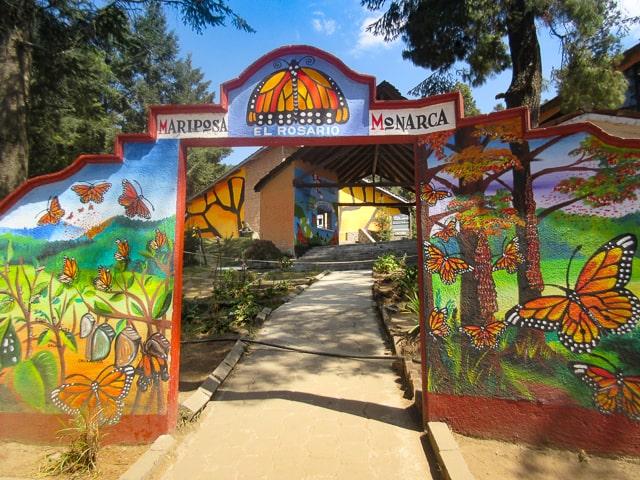 Getting There
Journey North, a great information site on migrating animals, listed five colonies for viewing Monarchs in their preferred Mexican winter retreats. El Rosario Monarca Preserve was confirmed the best for viewing. ProTravel International booked my air and hotel to Mexico City and arranged an excellent bilingual guide with a private driver to escort me into El Rosario.
Departing New York, six-hours later, I check into The Four Seasons Hotel in Mexico City. It's on the grand boulevard, Paseo de la Reforma, twenty-minutes from Benito Juarez International Airport.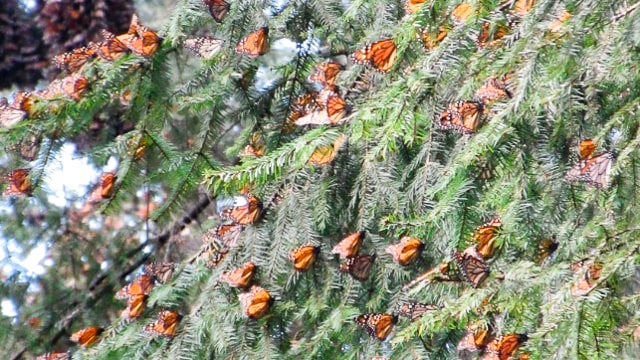 The Four Seasons is a lovely, full-service property, centrally located to museums, restaurants, markets, and historical sites. Mexico City is a magnet for foodies with abundant farmers markets and authentic craft artisans. The hotel can arrange transportation and bilingual market guides. This trip is a family safe, culture-rich, and magical experience for all ages.
Departing at 7:00 AM, we enjoyed a 3-hour scenic drive with a rest stop into the Michoacán Mountains. At an altitude of 12,000-feet, we entered the quiet farming village of El Rosario and the beautiful Monarca Preserve. The sanctuary has restrooms, a snack bar, and food booths with local dishes prepared on-site. Tip– drink plenty of bottled water in high altitudes.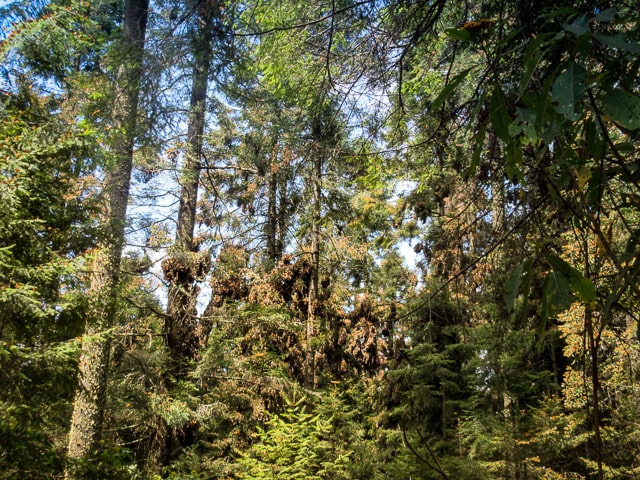 A Peaceful Sanctuary
My guide, Addy, suggested we take the short mule-ride into the sanctuary for 10-pesos each, and enjoy the panoramic views with ease. I ask her, "What is the biggest threat to Monarch Butterflies?" Addy says, "Humans who use pesticides that kill milkweed and illegal tree logging in Mexico that causes severe weather changes. The number of mariposas grows less every year."
The sanctuary entrance sign reads No Loud Talking – No Smoking – No Litter.
It is best to visit the sanctuary on a weekday with prime viewing mid-day before noon. Inside the forest, we gather under a cathedral of towering Oyamel fir trees with drooping branches weighted in millions of orange, black, and white-colored Monarch Butterflies at rest. A heavenly fragrance of pine, musk, and wild violets engulfs your senses. As the sun bathes the treetops, butterflies flutter on and off pine branches sparking a cool fire of vibrant color. Visitors flood with childlike wonder, leak giggles, and flood with emotion in nature's awesome beauty.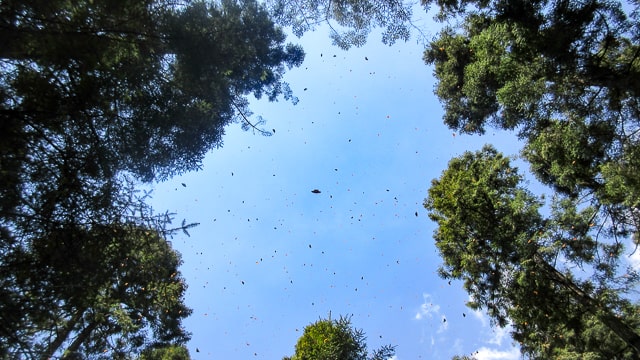 As I sat on a tree stump looking up, I got it. Monarchs make their epic migration to remind humans to cherish and care for our planet because its renewal is their only hope.
How Can You Help?
How can we protect Monarchs? Plant pesticide-free milkweed in gardens, pots, and schoolyards.
The sanctuary exit sign reads: A Gentle Flutter Can Heal the World.