By Carol Martindale-Taylor
Want to savor breakfast or lunch served over the depths of a deserted mine shaft turned spring-fed well? How about occupying a coveted chair at a unique dinner restaurant and a room for the night with a resident ghost? The rustic yet modern Inn at Castle Rock in Bisbee, Arizona, also offers a relaxing veranda — one overlooking a picturesque street bordered by a rugged rock monolith.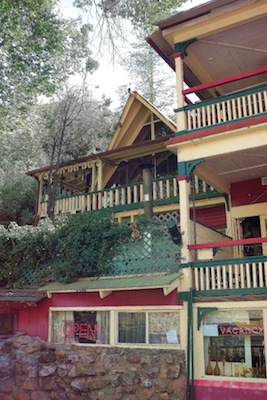 Built in 1895, this former miners' boarding house experienced periods of activity comingled with quiet abandonment. When Rick Brown, a newly-minted U.S. citizen from New Zealand, purchased the inn in 2009, he knew it would be a labor of love. His work continues and his love for the inn shows.
Although feeling like an old-fashioned bed-and-breakfast, with 14 individually-decorated rooms (beginning at $89 per night) lacking telephones and televisions and with no elevators to the second floor, this inn does provide window air conditioning units and private bathrooms. Then there are those rooms with ghostly reputations like the "Crying Shame" on the second floor. Opening onto that veranda facing Castle Rock, this room was the site of the accidental shooting of a woman passing on the street below; now guests may be gently touched or have doors quietly swing open on their own. Other rooms, like the "White Eagle" on the third floor, are reportedly ghost free. Well, unless you count the sound of a doorknob turning — with no one near it — as ghostly.
As you're munching that exotic sandwich in the Apache Spring Cafe, picture two miners scrambling over still-visible mineshaft beams in the spring's well just inches from your plate while a third miner slips into the spring's depths. But don't fret. Ghost hunters have found electromagnetic disturbances along the semicircular eating counter possibly caused by paranormal activity. Maybe he's just waiting for leftovers, but if you prefer not to visit with the drowning victim, other tables are available.
After your reasonably-priced meals in the cafe, dinner awaits you in the friendly yet elegantly set Table 10 Restaurant, where Hazel Hunter prepares her unique blend of Central American and Latin flavors. A different menu is served each day, and keep in mind it's called Table 10 for a reason. (Well, she can actually seat 12 guests.) Make reservations.
Even the layout of this inn is unique, with an office for checking in and staggered landings to the office, a kitchen, the lobby, and the veranda. Wandering narrow hallways will take you to an outside garden along the rocky cliff behind the inn, a walkway to Tombstone Canyon Road, and a community rental room (the Octagon Room) where you'll be wrapped in a cozy, glassed-in tree house.
If you're looking for old frontier ambiance with friendly ghosts and friendlier staff, The Inn at Castle Rock awaits. With its good location for walking around Old Bisbee and its unique dining experiences, it doesn't disappoint. For more information call (520) 432-4449 or visit www.theinnatcastlerock.com.
If you would like to purchase this article for your publication, please click here to contact the author directly.