By Mauri Fabio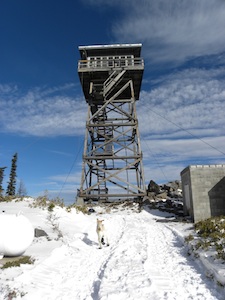 Oregon has a lot of beautiful back country for hikers and adventurers alike to enjoy and experience. There are numerous trails, camping sites, and breathtaking viewpoints to indulge in. Oregon is full of alluring snow-topped mountains, cascading waterfalls, abundant wildlife, and translucent rivers and lakes that span the state. There is so much to explore and so many ways to do it, through hiking, kayaking, mountain biking, skiing, camping, and various other outdoor activities. But have you ever thought about staying in an active forest fire tower? Through a reservation one can rent and stay at an active forest fire lookout tower during the off seasons. This is a unique getaway experience and grants spectacular views of the surrounding wilderness.
No two forest fire lookouts are the same. Some are large and some are small, some are perched on a 60-foot tower and some are settled atop a ridge. Some lookouts may have solar panels for electricity while others may not. Running water is most likely not one of the amenities offered at your desired lookout location but plumbing for waste water used for activities such as washing dishes or cooking can be used.
Though renting a forest fire lookout isn't like staying at the Hilton — keep in mind that these are "pack it in, pack it out" facilities — staying at a lookout does have some luxuries not found at traditional campsites. Sites vary, but some stations have abundant firewood, an outhouse, cooking pots and utensils, a mattress, a wood-burning stove for warmth during cold nights, a propane stove, and basic furniture. While some lookout sites indicate that four to six people can stay and sleep in one cabin, make sure to confirm that this information is correct. Some locations are smaller than perceived and can only accommodate two or three people comfortably. Any more and sleeping arrangements can be difficult.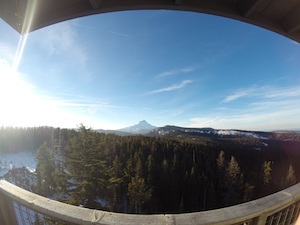 Another luxury found at the lookouts and not at a traditional campsite is the astounding views offered 360 degrees around the cabin. Depending on the location of the lookout and the time of the visit there are also trailheads and activities such as hiking, wildlife viewing, snowshoeing, snowmobiling, and hunting.
Unlike an open campsite, staying in a lookout tower is fairly safe. The doors have locks and the four walls shield you from the weather. Towers have a gate that locks on the deck floor entranceway which prevents anyone or anything from coming all the way up to the wraparound deck on the main level.
Not only in Oregon are these lookouts available for rent during the off seasons (usually around winter seasons when fire hazards are at a low) but also in Idaho, California, Colorado, Montana, Washington, and Wyoming. Many sites in different locations around the Northwest and parts of the Midwest can be found and put on reserve at this website: http://www.firelookout.org/lookout-rentals.html. Reservations can be made as few as four days or as long as six months in advance. Rates for renting a lookout depend on location and can be as low as $35 a night to $93 (plus tax). Most locations are family and pet friendly, though the towers all have steep stairs and can be dangerous in certain conditions such as icy or windy weather. Some sites have a drive-up option, while some can only be accessed by foot or four-wheel drive. Of course the ease of accessing a lookout depends on local weather conditions. So when booking your lookout I strongly advise you to do your research on that particular location to determine if it is within your physical capabilities and criteria.
Renting a forest fire lookout in your surrounding area is a fun and unique way to camp and get out into the wilderness. It is a place where young families can enjoy the outdoors, hunters can hunt, hikers can explore, and outdoor enthusiasts can cherish. Consult your local State Forestry Commission for any further information you may need about the process of renting a forest fire lookout in your area. The website (http://www.firelookout.org/index.html) also has answers to many questions you may still have about reservations, locations, and prices. So get outdoors, explore, and stay in a place different and unique.
If you would like to purchase this article for your publication, please click here to contact the author directly.