By Adrienne Bibb
ITWPA Member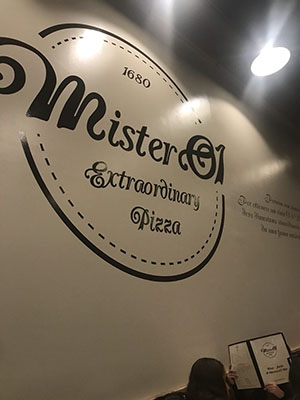 We were looking for a place for late dinner on a summer Friday night in Miami's Brickell neighborhood. We had no shortage of trendy and popular restaurants in the area. Wanting to stay close to our hotel, we chose something nearby. My family of six decided on pizza, but mind you, it's Friday night in one of Miami's most affluent and trendy neighborhoods. At the peak dinner hour, we had no reservations.
We came across Mister O1 amongst other area restaurants and chose it despite a wait time of 45-minutes. We stood out front of the quaint, but adorably modern designed restaurant, in the heat and humidity of Miami, in July. I admired the black iron patio seating with small fresh flowers on the tables and the open kitchen inside the building. There were fast-moving chefs and a huge brick oven.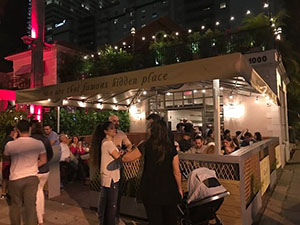 The restaurant was packed, but not so much so that it seemed crowded. Even though tables are close to each other, it was more intimate versus congested. Once inside and seated, staff members warmly welcomed us, and our server quickly served us with several carafes of cool water.
Their menu consists of traditional and gourmet style pizzas and calzones with a variety of toppings that may surprise the average pizza eater. The Jacqueline, a pizza with eggs, black pepper, and white truffle oil, intrigued me. I was equally impressed by the Cantina 27, topped with tuna, onions, and fresh basil. They also have a Burrata cheese bar with a mélange of different toppings and a variety of salads.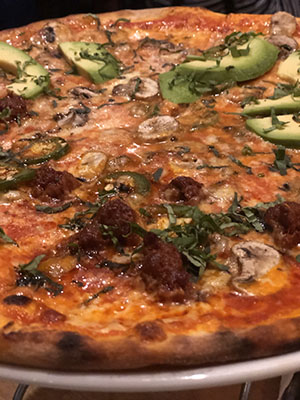 Because we were starving, we hadn't eaten all day while traveling, we decided to split three pizzas between six of us. My husband and youngest son, the most adventurous of our group, decided to order the pizza called Alessandra Jalapeño. This pizza consisted of Italian tomato sauce, mozzarella, fresh mushrooms, avocado, and jalapeño. They decided to customize their pizza by adding chorizo sausage and only doing avocado on half.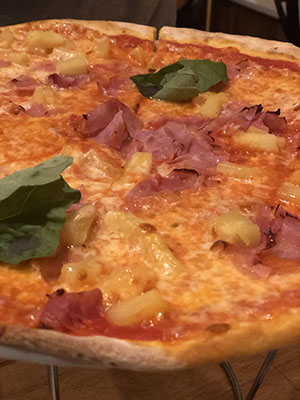 My oldest son and his girlfriend ordered the Hawaiana. This is Mister O1's take on the traditional Hawaiian pizza with Italian tomato sauce, mozzarella, ham, and pineapple.
Lastly, my daughter and I ordered the Ham but customized it by adding Prosciutto di Parma. To drink, we got sodas in cans and bottled Honest Tea with plastic cups filled with ice.
The pizzas arrived quickly, after maybe 15-minutes, and looked and tasted incredible. The pizza crust was thin but not cracker-like and still somewhat chewy. The sauce was exquisite. Just the right amount of savory and sweet applied to the pizza perfectly. The cheese was fresh and gooey as mozzarella should be.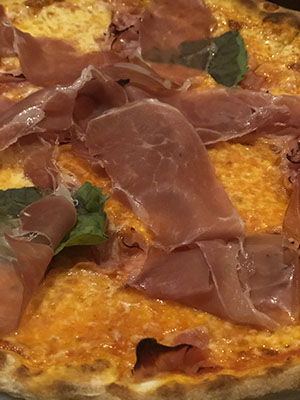 I did not eat the other family members' pizzas, but my daughter and I devoured our ham with Prosciutto. The ham and Prosciutto were thinly sliced. There was plenty of both in each bite. The pizza size was somewhere between medium and large, cut into six slices. It was perfect for two to share.
The price and the wait-time were unquestionably worth it. We felt satiated after devouring the pizzas and enjoyed the atmosphere of the restaurant.
Devour your own Miami pizza at: Mister O1 Pizza, Brickell – 1000 S Miami Avenue – Miami Florida – 786-332-6868 – WEBSITE