By Jennifer A. Germano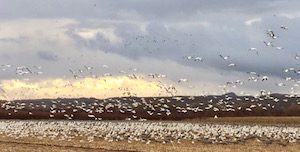 The heavens swirl in a tornado of shrill cries and powerful gray wings. Thousands of sandhill cranes rise into the sky and the pale light of evening. Their long skinny legs tucking up and stretching out behind them. The cottonwoods and soupy marshes appear blurred and otherworldly in the dim light at day's end. Every ray of sunshine might allow you one more glimpse of a herd of deer grazing quietly in a soft green meadow, or a tom turkey strutting about in the soft grass, his copper-colored tail feathers fanned out in full display.
Bosque del Apache National Wildlife Refuge, located in the middle Rio Grande Valley of southern New Mexico, is a sanctuary to countless species of birds and wildlife, including blue herons, sandhill cranes, bald eagles, turkey, elk, mule deer, javelinas, and bobcats. Established in 1939 by President Franklin Delano Roosevelt, and administered by the U.S. Fish and Wildlife Services, the refuge encompasses over 57,000 acres of virgin forest and seasonal wetlands. A day at Bosque del Apache is a magical experience for those who seek seasonal glimpses into the wild world of marsh and forest. Each new season reflects unique changes in the landscape and its inhabitants.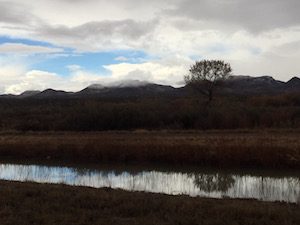 The visitor center is a great source of information as well as beautifully handcrafted souvenirs. We stopped there, although the temptation was great to bypass this and head directly to the wildlife loop. But a worthwhile stop it turned out to be, as the volunteer staff was friendly and enthusiastic, excited to share their love for this beautiful place, to pull out their bird books, and advise us on what to look for along the route.
What we saw was captivating. Immediately we sighted a sandhill crane wading patiently through the marsh, his long spindly legs bending and lifting, delicately crunching one small crab after another.
We drove on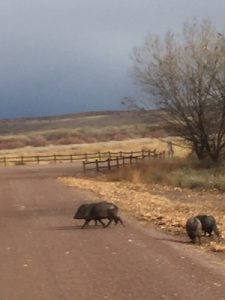 A family of squat and squinty javelinas scurried across the dirt road just in front of us.  Small herds of mule deer lurked in the shadier tangles of pine, one brownish-gray buck rubbing his antlers relentlessly against a sapling, while a bald eagle regally viewed the scene from his treetop stance, his white head visible from a distance.
Thick cottonwoods, thorn-covered honey mesquite trees, and waterweed filled marshes compete with the wildlife for your heartfelt attention, as well as the enchanting blue lakes and rivers, and the misty clouds rising from the Chupadera Mountains to the west. Go at your own pace, drive slowly, and bring your binoculars. Pullover to gape or hike a nature trail. Take all day or a whole weekend. What you're looking for is out there.
As night descended, we made our way towards the exit, finishing the second loop of the refuge for the second time that day, and still, there was more to see. Skunks seemed to magically appear out of nowhere, flashes of black and white scurrying along the river's edge, as our eyes adjusted to the darkness. A great brown toad sat along the side of the road barking out his baritone call into the night.
Each season bestows its own magic upon the landscape of Bosque del Apache, but the greatest numbers of birds grace this refuge from November through January, with the migration of the sandhill cranes beginning in the fall. The Festival of Cranes, a major family event, is celebrated the week before Thanksgiving and includes workshops, tours, lectures, hikes and children's activities.
When you go
The refuge, which lies along both sides of NM Highway 1 in Socorro County, is open every day one hour before sunrise to one hour after sunset. The fee is $5 per private vehicle. RVs are welcome to unhitch in the parking lot before making their way to the twelve-mile auto tour loops.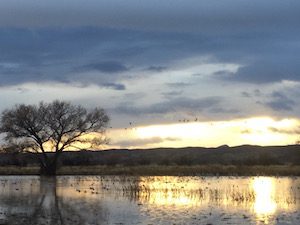 Call ahead when planning your trip, sometimes there are partial closures or extensions to one loop or the other, as well as shortened visitor center hours during the summer. There is no camping permitted, nor eateries located within Bosque del Apache. There is a picnic area and several beautiful nature trails and observation decks throughout the preserve. There are a couple of great lunch spots located in San Antonio, a short twenty-minute drive north.
At Bosque del Apache, every season boasts the great wonders and beauty of Mother Nature, although the colors of spring and fall hold a special enchantment. Driving slowly along the gravel loop, you will enter a world of peace and solitude, the quiet broken only by the screech of a raptor in the thralls of its hunt or the beating wings of 10,000 cranes taking flight into the clear and brilliant New Mexico sky.
For more information, click HERE.
If you would like to purchase this article for your publication, please click here to contact the author directly.