By Adriana Popa
An inexhaustible destination and a dream vacation spot for many travelers around the world, Italy has something to offer in every region, and accommodations range from unassuming family-owned farmhouses to five-star hotels and renovated medieval castles. One shining example of the latter is the 12th century Castello di Montegufoni in Tuscany's Chianti region (Montagnana), exquisitely restored in the 17th century by the aristocratic Acciaioli family, complete with a fresco by Italian futurist Gino Severini, "La Salla Delle Maschere" (The Room of Masks), depicting characters from Italian commedia dell'arte theater. It served as our base for a seven-day exploration of Italy's north, an itinerary that can be easily replicated in most months of the year, and which I offer below.
Day 1: Rome and Montespertoli. Fly into Rome in the early morning and pick up your rental car at the airport. Before you start the drive north, visit three of Rome's iconic sites, the Colosseum, the Forum, and the Palatine Hill. After lunch, drive to the Vatican and visit St. Peter's Basilica, the presumed burial site of Apostle and first Pope Saint Peter. You can also visit the Sistine Chapel, Michelangelo's masterpiece. Then drive to Montespertoli in Tuscany and check in at Castello di Montegufoni. Have dinner at Il Focolare in Montespertoli (Via Volterrana Nord, 175, 50025 Montespertoli). Try the Florentine steak paired with the house wine.
Day 2: San Gimignano and Tuscan hills. Explore the Tuscan countryside through a horseback riding tour. Fun In Tuscany (info@funintuscany.com, +39 338 592 2682, http://www.funintuscany.com/) organizes tours through the rolling hills, where visitors pass native woods, olive groves, and vineyards, and visit the medieval town of San Gimignano, renowned for its magnificently preserved Romanesque and Gothic architecture and for its white wine, Vernaccia di San Gimignano. Try the local gelato at Gelateria Dondoli, Gelato World Champion two years in a row. Enjoy a wine tasting lunch at a local winery such as Tenuta Torciano (Via Crocetta, 18, 53037 Ulignano, San Gimignano, http://www.torciano.com).
Day 3: Venice. Drive to Venice and climb into a gondola, sliding gently on the Grand Canal, under the Rialto Bridge and by the iconic Venetian mansion facades. Visit St. Mark's Basilica and Square, and see Venice from the top of the Bell Tower. For lunch, try Baccalà Mantecato, a classic Venetian dish, at Osteria ai 4 Feri (Calle Lunga S. Barnaba, 2754/A, 30123 Venice, +39 041 520 6978), then visit the Doge's Palace and walk along the Riva degli Schiavoni waterfront promenade. Have mouth-watering lasagna for dinner at the tiny (only five tables) but charming Al Vecio Marangon (Dorsoduro, Calle Toletta, Sestiere di Dorsoduro, 30100 Venice, +39 041 277 8554). Drive back to Montespertoli.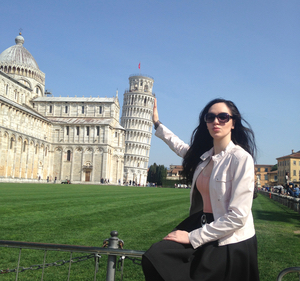 Day 4: Pisa and Lucca. Drive to Pisa, take the obligatory "propping up the leaning tower" photo in the Piazza dei Miracoli, and visit the 12th century campus of the University of Pisa, one of the oldest in the world. Walk the Borgo Stretto for cafes and shops, and have an authentic Italian pizza at Ristoro Pizzeria Da Antonio (Via Santa Maria, 133, 56126 Pisa). Drive to Lucca for an opera-lover's dream visit to Giacomo Puccini's home (Corte S. Lorenzo, 9, 55100 Lucca) and for the baroque splendor of the Palazzo Pfanner and its garden, popularized to English-speaking audiences by Jane Campion's 1996 film "Portrait of a Lady." Have dinner in the Piazza dell Anfiteatro, at the center of the ring of buildings surrounding the square on the original ruins of the 2nd century Roman Amphitheater. Drive back to Montespertoli.
Day 5: Florence. Drive to Florence to marvel at Botticellis in the Uffizi Gallery (Piazzale degli Uffizi, 6, 50122 Florence) and enjoy the city views from the rooftop terrace. Then move to Galeria de l'Acadèmia (Via Ricasoli, 58/60, 50121 Florence) to see Michelangelo's David, and walk across the Ponte Vecchio (50125 Florence) for some shopping. Don't miss the Boboli Gardens (Piazza Pitti, 1, 50125 Florence), with the Renaissance Pitti Palace and an unencumbered view of the city from the highest hill in the gardens.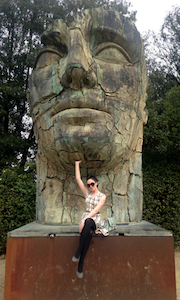 Day 6: Montepulciano and Montalcino. Spend a day in these quintessentially Tuscan towns, where you can visit medieval churches and palaces and buy local wine. The Brunello di Montalcino, one of Italy's best-known and most expensive exports, is not to be missed, and neither is the Vino Nobile di Montepulciano, a classic Italian wine and a main contributor to Tuscany's oenological reputation.
Day 7: Rome and departure. Drive to Rome, where you have time to see the Pantheon, stick your hand like Audrey Hepburn in the Bocca della Verita, and throw a coin in the Trevi Fountain to ensure your return to Rome. Before you head to the airport to return your rental car and board your flight, try the best Italian gelato at San Crispino (Via della Panetteria, 42, 00187 Rome).
If you would like to purchase this article for your publication, please click here to contact the author directly.