By Marylou Phillips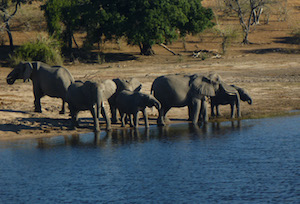 The magnificent herd of Kalahari elephants wades across the Chobe River, head to tail, providing a spectacular video shoot for the passengers on the cruise boats. As the herd moves on to gradually disappear in the distance, a lone bull elephant suddenly realizes his friends have gone, leaving him all on his own on the wrong side of the river. He's headed for the embankment when he realizes the way across is blocked by cruise boats. He quickly retreats and starts pacing up and down the riverbank, getting more and more distressed until, at last, the boat skippers take pity on him and move away. From the distance we watch him wade through the river and, once on dry land, hurry along to catch up with his herd.
Botswana, a landlocked country in southern Africa, has a landscape defined by the Kalahari Desert and the Okavango Delta, which becomes a lush animal habitat through the seasonal floods. The most accessible and frequently visited of Botswana's big game country, the Chobe National Park is a great place to see the elephants in the dry season (May through October).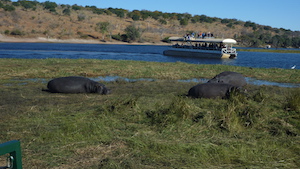 Established in 1968, Chobe National Park in northern Botswana covers approximately 4,517 square miles. It claims to have one of the greatest concentrations of game that is unparalleled anywhere else in Africa, with over 15 different species of animals as well as over 460 bird species. Its major feature, the elephant population, is currently estimated at around 120,000. And there's the river itself. The Chobe starts off in the northern Angolan highlands and travels enormous distances through a maze of channels and swamps before flowing into the northeast border of the park. Along with the Okavango and Zambezi rivers, the Chobe's course is affected by fault lines that are extensions of the Great Rift Valley. Between them, these rivers carry more water than all the other rivers in southern Africa.
Many flat-bottomed double-level boats join the more luxurious cruisers on a lazy journey along the river, getting up close and personal with hippos, buffalos, crocodiles, and a mind-boggling array of water birds. Yet the river doesn't seem crowded — except perhaps to a lone elephant. And at the end of the day, as the sun glides down, casting red-orange reflections over the river, passengers are most reluctant to leave.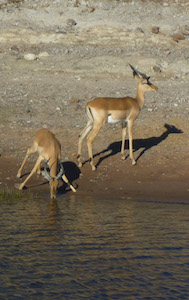 Chobe National Park is easily reached from Kasane, the most important town in the region, which is situated just downstream. The town serves as the northern entrance to the park and is accessible by air, road, or bus. Accommodation varies from camping to luxury safari resorts.
If you would like to purchase this article for your publication, please click here to contact the author directly.
Are foreign drugstores clinically appropriate for Americans. Part 2