By Connie Pearson
ITWPA Member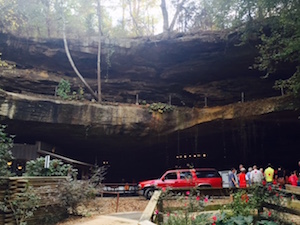 If you like horses, country music, fried food, beer, a thrilling ride down a steep bluff in the back of a pickup truck, and sitting inside a large cave, then Tuscumbia, Alabama, has a spot just for you. Seven Springs Lodge and Rattlesnake Saloon are located on a 6,000-acre plot of land on Mount Mills Road. Just turn left at the sign pointing to the Coon Dog Cemetery. (Yes, Coon Dog Cemetery. Think Reese Witherspoon and Josh Lucas in the movie Sweet Home Alabama.) It's off of Highway 157/Alternate Highway 72 West. Meander around the curves and woods on Highway 247, and you'll be getting close.
When you turn into the property, you'll see parking places on the left and a row of horse trailers and campers on the right. A sign and small shelter indicate the place to wait for the Saloon Taxi. In short order, a pickup truck will welcome you and a dozen or so of your fellow guests for the short ride into the ravine where the cave/saloon awaits. According to Robin Sellers in the Gift Shop, the brakes and transmission on the truck are checked often. You'll be glad as you begin the descent and later when the truck shifts into gear to haul everyone back to the top.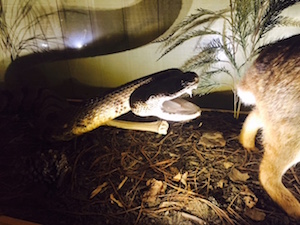 Rattlesnake Saloon, which opened on Labor Day weekend in 2007, was originally going to be named Seven Springs Saloon, but the discovery of a momma rattlesnake and her 12 babies during the construction project changed the name abruptly. When you walk into the kitchen and indoor bar area inside the cave, there are plenty of rattlesnake skins on display as well as one in a glass-enclosed case with its mouth poised to bite a rabbit. Very convincing.
Dress is strictly casual. Cowboy boots and hats, as well as jeans and T-shirts, look right at home. Flies and mosquitoes are kept at bay thanks to ceiling fans. The sandstone cave itself is pleasant and cool, and on a recent fall day a gentle breeze was also knocking leaves off the trees and into the cave opening. Vines hang from the outside edge.
The menu is simple, and the items have Western-type names: Cowboy Buttons, Snake Eyes and Tails, Skunk Rings, Prairie Fingers, Buckaroo, etc. Read carefully to be sure you're ordering something familiar. Those Snake Eyes and Tails are known to be especially powerful. Are you hungry enough to try the Gigantor? It costs $45, but if you can eat it ALL BY YOURSELF in 45 minutes, it's free. Don't look for china, crystal, and silver. This is strictly a Styrofoam plate, paper napkins, and plastic forks eatery.
Rattlesnake Saloon is open on Thursdays, Fridays, and Saturdays from 11 a.m. to 10 p.m. February through November. Alcohol is served starting at 5 p.m. Summer Saturday nights are extremely popular, and as many as 1,500 people might gather for the fun and live music. A calendar listing upcoming performers is on the website — www.rattlesnakesaloon.net. Boot-scootin' is allowed and encouraged if you're so inclined. After all, those rattlesnakes need to stay far away.
The Seven Springs Lodge property with its horse park, hunting land, and camping facilities surrounds the saloon and has been owned by members of the Foster family for four generations. Information about trail rides, campsites, and the Mother's Day Chuck Wagon Races is posted on the website — http://www.rattlesnakesaloon.net/lodge.html.
By the way, if you keep riding on Highway 247, you'll come to the Coon Dog Cemetery. Certainly worth a few minutes of your time.
If you would like to purchase this article for your publication, please click here to contact the author directly.