By Roy Sherrid
ITWPA Member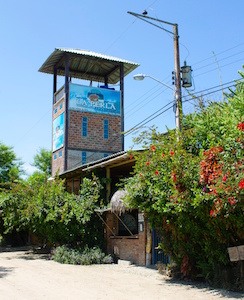 Our destination was a small village just 10 miles south of the fishing town of Puerto Lopez, Ecuador. We were going to the community of Las Tunas to stay at a bed and breakfast hotel called "La Perla," which means "The Pearl." As soon as you enter the gate you see a covered courtyard with a table, comfortable chairs, and a brick hearth oven. The hotel has bungalow-style guest rooms that surround the main building. The rooms are clean, with comfortable beds.
Hosteria La Perla is a hotel built right on the beach. It is only a short walk through the back gate until your toes are in the sand. The first thing you notice when you reach the beach is a small island about five miles offshore. At the end of the island, it appears as if there is a giant Army boot. Legend has it that pirates would hang treacherous buccaneers on the island.
Humpback whales and bottle-nose dolphins can be seen breaking the surface not very far off shore as they migrate further south between the months of June and September every year.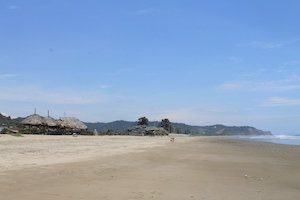 Monica Fabara is the owner/operator of La Perla since construction was completed in 2006. Monica is also a marine biologist and received her education in the United States. She is very passionate about a particular form of sea life indigenous to the area that is in danger of extinction. It is a type of mollusk that has an enormous shell and has been collected since ancient times for jewelry and other items because of the color of the interior of the shell. It is called the spiny rock oyster Spondylus and can live to hundreds of years in age, if unmolested. Unfortunately, this has not been the case; the shells have been over-collected to the point of extinction.
La Perla is a wonderful place to relax and forget about the cares of the rest of the world or your life back home. Whether you are catching a breeze from your hammock swinging under the hotel's beach cabana, or walking the many miles of beautiful, nearly unoccupied beach with your feet in the surf's foam, or gazing up at the countless stars with only the sound of the breakers to keep you company, you soon begin to comprehend how the hotel got the name The Pearl.
If you would like to purchase this article for your publication, please click here to contact the author directly.