By Marsha Rexford
ITWPA Member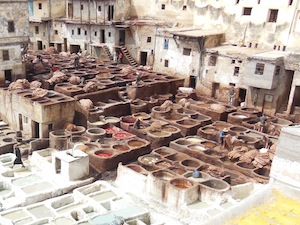 The bunch of mint thrust into my hands on arrival was welcome. You smell the tannery buried within the ancient medina of Fes before you see it. It is the oldest tannery in existence, dating from the 11th century, and little has changed in its operation over the years. Many travelers love to shop for locally crafted articles at their far-flung destinations, and leather products are often at the top of the list. Here you will not wonder at the provenance of your purchase.
Climbing up several flights of stairs and inhaling deeply into my minty bouquet, we arrived at a viewing platform to see the work spread out below. Stone vats abutting one another in a honeycomb design are used for the earliest steps in the tanning process. Hides come here directly from the slaughterhouse, complete with fur and heads still attached: cows, sheep, goats, and camels. These are soaked in vats of water with limestone and pigeon droppings (for the ammonia) for three days to soften the skins, and then the hair can be scraped away. Washed again, they are moved to the dye vats. Men, barefoot and waist-deep, stomp and knead the skins underfoot until they are soft and supple. Skins are laid out to dry on the rooftop. This dyeing/drying process is repeated four times.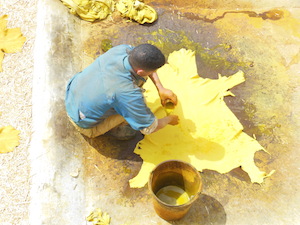 The colors of dye are changed out every few days. We are told these are all organic dyes: indigo, poppies, saffron, tumeric, mint, henna, and antimony. Alum stone is mixed with dyes to help fix colors. To keep the color from penetrating their skin, workers coat their arms and legs with argan oil. Our guide proudly tells us "there is no boss here;" it is a cooperative of about 60 families and the work is passed down through the generations. This labor is hot, smelly, and strenuous, and soon we saw the end result.
Once the skins have dried, it is on to the cutting room where they are fashioned into the stunning products we saw in the showroom on site. Coats and jackets in a multitude of styles and colors invite you to feel their buttery softness; we were assured if we didn't see what we wanted, it could be custom-made in a matter of hours. Handbags, belts, and poufy ottomans surround yet another room. Slippers are displayed in a kaleidoscope of colors. There is a sales pitch, yes, so hone your bargaining skills. If leather products are on your radar, there is no better place to purchase than where you have witnessed the labor behind them.
If you would like to purchase this article for your publication, please click here to contact the author directly.
Are foreign drugstores clinically appropriate for Americans. Part 2