By Kathy Medbery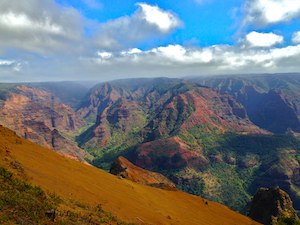 On the island of Kauai there is a nature hike that outshines even the famed beaches of Hawaii. Granted, it takes one along a steep, narrow trail, slippery with loose pebbles, a hot, dusty trek… but, oh, so worth it!
The trail begins at the ridge road and descends, gradually at first, into the tropical rainforest. The curry-like fragrance of the spice trees and the twittering songs of the tropical birds surround you, as does the overarching canopy of the trees. Still feeling like you've entered another world, the wooded path climbs steeply upward again until it comes out on the canyon rim. What a dizzying drop-off! What a spectacular view! Far below is the green-treed bottom and far across are striated red cliffs. The gulf between is wide and deep — vast enough for helicopters to glide free, along with the tropicbird with its long feathered tail. Once hikers have reached this red clay ridge, they tend to traverse it gingerly, wary of the railing-free edge.
The next descent into the ravine brings you to the highlight of the hike, a verdant pool graced by broad, high waterfalls and enclosed in a leafy glen. From this part of the trail, one only sees the smaller, top part of the 800-foot Waipo Falls. Our viewing was in wet December, showing off its winter fullness. It is short and broad, as white water tumbles over dark boulders, glistening with wet and filling the air with its spray. The broad-leafed plants around the cool pool sparkle, free of the dust encountered along the trail.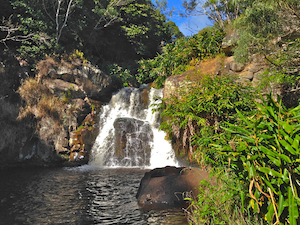 It was here at the waterfall that I most felt the "Aloha" spirit of the Hawaiian Islands, the feeling of a welcoming "hello" from the woodland spirits and a friendly connection with Gaia herself. A flat, dry, sun-baked rock across from the falls is a wonderful place to bask in the pristine energy of this heart-full place and soak up the energy of the Hawaiian nature spirits.
This "best-ever" trail is in the northwest part of Kauai. It's called the Canyon Trail in Koke'e State Park. To get there you take Highway 50 up into the canyon from the town of Waimea and turn north onto Highway 550. On the right is a sign, Koke'e State Park and Halemanu Road. There is room to pull over and park. The total hike is 3.2 miles and is estimated to take two to three hours. It is considered a moderate trail and suitable for families; however, I recommend sturdy hiking boots and two walking sticks. Take your time. Savor the beauty. Feel the great enchantment of the juxtaposition of the distant views and the near waterfall.
If you would like to purchase this article for your publication, please click here to contact the author directly.