By Teresa Gardner
ITWPA Member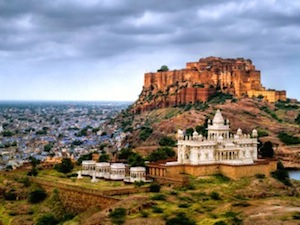 "Namasté," smiles Sanjay with a slight bow, hands pressed together, fingers skyward. Bedecked with marigold garlands and a sandalwood paste dot strategically placed between our brows, drums beating, we embark on an enchanting odyssey through the bygone era of erstwhile maharajas.
India. Imagine shimmering palaces and manicured gardens graced with iridescent strutting peacocks protected by magnificent hilltop forts… or one thinks of crowds, dirt, unreliable transportation, and India's equivalent of Montezuma's revenge, Delhi-belly. If you can't resist India's charms, but don't want to deal with the undesirable elements — hop a train. A train so lavishly appointed it's called Palace on Wheels (POW).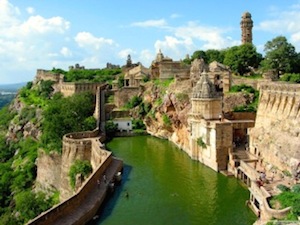 Named one of the world's top luxury trains, Palace on Wheels begins in India's capital, Delhi. We're treated like royalty as Sanjay and Ashok attend to every onboard need and whim while we explore the legend-laden and romantic region of Rajasthan. Each of the train's 14 saloons has four en suite rooms with two attendants. Add a couple carriages for restaurants, a gym, and a beauty salon and our moving manor is complete.
Historically, the train's carriages belonged to different maharajas (kings), but have been replaced with refurbished modern cars to look like the originals.
We travel overnight, waking to new and exciting destinations each morning. The weeklong journey whisks us away to such colorful stops as Jaipur, the Pink City; the Golden City of Jaisalmer; the Lake City of Udaipur; Jodhpur, or Blue City (yep, birthplace of jodhpur riding breeches); Ranthambhor National Park; Chittorgarh Fort; Bharatpur Bird Sanctuary; and, ultimately, Agra, to soak up the spellbinding Taj Mahal.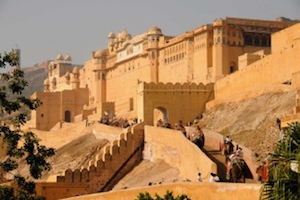 Exhilarating and exhausting, the daily treks to centuries-old forts, palaces, walled cities, tombs, and museums are spiced with elephant rides ascending to the breathtaking Amber Fort, camel rides — at sunset — over dunes near Pakistan's border, a jeep tiger safari, a boat ride to Pleasure Island (playground of the 007 movie Octopussy), musical extravaganzas, and several five-star hotel meals. My husband and I counted 12 different modes of transportation. Whew. And dinner aboard POW is a 17-course adventure in itself!
Haggling with locals hawking handmade trinkets, Kashmiri scarves, and baubles at every stop is amusing, and… well, let's just say we filled two large suitcases with treasures for the grandchildren.
If you have but a few days in India and want to experience incredible variety, Palace on Wheels is your passport to a journey that lingers a lifetime.
If you would like to purchase this article for your publication, please click here to contact the author directly.