By A.J. Cooper, Jr.
ITWPA Member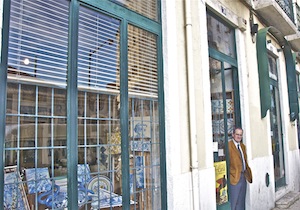 Lisbon, Portugal is famously known as the City of Tiles. What better way to be introduced to this city than by visiting a local shop specializing in antique Portuguese tiles?
The proud proprietor of a most unique shop in an equally unique neighborhood of greater Lisbon, Sr. Manuel C.B. Leitão launched a fantastic journey through time in his shop of tiles where each one has its own story to tell. Come along to the tree-lined boulevard of Avenida da Liberdade, where Rua Dom Pedro V, 68-70, Solar Portuguese Antique Tiles is located.
Sr. Leitão greets us at the door with a chuckle. "Welcome, I am the oldest object in the shop." Not as old as he portrays himself, Sr. Leitão is distinguished, well-dressed, very trim and fit, and only slightly graying. "My father started the business in 1941, concentrating on 17th century tiles from Portugal, later adding those from the 16th century," he says.
Sr. Leitão assumed ownership of the shop after the death of his father. He envisioned much more and decided to pursue artifacts from earlier times. Now his tiles date back to the 12th century.

Many tiles are more recent, such as Art Deco from the 1930s.
Asked how he locates his merchandise, he responds, "Sometimes they find me, and I can taste or smell others." What did he mean by that, I wondered. The reply was very short and to the point. "Instinct!"
He described two larger-than-life tiled portraits from the 16th century of a Turkish Man speaking to a Turkish Woman as "Return of Lazarus From The Dead". In those times, portraits were painted in tiles rather than on canvas. The Woman was obtained through a call from a local Lisbon resident with boxes of tiles she would never use. Sight unseen, he committed to purchase them, picked them up, and brought them to his shop. As he began to piece the Turkish Woman together, he discovered there were 25 missing tiles, making it impossible to complete the portrait.
Ten years later, the same lady called telling him she had found more boxes filled with tiles. Needless to say, he rushed to gain possession, and to his astonishment, the 25 missing tiles appeared along with the complete set for the matching man. Those tile portraits are priced at 32,500 euros ($43,325)!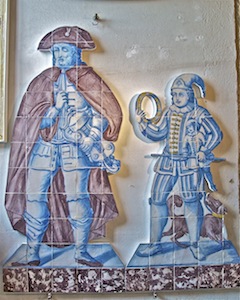 "Two Musicians", from the 18th century, is one of a kind, Sr. Leitão stated. "Priceless." He stressed, "It will never be sold, instead donated to the Museum of Portuguese Natural History."
"The Turk", a large figure made of a concrete-type substance dating to the 17th century, was located some 400 miles from Lisbon, and brought back seated in the passenger side of his car with the seat belt fastened.
Generous with his time and hospitality, Sr. Leitão is a warm, pleasant gentleman with a humorous personality, and pure class. If you are looking for a journey into history, and perhaps hoping to find that special treasure, a visit to Solar is a must.
Thank you, Sr. Leitão!
Solar Antiques
Rua Dom Pedro V, 68-70
(+351) 21/346-55-22
solar@mail.telepac.pt
If you would like to purchase this article for your publication, please click here to contact the author directly.