By Neha Sharma
We are all familiar with that beautiful bakery aroma that in addition to tantalizing our taste buds is also often instrumental in bringing back nostalgic childhood memories from mama's kitchen. And for anyone who has walked on London streets, it's that same aroma wafting out of the supermarket stores like Tesco's and Sainsbury's that engulfs you in its richness each time you walk past. Somehow I always end up spending most of my time in the bakery sections even if it's just groceries on the shopping agenda. And I never come back disappointed — which is not to say that I come back loaded with a month's stock of those lovely cakes and puddings, but that each visit is a revelation that brings forth the richness of the food, the varieties in which it is baked, and the diverse places it comes from.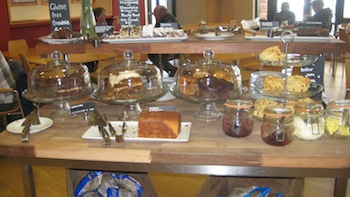 Take, for instance, Bakewell tarts. I'd often come across that name during my shop-browsing sessions, but wasn't quite aware that the tarts actually are a variation of the Bakewell pudding, a specialty from its namesake village of Bakewell tucked in the English countryside of the Peak district. A chance visit provided me a glimpse into the town's rich sweet heritage with those numerous pudding and tart shops staring at me from every nook and corner. I particularly fancied the Cherry Bakewells. That spongy icing within a pastry case and the layers of raspberry jam underneath it, coupled with a traditional cherry topping, made for my perfect teatime treat. The story goes that the recipe was accidentally discovered by a kitchen assistant who instead of stirring the egg mixture within the pastry poured it over the strawberry jam topping. For dessert hankerers like me that small mistake sure turned out to be a big blessing in disguise.
Another of my favorite picks is the hugely popular and much adored Krispy Kreme doughnut. I usually find the doughnut racks almost polished off when I visit Tesco's. That hasn't deterred me from trying them all out and zeroing in on my favorite — glazed. The lightweight, sugar-crusted texture completely bowls me over with that signature softness that is so Krispy Kreme-y. There are several theories floating around about the origin of doughnuts, but for Krispy Kremes it's the founders, based in North Carolina, who discovered the original recipe from a French pastry chef and gave it that secret twist. They have certainly come a long way toward mustering worldwide visibility, with ardent fans waiting in queues to welcome the openings of new stores. Being a fan myself, that doesn't surprise me even a wee bit.
My penchant for sweets always has me prowling for that perfect dessert or pudding on my various travel and shopping sojourns. One such occasion took me to the ISKCON temple near Soho Street. The temple has its own branch of a vegetarian restaurant known as Govinda's and is quite a popular haunt, especially among the vegetarian communities here. I had the traditional thaali accompanied by a lemon cheese cake for dessert. My choice of dessert was out of inquisitiveness, since I couldn't quite visualize a cake made out of cheese. Well, the soft, creamy cheese topping over a crunchy biscuit base and the tangy, zesty lemon flavor left me asking for more. Needless to say, it now figures somewhere near the top on the list of my all-time favorites.
When it comes to cakes, there is another one that has me quite smitten — the chocolate crispy that I first set my eyes upon in an office cafeteria. It's true — when you mix together chocolate and butter, the end product is bound to be good. But it's when you add rice crispies to the batter that it becomes purely divine. The unique combination of a soft yet crunchy texture coupled with a chocolate topping touches my taste buds just right. And with a cuppa to accompany, things get even more pleasurable.
I would normally alternate between crispy cake and the caramel-seeded flapjack from our cafeteria's gourmet kitchen. The classic flapjack needs no introduction — it's delicious and filling be it as a snack or a breakfast replacement for the good old porridge, and it dons the kitchen racks in most English homes. But what made this flapjack stand out was the caramel spread and red raisins topping. Not only does it add to the taste, but it looks gorgeous.
I was fortunate in that I got to experience the Easter fanfare whilst in London. Easter is a time when all you see and hear about is the famed Easter egg and its legacy hunt all over the city. The egg hunt is a traditional game where the egg is considered symbolic of a stone on the tomb from which Christ arose. (Just like a bird hatching from an egg, Christ arose from the grave.) It also gives us foodies another excuse to gorge on some delicious chocolate; the hunt for my Easter egg took me no farther than the shop next door — Golden Vineyard in Greenwich. A huge egg swathed in nothing but chocolate with a milky white texture tucked within it just melted in my mouth. In hindsight, it was a wise decision to have bought only a handful of them as not only were they irresistible, but quite addictive.
Scottish shortbreads, chocolate brownies, and oat-raisin cookies are some of the other treats I got introduced to in London and quite came to relish. But if I were to pick the best of the lot, it would have to be the heavenly Strawberry Trifle from Sainsbury's. A chance encounter with this trifle that I just happened to pick randomly from the racks one day unleashed a treasure house of some of the best savouries all tucked inside a small cup. A layer of that delicious English cream as a topping, with a creamy custard layer underneath, alongside crumples of cake and a layer of strawberry jelly … one minute it was soft and creamy and the next minute it went all tangy. Not only did it leave me overwhelmed but also quite guilt free since it was a touch less sweet than most of its counterparts.
In our quest for healthy eating we sometimes tend to completely cut out these sweet savouries from our lifestyles. I am no exception. But what I have also come to realize is that at times it doesn't really harm us to take a breather. Life, after all, is too short to miss out on these little boons and the sweet pleasure they have to offer.
Hazelnut shortbread, here I come!
If you would like to purchase this article for your publication, please click here to contact the author directly.
Are foreign drugstores clinically appropriate for Americans. Part 2