By Dan Reich
Photos by Ellen Goldstein
The imposing buffalo glared, his angry eyes and horns lit by our Maasai escort's flashlight.
"Yi-yi-yi!" shouted the Maasai, shaking his flashlight violently. The buffalo stood motionless. "Yi-yi-yi!" The buffalo lunged in our direction and stopped. Again, the Maasai shouted, waving his flashlight, and the buffalo sauntered off into the night. It was now safe to enter our room at the Ngorongoro Crater Lodge.
During our safari sojourn in Tanzania, we were provided with a Maasai tribesman equipped with a flashlight and a spear to escort us during darkness for our safety. In five previous nights, we had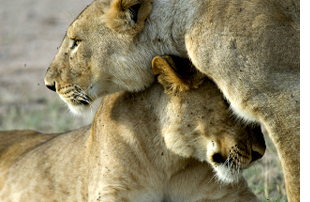 encountered nothing larger than a lizard, but this time, the escort's purpose had become clear… we were in the animal's domain.
Our adventure began at Grumeti River Camp, one of Africa's luxury safari lodges providing superb accommodations, knowledgeable, courteous staff, and spellbinding game viewing. When you arrive here, you're greeted with a friendly "jambo" (hello).
Our giant thatched A-frame tent with its king-sized bed flanked by intricate beaded light fixtures faced the river. At the rear were an enclosed commode and a fanciful open-air shower with doors to keep out mischievous monkeys. Nearby, the resident hippos made their presence known with animated bellowing and splashing.
The game drive began at the river among a group of storks and huge Nile crocodiles. As we bounded through the grassy terrain herds of impala, giraffe, zebra and wildebeest passively watched our progress, and families of elephants strode purposefully by. Waziri, our outgoing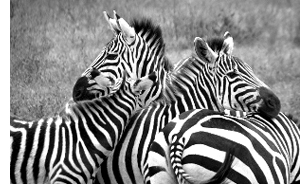 guide, spotted a group of lions in a thicket, and we pulled up for a closer look, careful not to make sudden movements. One by one, the lions emerged and gathered just feet from our vehicle, undisturbed by our presence.
At one point, I spotted a lone buffalo in a thicket. Next to her was a newborn calf, perhaps five minutes old, glistening in the morning light and struggling to stand. The umbilical cord still trailed from the mother, who whirled to defend her calf, nostrils flaring. We knew that we had stumbled into a very intimate moment and held our breath, entranced by the event unfolding before us. Soon the mother realized there was no danger, but as soon as the calf could walk, they rejoined the herd, which quickly encircled the new family, standing shoulder to shoulder in a protective stance.
As the setting sun slanted through darkening clouds, Waziri set up a table for the traditional "sundowner" drink and we toasted the occasion with photos. The superb five-course dinner that followed was served under the light of the moon in a courtyard area framed by timbers and ringed with hurricane lamps reminiscent of "Survivor." Afterwards, we retired to our tent, falling asleep to a symphony of wildlife sounds.
The journey to Klein's Camp traversed gently rolling hills studded with Maasai menyattas (or villages). Our guide Rabin charted a path through the forested bush, threading our way between large trees and simply driving over smaller ones. Rabin admitted he wasn't sure where we were, but managed to deliver us intact.
Klein's Camp enjoys a serene ridgetop setting overlooking undulating valleys. Its circular thatched roof and stone huts were furnished with white stucco walls, vintage-style paneled windows, antique furniture, throw rugs, and even a bidet. The brandy decanter was a welcome touch. There was an open-air dining hall and a thatched open-air bar with sweeping views.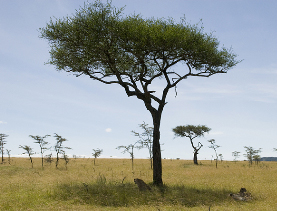 On that day's game drive we were graced with photogenic groups of giraffe, elephant, impala and baboons until a radio report of a lion sighting led us to a male and female enjoying a siesta. Our guide explained that lions rest most of the time when they aren't hunting, digesting their latest kill and conserving energy. As he was speaking, the male mounted the female, shuddered once and dismounted as she let out a cry. It all took perhaps five seconds. Apparently foreplay is not part of the lion's mating ritual. We sighted several cheetahs later in the drive as we headed back to camp.
Our final destination was the Ngorongoro Crater Lodge, perched on the rim of a 10-mile-diameter crater, 7,000 feet above sea level. Arriving at the Lodge was like entering Middle Earth… rows of salmon-colored thatched huts with medieval chimneys cascaded down a gentle slope as zebra grazed nonchalantly.
Our hut was an eclectic mix of materials and architectural styles described as "Maasai meets Versailles." Two soaring palapa roofs with crystal chandeliers rose above the expansive bedroom and bath areas. Elaborately carved wood adorned window frames, closets, and wall paneling, and numerous cubbyholes opened to the outside. The huge bath area featured an antique soaking tub (accompanied by two dozen fresh roses), a spacious stone shower, and twin pedestal sinks.
A desk with a Bose iPod player filled with African harmonies sat next to floor-to-ceiling glass windows framing the vast crater. Opposite the windows was an enormous woodburning fireplace with two leather chairs, a reading lamp, and a crystal sherry decanter. Looming over our bed was a giant panel of crimson silk framed by intricate carving.
On our afternoon drive, the slanting light shone through the wildebeests' beards, giving them a backlit halo. We sighted a few elephant and lions, thousands of pink flamingoes at the crater's soda lake, and a rare black rhino. Even at a distance, its horned profile was impressive.
In the sumptuous dining room, rows of embroidered wingback chairs marched towards a roaring fireplace, away from an opulent bar with crushed velvet chairs and intimate alcoves recessed into the walls. The snapper with passionfruit sauce was delectable. This was African cuisine at its finest.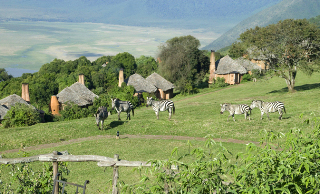 During dinner, a group of Maasai employees entered the room in a procession of drumming and singing. They are a very welcoming culture.
In the morning, a friendly "helloooo" signaled the arrival of coffee. We dressed warmly, as the chilly pre-dawn was shrouded in fog, but at the bottom of the crater visibility was excellent under the thick layer of clouds. Our guide Timothy packed breakfast, and we stopped at a hippo pool to enjoy frittata with coffee as the hippos skirmished and colorful ibis, starlings and weaverbirds flitted about.
As the clouds receded, we encountered a frenzied herd of wildebeest jumping back and forth across a river. Soon we spotted a hyena, then another, until there were four, closing in on the herd and forcing them to reverse direction. The hyenas engaged in a fascinating tag-team attack, trying to isolate a weak animal from the herd. A large wildebeest courageously charged a hyena, momentarily backing it away, but the hyenas kept the wildebeest scrambling, raising a huge cloud of dust, until eventually leaving in frustration.
We encountered the surly buffalo on our final night on safari. We were wistful that our adventure was ending, but enriched by a singularly spectacular wildlife and luxury experience.
If You Go:
andBeyond Safaris (formerly Conservation Corps Africa)
EU +49 211 22 97 54 40/41
US 1 888 882 3742
Johannesburg +27 11 809 4300
www.andbeyondafrica.com/african_safari/Tanzania
Per night: $64
0-1450 depending on season and lodge; less if booking more than one andBeyond lodge per trip
Open year-round except April 16-May 15 (Grumeti River Camp and Klein's Camp)
If you wish to purchase this article for your publication, click here to contact the author directly.