By Teresa Gardner
ITWPA Member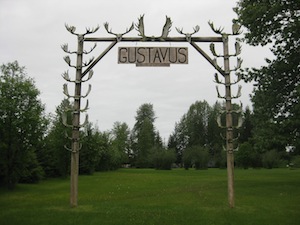 It took six decades, but my husband can finally check that box, the one to visit all 50 states. And what a fitting finale — The Last Frontier!
My husband and I recently returned from Gustavus, Alaska, gateway to Glacier Bay National Park. The area is a veritable playground for some of nature's most awe-inspiring creations. Glacier Bay is home to some of the most active tidewater glaciers on the planet. It didn't disappoint. The thunderous crack and subsequent calving of icebergs from Margerie Glacier were breathtaking — if not a little unsettling — as shards of ice crashed into the bay, causing huge wakes.
Because of its location in the Inside Passage, Glacier Bay is at the convergence of several waterways, which makes for great fishing — not only for anglers, but for whales, too. Humpbacks migrating from Hawaii embark on a feeding frenzy every summer. We watched in utter raptness and delight as whales suddenly appeared out of the water with mouths agape, gulping fish, slapping their fins, undulating their gargantuan bodies, and flipping their flukes (tails) … or simply spouting. On one excursion, even our guides were a bit nervous when one humpback was showing off a mere fifty yards from our kayaks!
There is no end to the wildlife; we saw bear, mountain goats, porpoises, sea lions (my husband battled a very determined one while reeling in a 42-inch halibut), otters, puffins, various other birds, bald eagles (too many to count), moose … well, at least we saw moose tracks.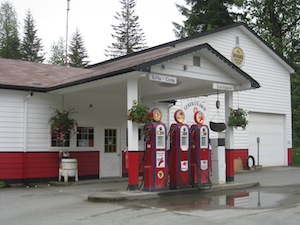 Glacier Bay was all glacier and no bay just 250 years ago, but ice has continually receded to reveal this majestic natural wonderland and the charming town of Gustavus, a uniquely beautiful place that's just plain … unique. The world's only petroleum museum is located inside a charming 1950's style gas station. The people are friendly, waving as they pass, and honorable, too. You can play golf and purchase elegant earthenware all on the honor system. Simply place your money in a jar.

We stayed at Glacier Bay Country Inn, where hospitality is taken to a new level. It's more luxury than rustic, with a theater room, library, and hot tub. The proprietors are particularly solicitous and set up day trips, prepared our halibut for travel, and fed us like royalty. The resident gourmet chef prepares sumptuous (fresh) seafood dishes, homemade breads, creative soups and salads … and, oh, what crème brûlée.
Grab a bike at Glacier Bay Country Inn for a spin to town or the beach. Hike the surrounding mountains or rainforest; they're mystical, magical, and dripping with moss. The forest floor is a spongy four-inch-thick moss carpet. One of the more popular hikes is a well-traveled trail that's not only shrouded in moss, but in mystery.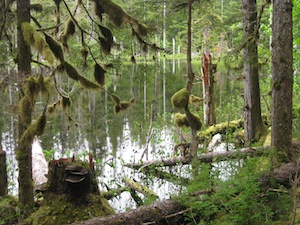 On a snowy November night in 1957, several members of the Air National Guard were returning home for the holidays when their small twin-engine plane crashed in some trees at the outskirts of town. The wreckage remains today — untouched, guarded by century-old hemlock trees and lush vegetation. It's an emotion-evoking quarter-mile stroll back in time.
There is no shortage of adventures — recreational, scenic, or culinary — in Gustavus, Alaska. The fishing, kayaking, whale watching, beachcombing, hiking, exploring, feasting, or curling up with a good book by a window overlooking a flower-filled meadow will keep any traveler entertained and satisfied for days.
The sixty-year wait was worth it!
[photo Alaska 071]
Glacier Bay Country Inn glacierbayalaska.com (800) 628-0912
If you would like to purchase this article for your publication, please click here to contact the author directly. Additional photographs are available.