By Sylvie Macle
ITWPA Member
Limone sul Garda is a true Italian gem that will steal your heart. It lies 27 miles northwest of Verona and 80 miles west of Milan and is one of the most photogenic villages on Lake Garda.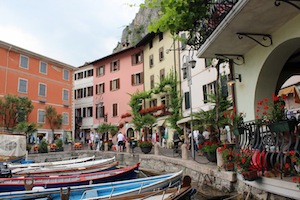 The houses along the harbor front are painted vibrant shades of pink, green, orange, and yellow. The restaurant terraces are bordered by pink laurel flower pots and palm trees, and some even extend over the water on wooden stilts, complete with lanterns and bright red pots of geraniums.
Indeed, there are so many flowers along Lake Garda that their delicate fragrances linger in the air. The food stalls which line the narrow cobbled streets are a feast for the eyes as much as for the palate, with their ripe fruits perfectly aligned in little wooden boxes. In Italy, where life hands out some of the biggest lemons you will ever see, locals don't just make lemonade — they make limoncello (a popular digestive liqueur best served chilled).
Many boats come and go, linking the various towns across the lake (all picturesque in their own rights). Even the cars seem to go at a slower pace, making driving for non-Italians a lot easier than it would be further south!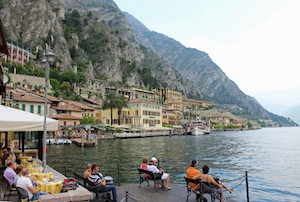 The nearest airport is Verona (where Romeo and Juliet fell in love); to reach Limone, you need to drive a good hour and 40 minutes on the A22. The airport does have a car rental office — although renting a Peugeot 206 for a week, including full insurance, will set you back $428. Drive towards Brennero-Modena and take the Rovereto-Lago di Garda Nord exit, then follow directions to Lago di Garda and Riva del Garda.
One of the best value for money resorts in the area has to be the four star Leonardo Da Vinci Hotel. At $94 per person (off-peak) all inclusive (and read this to mean: all soft drinks, wine, beer, and liquor), you would be hard pressed to find better value. The staff are not only gracious but multi-lingual, and the superior rooms are spacious with balconies overlooking the lake and mountains. There are three large pools, including one with slides for kids and one indoors for rainy days. They even have a little shuttle that heads hourly into Limone to save you the steep parking fees or the 15 minutes' walk.
The three meals per day are all based on "as much as you can eat" though the dinner buffet is the most lavish. There is plenty of choice for vegetarians, and lovely, tender meat and fish for those who are not. If you have a sweet tooth chances are you will be tempted to try out every dessert: fruit tarts, chocolate cakes, tiramisu, panna cotta… not to mention the many flavors of those world-famous Italian ice creams. Not only was the food truly gourmet (and let's face it, delicious food has got to be one of the highlights of any holiday) but because it's cooked in olive oil it is really healthy, too. In fact, we didn't put on half the weight we had expected to, considering how much we did indulge!
Last but not least: Limone sul Garda is 2 hours and 45 minutes from atmospheric Venice and just 2 hours from the Dolomites National Park with its alpine mountains and dazzling turquoise lakes. The Leonardo Da Vinci Hotel can also book excursions to the many regional "must-see" locations at around $61-$83 per day (cash only), a welcome break from driving, leaving you free simply to enjoy the peaceful scenery.
La dolce vita? You bet.
If you'd like to purchase this article for your publication, click here to contact the author directly.