By Joeann Fossland
ITWPA Member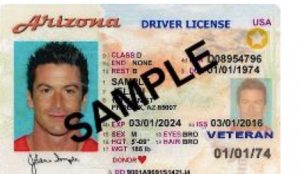 What is it?
The new travel ID complies with the federal REAL ID Act of 2005. Beginning October 1, 2020, Federal agencies, including DHS and TSA, will only accept state-issued driver's licenses or compliant identification cards for accessing Federal facilities including TSA airport security checkpoints if the license or card was issued by a REAL ID-compliant state, following the REAL ID security standards. The ID must include the REAL ID Star.
At this writing, all state's driver's licenses are compliant, except for Oregon, Oklahoma, New Jersey, and Maine. You can check the status of your state HERE.
What is the process to get a Travel ID?
Each state has a series of similar steps. I am using Arizona as an example since that is where I applied. It took about 15 minutes.
There were 4 steps to this process.
-Fill out an online application
-Set an appointment with the Motor Vehicles Department.
-Gather Your Documents
-Show up for your appointment with your documents and $25.
Your documents fall into 3 categories:
-One document to establish citizenship or legal presence such as certified birth certificate, valid US passport, or valid immigration documents.
-One document to confirm Social Security information. Social Security card, SS 1099, or W-2 form.
-Two documents to establish proof of residency. Examples: Bank statement, utility bill, or voter registration card.
How Long is it Good for?
The Travel ID will be valid for a maximum of eight years. Exceptions apply including drivers age 65 or older whose licenses are currently valid for five years. For non-US citizens who have authorized legal presence, the expiration date will be based on the immigration documents presented, not to exceed eight years.
Is this the only ID TSA will accept?
No, the entire list is available on the TSA Website. If you have a passport, you can use that. If you are currently in a non-compliant state, getting a passport will cover you.
If you would like to purchase this article for your publication, please click here to contact the author directly.