By Miranda Adler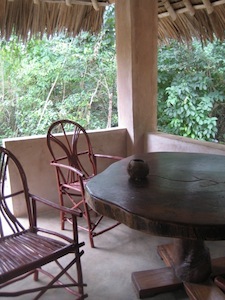 Don't be alarmed. Upon arrival at Stilts Backpacker's hostel you will be asked to lock up any tasty treats on your person. But the fast-footed bandits here aren't to be feared — the playful and mischievous monkeys make the experience at Stilts in Diani Beach.
The tree house-style living at Stilts offers a unique vacation experience at affordable prices. The check-in lounge, set high up in the trees, looks more like a page from Disney's The Jungle Book than a hostel. With a full bar and kitchen serving breakfast, lunch, and dinner, guests can fill up and relax where the wild things are. American dishes as well as African specialties are cooked up fresh; don't miss the Green Gram and Chapatti special.
Rooms, built like small huts, are charming and cozy, with an exposed bathroom and shower nestled in a forest-like atmosphere. Mosquito nets are supplied but be sure to bring along plenty of insect repellant, as bugs abound in this beach town.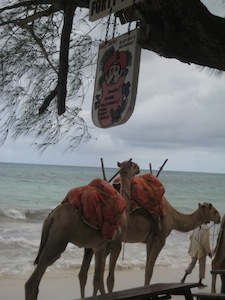 Just across the street, guests can stop by Forty Thieves Beach Bar for happy hour, lounging on the white sand and turquoise water that make Mombasa so famous. If the friendly locals selling jewelry and toys get too overwhelming, take a camel ride down the beach.
Touted as the best value hostel in Diani Beach, Stilts is a fun, unique way to enjoy Kenya's coast.
Stilts Backpacker's Eco Camp, +254 722523278, stiltsdiani@hotmail.com
If you'd like to purchase this article for your publication, click here to contact the author directly.