By Janie H. Pace
ITWPA Member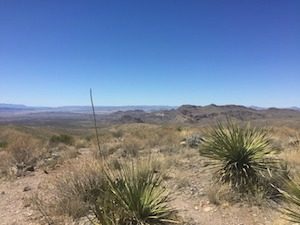 Mountains of immense lava rock formations, wide Chihuahuan desert expanses that were once ancient dinosaur-fossil-filled lake beds, and limestone layers forming deep, narrow canyons carved by the Rio Grande River are home to protected wild animals like the black bear, mountain lion, javalina, and coyote, along with the Colima Warbler and 400 other songbird and waterfowl species, rattlesnakes, scorpions, and tarantulas.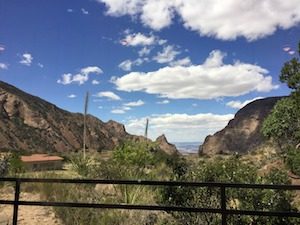 Adventures like hiking, backpacking, and horseback riding, river trips through deep canyons, dirt road adventures, brilliant stargazing and camping in both developed campgrounds and back-country primitive sites, or lodging in the park-owned rustic Chisos Mountains Lodge abound for the nearly half a million explorers annually at Big Bend National Park.
Amid this majesty of over 100 miles of Chihuahuan desert and the beauty of 1,500-foot canyon walls, this national park is certainly not the place to construct a border wall.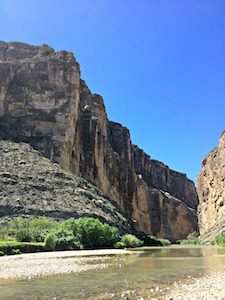 Located in southwest Texas and encompassing over 801,163 acres at the elbow curve of the Rio Grande, the border separating Texas and Mexico, the area was first established as a Texas State Park in 1933. Thanks to Texas-sized dreams and the efforts of entrepreneurs J. O. Langford, Everett Townsend, the Father of Big Bend, and influential Fort Worth Star-Telegram publisher Amon Carter, the Texas legislature allocated $1.5 million to purchase the balance of ranches from private owners, enlarging the park. On June 12, 1944, the state of Texas delivered the deed to Congress and Big Bend National Park became a reality.
A paleontological paradise, Big Bend exhibits over 1,200 species of fossils and dinosaur remains. Significant fossil discoveries in Big Bend are the long-necked sauropod, the pterosaur (the largest known flying creature, with a wingspan of 36 feet), the duck-billed dinosaur, the mosasaur, the giant alligatoroid, and mammals such as the brontothere, which looked like an ancient rhinoceros. The newly opened Fossil Discovery Exhibit located on the Persimmon Gap Park Road just eight miles north of Panther Junction has the only bravoceratops specimen on display.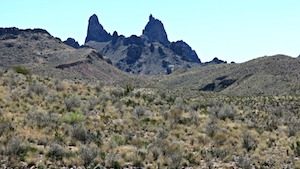 Adventurists equipped with binoculars, camera, compass, sturdy hiking boots, sun hat, sunscreen, water bottle, backpack, and layers of clothing are required to obtain a back-country use permit for all remote camping, river adventures, and horses. Take note: Bring your drinking water with you — at least a gallon of water a day is required to survive in this desert climate. Practice the Seven Basic Leave No Trace principles to help protect the fragile desert environment: plan ahead and prepare for a safe hike, protect small plants or biological crusts, pack out all waste paper and trash, leave what you find (all natural and cultural resources are protected within the national park), minimize fire impact, respect wildlife, and be considerate of other visitors.
Weather here from April to October is consistently hot, hotter, and then back to hot. Castalon and Rio Grande Village Visitors Centers along the Rio Grande are closed during the summer due to temperatures well over 100 degrees. During the other months, expect unpredictable temperatures ranging from freezing to the 80s in the space of a few hours. Dress in layers to regulate your comfort.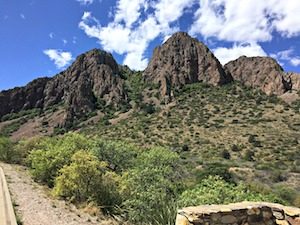 After a three-hour safari south from the Midland-Odessa airport, Big Bend National Park is accessible via Highway 385 south from Marathon, a 68-mile drive to park headquarters at Panther Junction on the eastern side of the park. Drive west on Park Road 170 to Chisos Basin, head six miles up the mountain and stop for lunch at Chisos Mountains Lodge. The views are panoramic and the temperatures there are some 20 degrees cooler than the desert below. Rooms and cottages at Chisos Mountains Lodge are booked as far out as a year in advance, especially during spring break and three-day holidays. A stay here assures close access to the free Ranger Programs covering such topics as "Jet Fighters & Hang Gliders: The World of Big Bend's Raptors," "Bear Country," and "Cats of Many Names" as well as presentations about dinosaurs, the once nearly extinct black bear, and the mountain lions in the park. You'll find Wi-Fi connections at the Visitors Centers only, but you won't have time to notice the lack of cell phone service during your stay.
There are a number of hotels and motels near Study Butte and Terlingua at the west entrance to the park, along with local outfitters offering a variety of services including equipment rentals, shuttles, guided jeep or river trips, and scenic flights.
Big Bend was recognized in 1976 by the United Nations as an International Biosphere Reserve, a prominent example of the Chihuahuan Desert ecosystem that is our responsibility to appreciate as a gift from those who envisioned a dream and to protect for future generations.
For more information on Big Bend National Park: https://www.nps.gov/bibe/
Where to stay:
The Chisos Mountains Lodge, located in the Chisos Basin, includes 72 rooms, gift shop, dining room, and camp store. For more information call 432-477-2291 or 877-386-4383.
Lajitas Golf Resort in Lajitas, west of the park, has rooms in the Cavalry Post, La Cuesta, Badlands Hotel, Officers' Quarters, and the Boardwalk Condos, plus Candelilla Restaurant, The Thirsty Goat Saloon, Golf Shop, Agava Spa, shooting, zip-line, equestrian center, horseback riding, Jeep rental, general store (box lunches for day trips), and more. Call 432-424-5000 or see lajitasgolfresort.com.
The Marathon Hotel in Marathon, 432-386-4241
The Holland Hotel in Alpine, 432-837-2800
Camping:
Maverick Ranch RV Park at the Lajitas Golf Resort. Heated pool, rec hall, golf, restrooms and showers, laundry, and access to all the activities at the resort. Call 432-424-5180.
Study Butte RV Park in Terlingua, 432-371-2468
Stillwell Store and RV Park in Alpine, 432-376-2244
Local outfitters:
Big Bend River Tours, the oldest river outfitter. Call 432-371-3033 or visit www.bigbendrivertours.com.
Desert Sports, mountain biking, hiking, combo tours. Call 432-371-2727 or visit www.desertsportstx.com.
Far Flung Outdoor Center, guided river trip, Jeep tour, ATV tour. Call 432-371-2633 or visit www.bigbendfarflung.com.
Restaurants:
Candelilla Restaurant at the Lajitas Resort, 432-424-5030, serving breakfast, lunch, and dinner.
Chisos Mountains Lodge Restaurant, 432-477-2292, serving breakfast, lunch, and dinner.
Starlight Theatre in Terlingua, 432-371-2326. Open for dinner.
High Sierra Bar & Grill in Terlingua, 1-800-371-3588. Open noon to midnight.
La Kiva Restaurant & Bar in Terlingua, 432-371-2250. Open for dinner.
If you would like to purchase this article for your publication, please click here to contact the author directly.