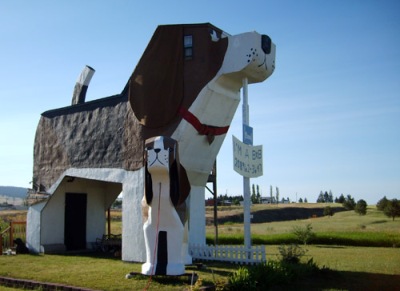 By Patricia L. Cook
Artists have painted and photographed the scenery and wildlife of Idaho but nothing compares to the Dog Bark Park Inn in Cottonwood—the "Noble and Absurd Undertaking" of artists Dennis Sullivan and Frances Conklin. They've expressed their love of dogs by constructing two giant beagle-shaped structures, one of which serves as a one-family hotel room. "Toby" stands 12 feet tall, and looming next to him is "Sweet Willy," an impressive 30 feet tall, 32.5 feet long and 12 feet wide.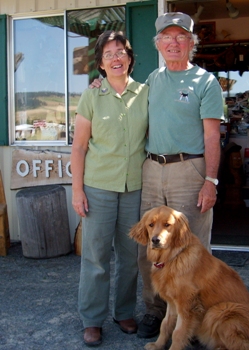 Staying in Sweet Willy is a whimsical bed and breakfast experience. His hindquarters house a spacious bathroom, his belly encloses a bedroom with a queen bed, and a ladder in his neck leads to a loft in his head with two futon mattresses.
The self-serve breakfast includes "The Prairie's Best Fruited Granola," locally-made breads and pastries, fresh fruit, eggs and more.
Located on site is the studio where Dennis and Frances practice chainsaw carving. Their work includes carvings of animals—especially dogs—and characters of the Lewis and Clark expedition. You can buy their works in the Inn's gift shop or online at www.dogbarkparkinn.com.
Dennis and Frances are gracious and personable hosts and they claim they never have grumpy guests — how could you be grumpy when you're sleeping in a giant pooch? So pack up the children or grandchildren of any age and head to the dogs!
If you wish to purchase this article for your publication, click here to contact the author directly.