By Kimberly Johnson
ITWPA Member
Located off bustling Wisconsin Avenue in the boho-chic part of Georgetown hides a little farm-to-taco eatery known as Chaia (a.k.a. "swimsuit body friendly"). This trendy eatery dishes up highly sought after tacos, making it the perfect spot for tourists and locals craving a healthy, gluten-free meal. What you won't find in these tacos is meat. What you will find is quite possibly the best vegetarian tacos in Washington, D.C.
From the moment you step inside this vegetarian eatery, the relaxed vibe, rustic decor, and authentic smell of carrots, kale, eggplant, corn, and okra give you the sense that this isn't your average taco joint. Don't let the word "vegetarian" fool you. These plant-based veggie tacos will please any palate, vegetarian or not.
Their creative menu changes according to the local produce available; however, one mainstay — and a culinary masterpiece — is the creamy kale and potato taco, which is loaded (and I do mean loaded) with tender slices of potato, spicy poblano crema, Pepper Jack cheese, pickled red onions, and perfectly cooked kale, all wrapped inside a fresh, handmade corn tortilla and topped with a green sauce and fresh-from-the-farm microgreens. Add an extra kick by sprinkling on the carrot habanero hot sauce sitting on each table.
The mouth-watering mushroom taco, another fan favorite, is stuffed with sautéed button mushrooms, crumbly feta cheese, and cilantro with a red sauce drizzled on top. This meatless taco is so filling, you'll never ask, "Where's the beef?" (It's surprising how meaty mushrooms taste.)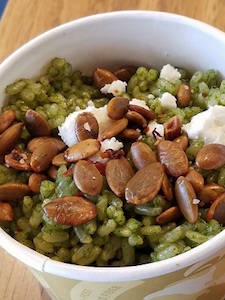 You can't visit Chaia without checking out their tasty side dishes. The black beans with jalapeno crema and chopped jalapeno peppers taste great paired with the green rice (which is really brown rice, pesto, and feta cheese) with pumpkin seeds on top. This combination has a little kick to it, so be sure you have a drink in front of you before taking your first bite!
They have an interesting assortment of drinks such as teas, cold-pressed juices, coffee, beer, wine, and seasonal shrubs (a less sugary form of soda). However, the hibiscus tea is a great complement to any meal and will not disappoint. If you like the tartness of cranberry juice and the sweetness of honey, then you'll love this flavorful, healthy drink.
Prices at Chaia are competitive, a rare find in over-priced Georgetown. One taco is $3.75 and two tacos are $7.50, but the best bang for your buck is the taco trio for $11. Hibiscus tea and sides are $3 each. They also offer beer and wine options. (They don't have a "happy hour," but they do have "happy hour" prices at $6 per drink.)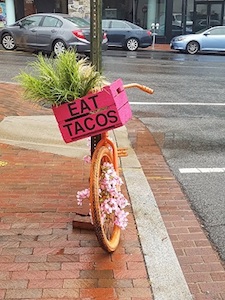 The next time you visit Georgetown, be sure to visit Chaia, where every day is Taco Tuesday.
3207 Grace Street NW, Washington, D.C. 20007, 202-333-5222
Chaia is open 11 a.m. to 9 p.m. Monday through Friday and 10 a.m. to 9 p.m. Saturday and Sunday. With just five tables, no reservations required, and high demand, this eatery gets crowded fast. But there's a loft area upstairs with an additional 16 seats and also outside seating around the corner. Metered parking is available on Grace Street and a parking garage is close by. 
If you would like to purchase this article for your publication, please click here to contact the author directly.